10 Affordable Kitchen Storage Ideas For Your Kitchen Remodel
Are you looking for easy ways to add storage to your kitchen remodel? Then Kauffman Kitchens is here to help as the go-to source for innovative kitchen storage ideas! As experienced kitchen remodeling experts with decades of industry knowledge, we understand the importance of maximizing storage solutions for your kitchen all while staying within your budget. Thanks to our collaboration with Starmark Cabinetry, we are thrilled to offer a wide range of options that will revolutionize your cabinet storage. From clever pull-out shelves to ingenious corner solutions, we have you covered. Get ready to transform your kitchen into a clutter-free haven and make the most of every inch of space. Let's dive in and discover the perfect cabinet storage solutions tailored just for you!
Effective Cabinet Storage Solutions Available At Kauffman Kitchens
At Kauffman Kitchens, we are proud to offer a wide range of cabinet storage to our clients through our partnership with Starmark Cabinetry. These innovative storage solutions are designed to maximize your kitchen's functionality while providing a sleek and organized space. Our favorite cabinet storage solutions include the following:
Drawer Organizers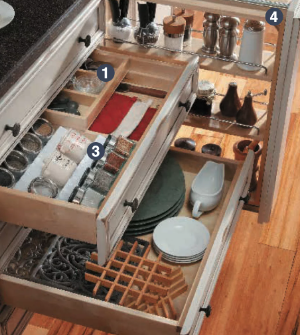 Customize your wide drawer with multiple organizers that can be rearranged to fit your specific needs.
Base With Roll-Out Trays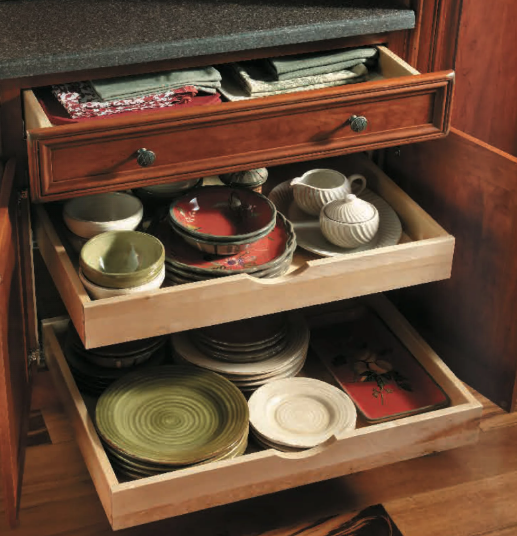 Adjustable roll-out trays ensure easy access to your kitchen essentials, while soft-close drawers provide a smooth and quiet closing experience.
Spice Shelf Wall Racks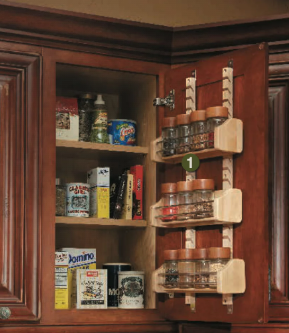 Adjust the spice shelves to suit your preferences, all while keeping your spices within easy reach and not cluttered on your countertops.
Pull Out Filler Storage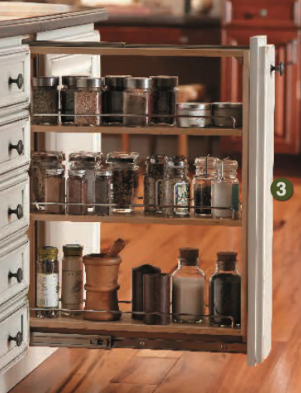 Gain valuable storage space with a pull-out filler that rolls out to reveal additional storage in just 3' and 6' wide space.
Meal Prep Storage Features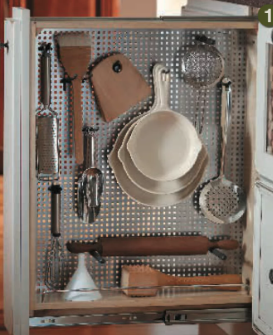 This comprehensive storage solution for your kitchen includes pull-out peg sections, hooks for kitchen supplies, a knife block, a chopping block, and shelving perfect for all your meal preparation needs.
Sink/Range Base With Shelves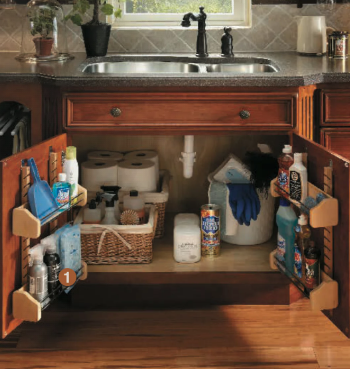 Create a functional cabinet storage solution under your sink, complete with roll-out trays and adjustable shelves for cleaning supplies.
Blind Corner Shelving 
Optimize those hard-to-reach corners with a variety of drawer options, including slide-out front drawers, swing-out shelves, roll-out trays, magic corner shelves, and more.
Lazy Susans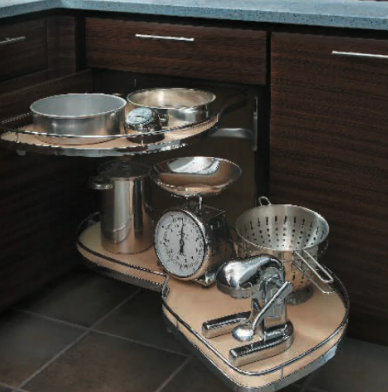 Say goodbye to crashes and disorganization with our non-skid Lazy Susan options, available for top and bottom shelves and even in a diagonal or blind corner configuration.
Pantries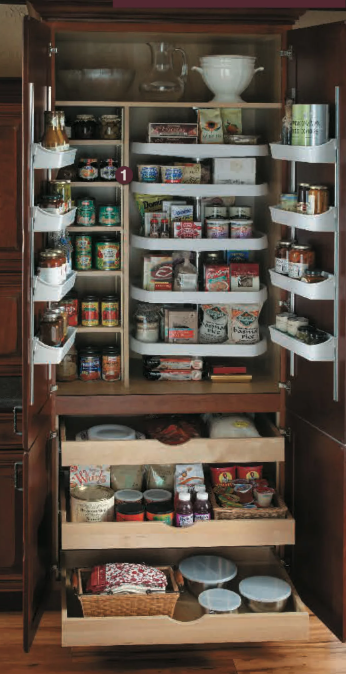 Create a utility broom and roll tray combination or enjoy a pull-out pantry with tray dividers for organizing platters, trays, baking sheets, and more.
Lift Up and Tip Ups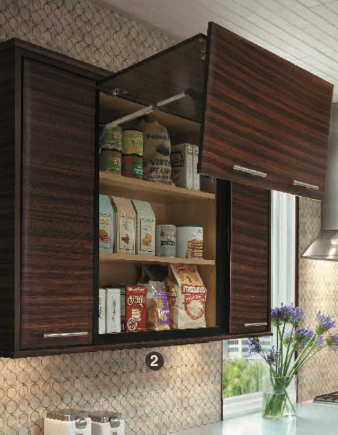 Experience the ultimate appliance hideaway with vertical lift-up appliance doors, bifold door blocks, and complete tip-up doors-all featuring soft close mechanisms and extra clearance.
With these remarkable kitchen storage ideas, your kitchen will become a haven of efficiency and organization. Contact us today to explore how Kauffman Kitchens can transform your kitchen into a space that perfectly suits your storage needs.
Get The Storage Solutions For Your Kitchen Remodel When You Call Today!
We take pride at Kauffman Kitchens in delivering expectational kitchen storage ideas and solutions that will revolutionize your remodel. By partnering with top-rated brands like Starmark Cabinetry, we ensure that you have access to the highest quality cabinet storage options available on the market today. Our team of dedicated kitchen project managers will guide you every step of the way, working closely with you to understand your unique needs, budget, and design preferences. From maximizing storage in small kitchens to optimizing large spaces, we have the expertise to transform your kitchen into a functional and organized space. Get in touch with us today, and let us embark on the journey of creating your dream kitchen with our many kitchen storage ideas. Call today!