Our Favorite 3 Kitchen Layout Ideas to Plan Your Remodel 
Organization experts from Marie Kondo to Martha Stewart teach homeowners and businesses how to balance fashion and function. Planning your kitchen remodel layout can be a golden opportunity to build the organization into your space, from a streamlined galley kitchen to a U-shaped kitchen that maximizes counter space. Kauffman Kitchens is a premier kitchen remodeling company that has been serving Eastern PA for decades. We've created this guide to walk you through our three favorite kitchen layout ideas so that you can optimize your space and design.
Ready to learn more about three of the best kitchen layout ideas? Read on to explore how to design your picture-perfect kitchen layout!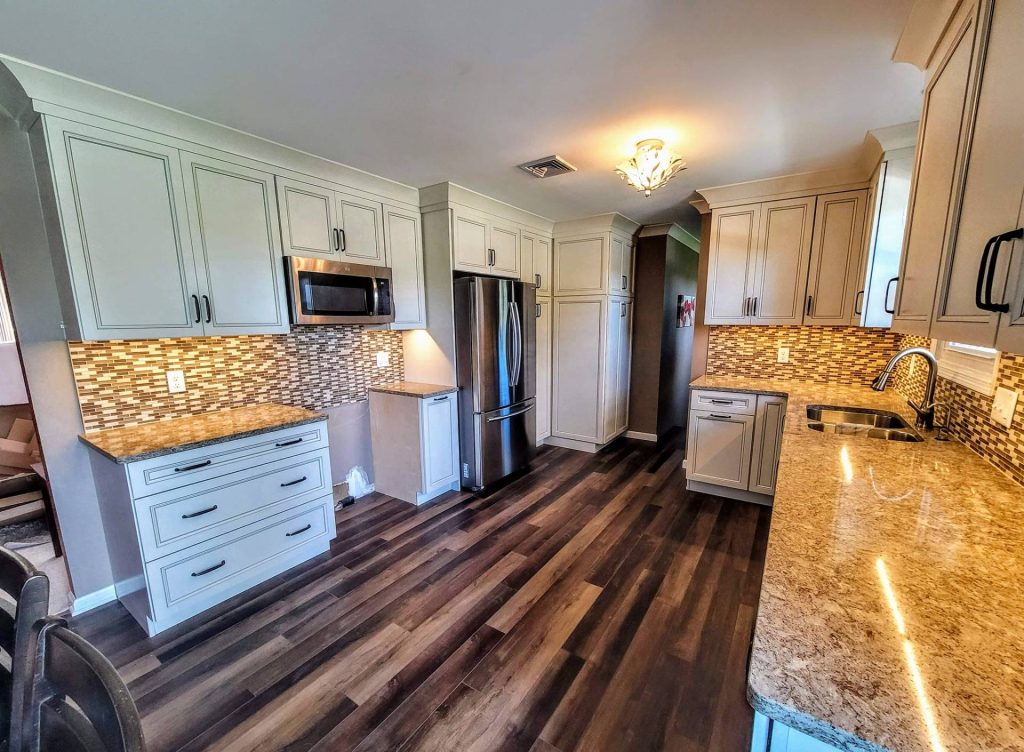 How to Design A Kitchen Layout?
Bending, stretching, and reaching are all common tasks that can put a strain on your body while cooking. The field of ergonomics studies how efficient people are when they're working, and the kitchen is no exception. An ergonomically designed kitchen uses the space you have available to minimize stretching and bending while creating "work zones." 
These zones allow you to switch easily from accessing your refrigerator to the countertop and sink so that your work process flows smoothly. If you have more than one person helping in the kitchen, work zones are useful for delegating tasks and handing off items during the cooking process.
There are three outstanding kitchen layouts we can recommend for a kitchen remodel, depending on the space you have available—an L-shaped kitchen with an island, a U-shaped kitchen, and a galley kitchen.
L-Shaped Kitchen with Island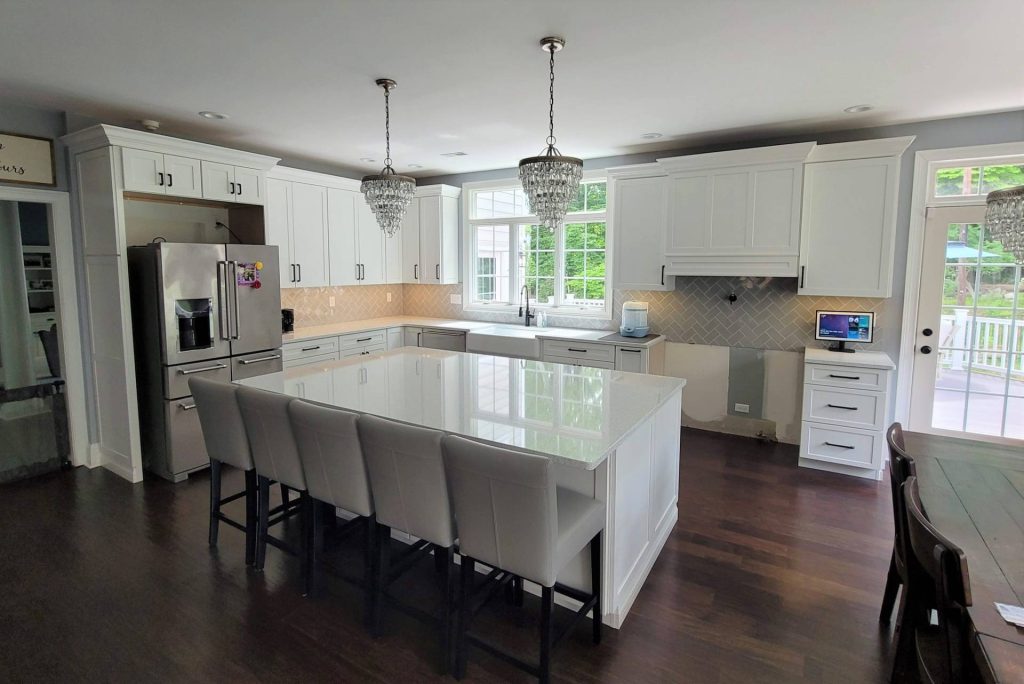 An L-shape is a common choice for many kitchens that uses two adjacent walls to organize various kitchen fixtures around a rectangular island counter. It sacrifices a large amount of space for flexible workstations but fits well with an attached dining or family room.
When you use the L-shape, you can easily center a table in the middle of the space so that guests are near the kitchen while the cook prepares dinner. If the sink and dishwasher are on the same wall and the refrigerator and stove are on the other wall, this kitchen layout creates an ergonomic-friendly work triangle for maximum efficiency.
U-Shaped Kitchen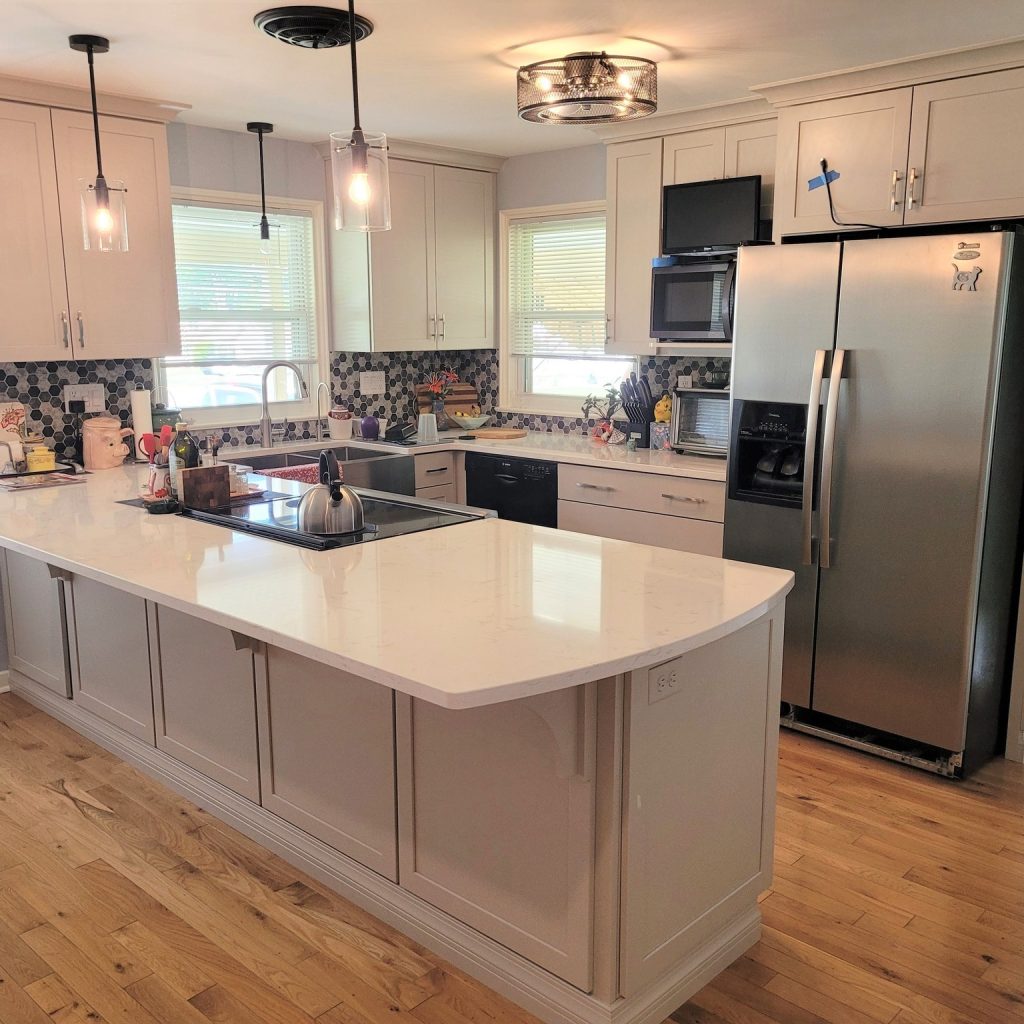 The U-shaped kitchen is the perfect solution for the chef in all of us. There are three different kitchen units with cabinets and appliances on three adjacent walls that form the shape of the letter U. This horseshoe-inspired design allows a serious cook or baker to have a great deal of open counter space with easy access to kitchen essentials.
The U-shaped kitchen is an outstanding choice for keeping traffic flow free between the fridge, sink, and oven while giving the cook sufficient space to work.
Galley Kitchen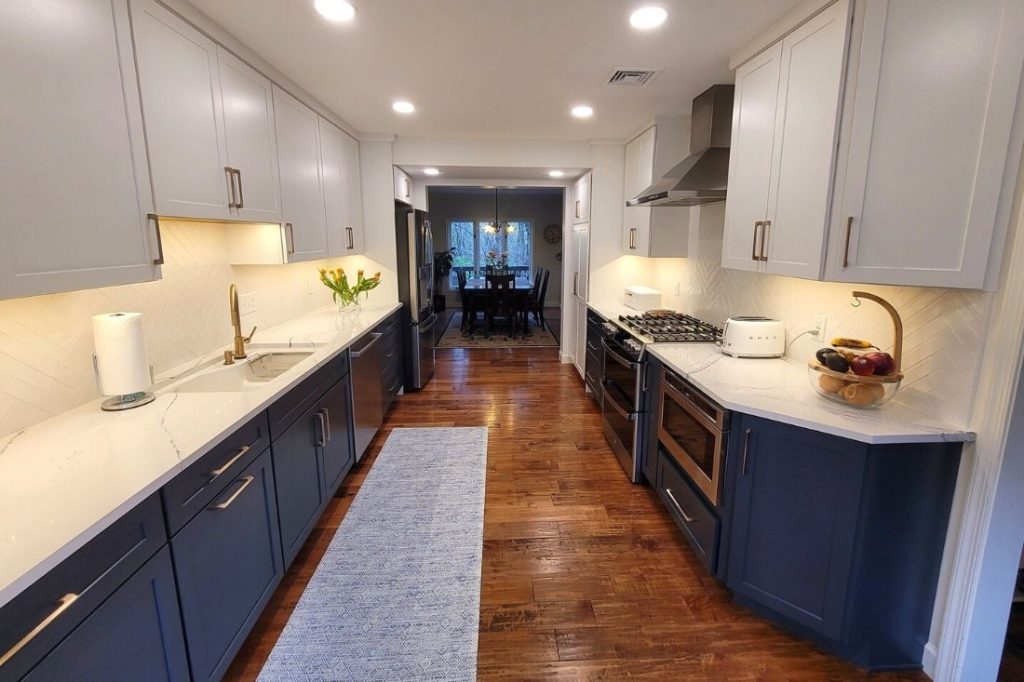 When deciding how to design an organized kitchen layout, you may run into the issue that you don't have a lot of space. Thankfully, the galley kitchen design is perfect for tight quarters and even has its own advantages. A galley kitchen features cabinetry and appliances on two sides, with a small corridor running down the middle. In this design, you can use clever storage space tools like a pullout tower pantry to maximize functionality, and if you place appliances on both sides, you can have a triangle with several workstations. 
Get Your Dream Kitchen Layout with a Remodel from Kauffman Kitchens Today!
Since 1987, Kauffman Kitchens has served Lancaster, Chester, and the surrounding PA counties with residential and commercial kitchen makeover services. We're a one-stop shop for all your kitchen remodeling needs, from countertops to cabinets and much more.
Here at Kauffman Kitchens, we define everything we do with family-owned business values like integrity, honesty, and hard work. That's why we offer luxury services and premium materials at affordable prices that are hard to beat. We always provide a dedicated project manager to walk you through the kitchen design process, select the correct materials, and communicate with you throughout the process.
Ready to bring the vision for your kitchen layout to life or want help with how to design a kitchen layout? We want to partner with you and help you upgrade your kitchen with a remodel that will last for years to come. Contact the Kauffman Kitchens team online today for a free quote, or visit our showroom in New Holland to experience our offerings first-hand.