Beautiful Black Kitchen Countertops To Increase Your Kitchen's Value 
At Kauffman Kitchens, we know it can be a challenge to keep up with the latest countertop trends. It seems everywhere you turn online, you are presented with new and improved kitchen countertops in every style you can imagine. In today's blog, we want to provide you with a modern countertop style that will stand the test of time as well as be a practical investment, black kitchen countertops.
With over 30 years of experience installing black granite and quartz countertops, we can help you identify the best kitchen countertops that will be long-lasting and set your kitchen apart. We love black kitchen countertops because they can easily conceal stains, cracks, and many don't require sealing. Those three things combined will ensure that your new black kitchen countertops will last you for decades to come. Read on to learn about our favorite styles and trends for black kitchen countertops!
Why Choose Black Quartz Countertops
Black Quartz Countertop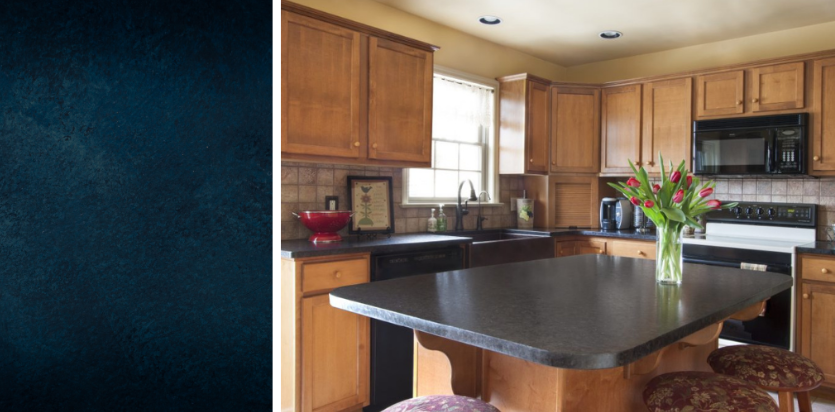 One of our favorite countertop materials to install is our quartz countertops. We love this modern kitchen countertop idea because quartz countertops are known for being extremely durable and long-lasting. That added with a rich black color will help to make your new kitchen the talk of the town. We love black quartz countertops for the following reasons:
Extremely durable
Long-lasting
Stain-resistant
Non-porous
Available in many styles and textures
No maintenance (does not need sealing)
Scratch-resistant
Doesn't need sealing like natural stone
Affordable cost
Enhancing your new kitchen with black quartz countertops is a great way to upgrade your space and make sure your countertops are built to last. With their many design options and very low maintenance cleaning needs, you can be sure that these black kitchen countertops will last you the long haul. Visit our New Holland showroom today to see our black quartz countertops up close and personal!
Why Choose Black Granite Countertops
Black Granite Countertop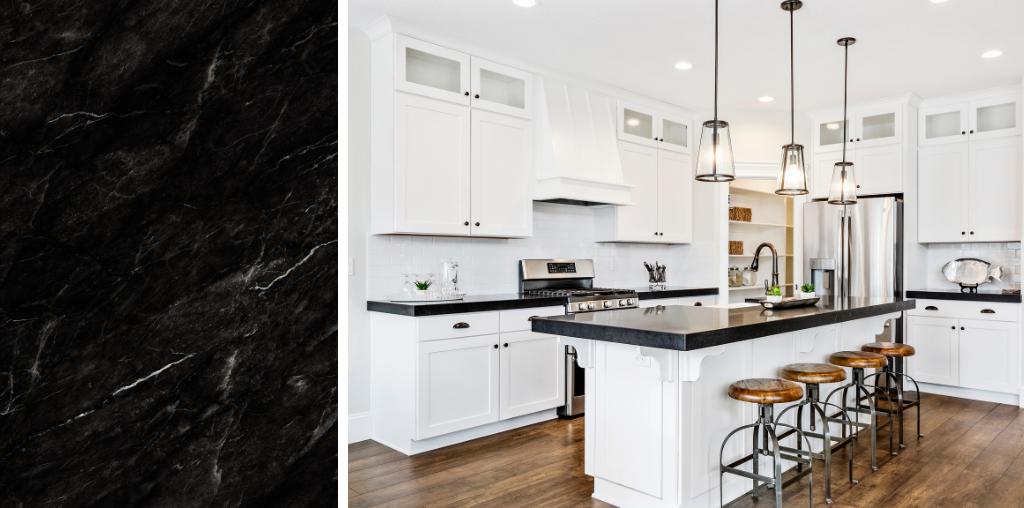 Another great black countertop material is our black granite countertops. But when you pair the natural qualities of granite stone with the beauty of darker shades like black, you have a match made in heaven. Here are a few of the benefits of choosing black granite countertops for your next kitchen remodel:
Durable
Low-maintenance ( needs sealed every couple years)
Unlikely to blister, crack, or chip
Available in many different styles and textures
Doesn't date as quickly as other modern kitchen countertop ideas
Granite has been a consistently popular countertop material for the past 50 years.
Sleeker, darker colors will add a cool vibe to your kitchen.
As you can see, there are many benefits to adding black granite countertops to your new kitchen remodel. At Kauffman Kitchens, we pride ourselves on having an experienced team that is ready to tackle any black granite countertop installation. Call today to learn more!
Get a Free Quote On These Modern Kitchen Countertops For Your Kitchen Remodel 
When it comes to upgrading any part of your kitchen, from your cabinets to your countertops, to a complete remodel, it can be stressful. Take the stress out of upgrading your kitchen with the help of Kauffman Kitchens. We make it our mission to help our residential and commercial clients have the kitchens they have always dreamed of. When you work with our team to install your black kitchen countertops, you get a full project management team who is committed to making sure all aspects of your project are completed on time and on budget. So, if you have been hoping to start your kitchen makeover for a while now, please consider the experienced team here at Kauffman Kitchens. Call today or visit our showroom to get started and claim your free consultation!