Our Favorite Kitchen Cabinet Ideas for 2023
Do your kitchen cabinets need a real pick me up? At Kauffman Kitchens, we make it our mission to help our clients with every step of their kitchen renovation, including helping with cabinet installation. We can help you choose the right kitchen cabinet designs and provide the installation to create an updated kitchen space that reflects your personal style. The kitchen is at the heart of every home, and when you partner with Kauffman Kitchens, we can help you choose the best modern kitchen cabinets for your remodel. In today's blog, we are discussing our favorite kitchen cabinet ideas that are perfect for 2022 and 2023 remodels. These include tips that could help make your cabinets easier to use, provide you with more storage space, and add style back to your outdated kitchen. Read on to learn more and get inspiration for your new kitchen cabinet redesign!
Modern Kitchen Cabinet Styles To Upgrade Your Space
When it comes to any remodeling project inside your home, it can feel like the decisions are truly endless. Everywhere you look, there are new appliances to select, colors to choose from, and styles to consider. At Kauffman Kitchens, we appoint a dedicated project manager for all our kitchen renovations, so we can help you with all your decisions, both big and small. When it comes to some of our favorite modern kitchen cabinet ideas for 2023 that we recommend, check out the following:
Deep Drawers
For storing pots and pans, or more heavy-duty baking supplies, it is a good idea to install deeper drawers on your kitchen island or as part of your bottom cabinets. This will allow you to store the supplies you need without breaking your back or having to drop down to lift heavy items.
Built-in Utensil Caddies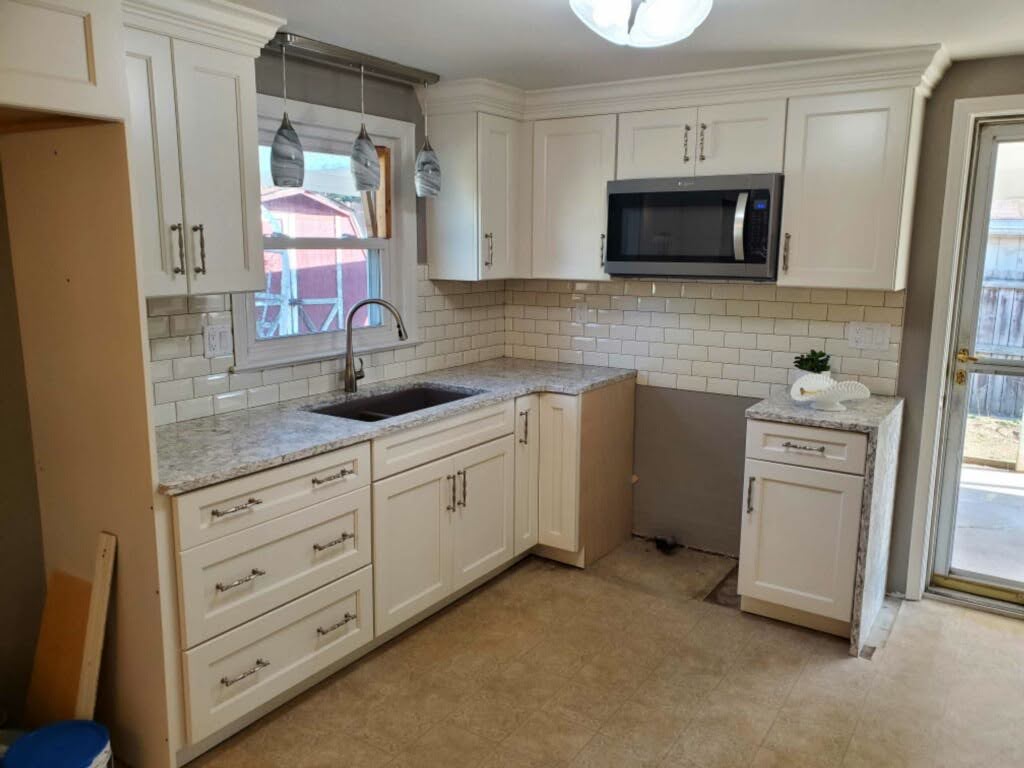 Instead of having your utensils crowd up your countertop space, add built-in utensil caddies to your new cabinets. This will allow you to have access to the utensils you need easily and free up the countertop space you need to make your new kitchen seem less cluttered.
Add Cabinets To Unlikely Spaces
One of the biggest kitchen cabinet ideas for 2023 we are seeing is adding cabinet storage to unlikely places. This can be adding toe kick drawers to the bottom of your countertops or kitchen island that you can close with your foot. Or adding a small kitchen cabinet on the side of your fridge to allow space to easily store food or small kids' toys. We noticed that many of our clients are starting to use upper cabinets less and prefer to install more cabinets at eye level or below. We suggest thinking about what kitchen utensils, appliances, and baking supplies you will need to store and consider that when designing your new kitchen cabinets.
Floating Cutting Boards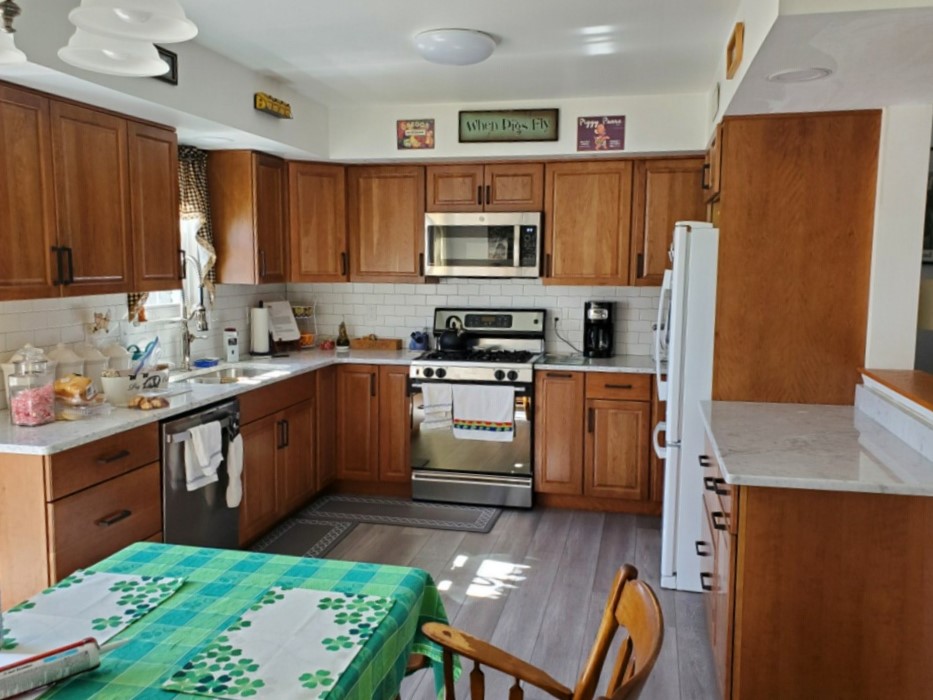 Simply create a wooden cutting board that can attach to existing drawers or be used as a pull-out shelf. We suggest pairing this over a pull-out trash can or recycling container to minimize the mess and to easily slip discarded food into the trash can with no mess.
Hinged Cabinets
Creating hinged cabinets as part of your kitchen cabinet design is a great way to hide bulky appliances or machines that you use regularly but don't want to take up valuable countertop space.
Charging Stations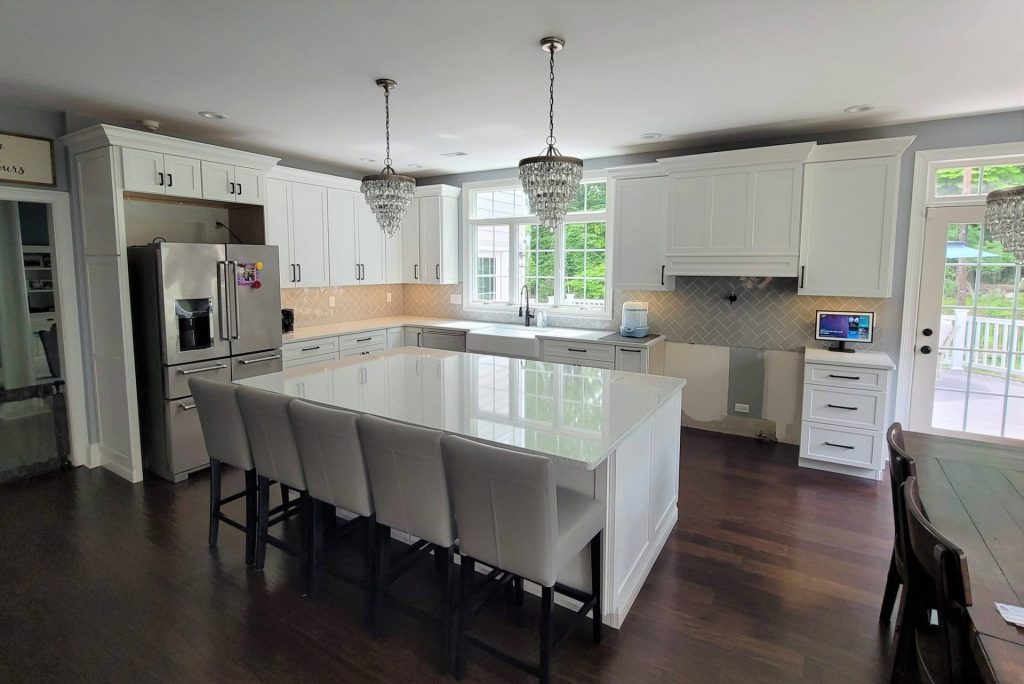 With so many devices, appliances, and machines requiring plugs in your kitchen, there sometimes isn't enough space to get everything up and running with plugs in the walls. Adding plugs into your shelves or kitchen cabinets is a great way to ensure that you always have enough electricity to bake and cook for big events.
If you are interested in adding any of the above kitchen cabinet ideas to your new kitchen remodel, reach out to our team today to get a free quote!
Why Use Kauffman Kitchens For Your Kitchen Cabinet Design & Installation?
At Kauffman Kitchens, we have decades of experience completing luxury kitchen makeovers. You can count on our team to help you with your kitchen cabinet design and also provide you with a selection of cabinets from top-rated brands in the industry. Our number one priority is our customer service, and we make sure your vision is honored throughout the entire remodeling process. Plus, by working with our project managers, we can make sure that your modern kitchen cabinets are installed on time and on budget. If you know that your kitchen cabinets have seen better days, don't delay; reach out to our team today to get a free quote on your remodel!