NEW Home Office Cabinet Ideas & Storage Solutions
Home offices are essential in today's world. From the truly elaborate to the sleek and simple, a dedicated space can skyrocket your productivity, inspiration, and focus.
Whether you're working full time remote, or you simply want a more aesthetic space, we're spilling the home office cabinet secrets to get you feeling inspired. Keep reading to uncover gorgeous home office ideas, get advice for purchasing built-ins, and learn how to set up a small home office!
Of course, if you prefer to speak immediately with a home office cabinet professional, call Kauffman Kitchens now!
Small Home Office Ideas with Huge Impact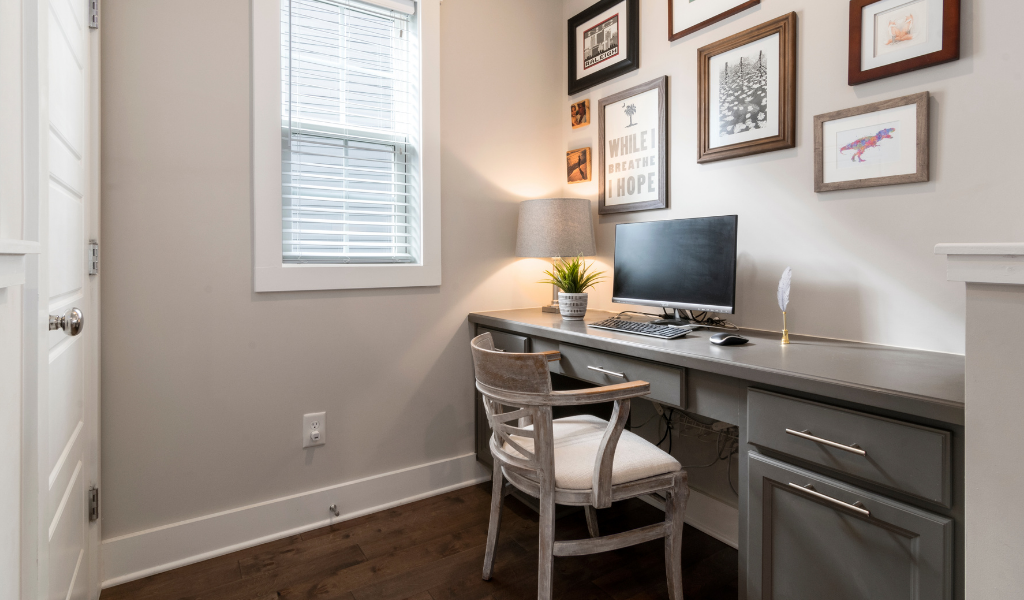 In most traditional homes, a dedicated office space tends to be a bit of an afterthought, thus leaving you with less-than-ideal square footage. If you've been wondering how to set up a small office, give one of these tips a go!
Keep the cabinets light – The number one small home office idea is using a light and bright color for your cabinetry. Hues like white, light gray, or a pale pastel help a room feel larger and keep things feeling fresh.
Get the right furniture – Bulky furniture leads to a cluttered mind. That's why sleek, compact cabinets are one of the best small home office ideas to implement. Custom built-ins for offices are a great solution for maximizing any size space!
Choose a room with good natural light – Just like any room of the house, allowing natural light in really opens up the interior, making it feel larger and making you enjoy your time in there more.
Choosing the best small home office idea to implement is a matter of your personal style, budget, and space. Get a complimentary price estimate on semi-custom cabinet installation by contacting us today!
Most Popular Types of Storage Office Cabinets
No matter how big or small your home office space may be, there is a perfect storage office cabinet for you! While storage office cabinets don't follow one standard design, check out a few timeless styles we love. Try one of these popular home office storage ideas in your room…
Vertical cabinets with drawers: Talk about making the most of a small room! Going vertical is one of the most space-efficient home office storage ideas to date. Tall and sleek cabinets are perfect for filing folders, storing supplies, or displaying décor pieces – plus, they look great, too!
Custom built-ins for the office: Sometimes designing from scratch is the best home office storage idea! While it may be more expensive up front, the convenience and style you'll enjoy for years to come is truly invaluable. Talk to our cabinet designers today to get a free price estimate for your home!
Lateral storage office cabinets: Lateral storage office cabinets are versatile enough to serve as a coffee station, opaque filing, or even a workstation. PRO TIP: If you plan on storing sensitive documents, look for a lateral cabinet that has locking doors.
Where to Find High-Quality Built-Ins for Your Office?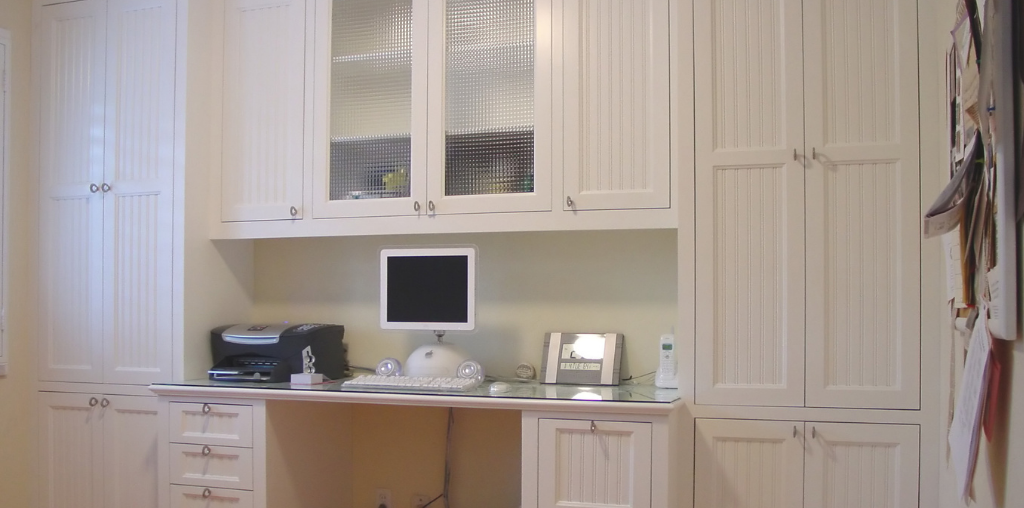 When it comes to built-ins for the office, oftentimes what you pay for is what you get. As working from home becomes a more common lifestyle, you want a smart, stylish, and sophisticated home office idea to implement. Here are a few tips for making sure you get the most for your money:
At Kauffman Kitchens, we source only the best local materials and craftsmen to create one-of-a-kind built-ins for offices.  With over 33 years of experience in the cabinet and countertop-making industry, we're honored to have served hundreds of homeowners in the Lancaster, Chester, Berks, Lebanon, York, Dauphin, and surrounding PA areas.
Want to get a free quote on your built-in for office ideas? Call Kauffman Kitchens today or stop by our showroom in New Holland, PA – we're eager to get creative with you!