Upgrade Your Tiny Kitchen With These 7 Small Kitchen Remodel Ideas
When it comes to small kitchen remodel ideas, the options are endless. Whether you want to update your kitchen with new cabinets and countertops or simply need help designing your small space for maximum storage, Kauffman Kitchens is here to help. We have decades of experience working with small kitchen makeovers, and we can work with your budget to get you the space you need fast. When you work with our tiny kitchen remodel team, you are getting knowledgeable contractors, skillful craftsmen, and materials from top-rated brands in the kitchen industry.
In today's blog, we want to help our clients discover unique small kitchen remodel ideas that won't break their budget. When you don't have the space to extend your kitchen remodel further or the money to purchase a new home that would allow for more kitchen space, a small kitchen makeover is a necessity. Read on to discover the inspiration behind our favorite small kitchen remodel ideas for 2022!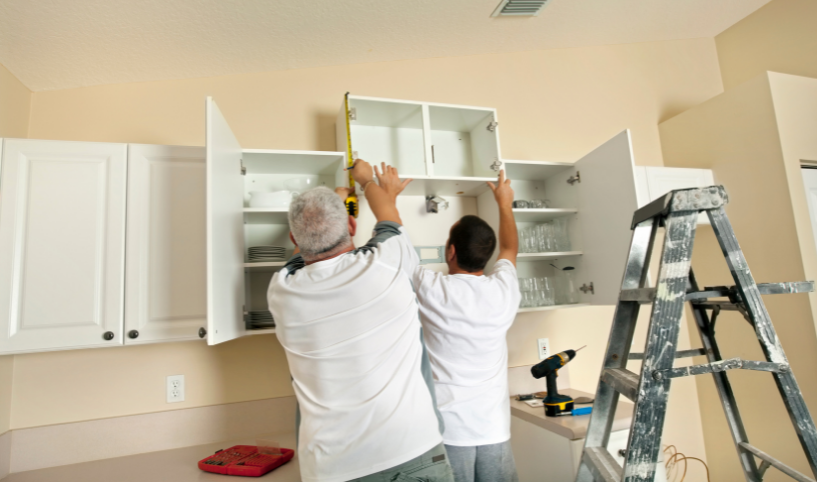 Small Kitchen Makeover Ideas To Make Your Space Feel Bigger 
If you are looking for easy remodeling ways to make your small kitchen appear larger, you have come to the right spot. Today we are sharing our 7 small kitchen makeover ideas for 2022 to help your space pop and look even larger!
Replace Your Cabinetry With White Painted Cabinets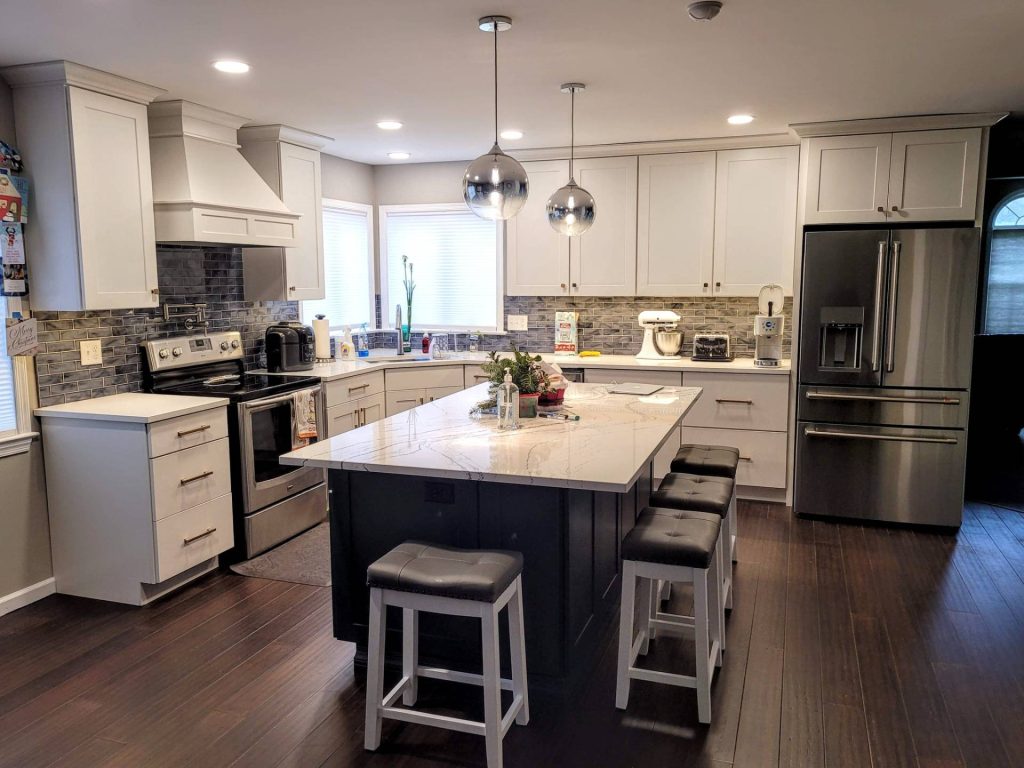 It's no secret that white is a popular kitchen cabinet color because it makes any space appear larger. Painting your current kitchen cabinets white can make your space appear brighter and more open.
Play Around With Your Kitchen Island
One of the main staples of many kitchen remodels is adding a luxury kitchen island in the middle of the space. Instead of having your kitchen island in the middle of the room, we suggest adding it to the end of a countertop to make a peninsula, removing it entirely, or making it a dual space where you can eat and prep food.
Make a Design Splash With Your Backsplash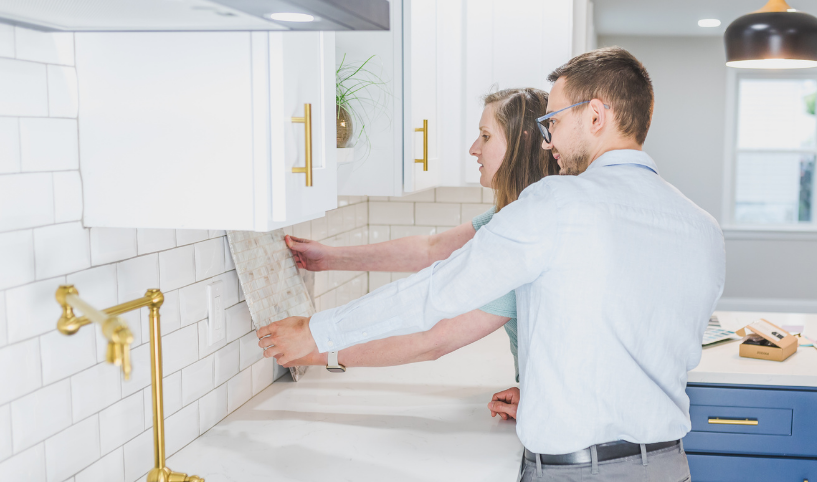 In small kitchen makeovers, design space is limited, so we suggest being creative with the backsplashes you use. Add a pop of color or pattern to help brighten your space and make it uniquely your own.
Upgrade Your Countertops
Just because you have limited countertop space doesn't mean you should live with ones that aren't up to your style standards. Add one of our beautiful laminate, Corian, quartz, or granite countertops to your small kitchen remodel and watch it come alive. If you have darker countertops, now could be a good time to replace them with a lighter style to help brighten your kitchen even more.
Extend Your Kitchen Cabinets To The Sky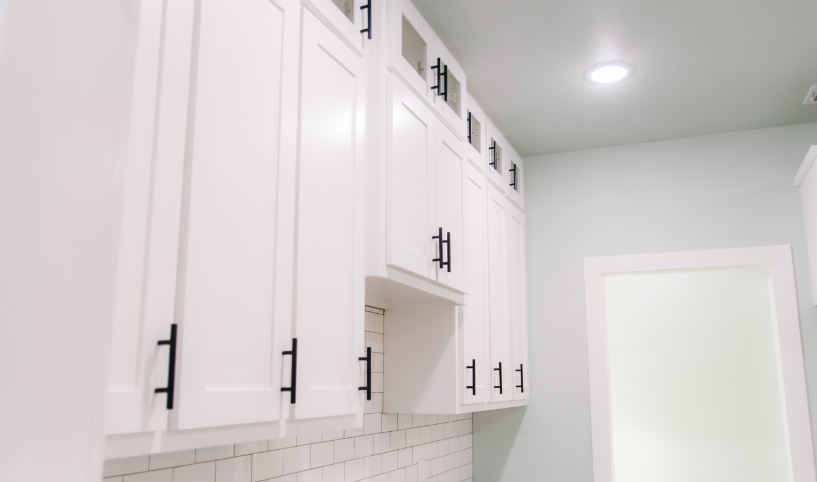 Many homeowners don't fully utilize all the ceiling and wall space they have in smaller kitchens. For this small kitchen remodel idea, be open to adding cabinets closer to the ceiling, and even some above your stove or sink. Getting a small ladder to be able to reach these spaces will be worth the extra storage.
Get Creative With a Pull-Out Pantry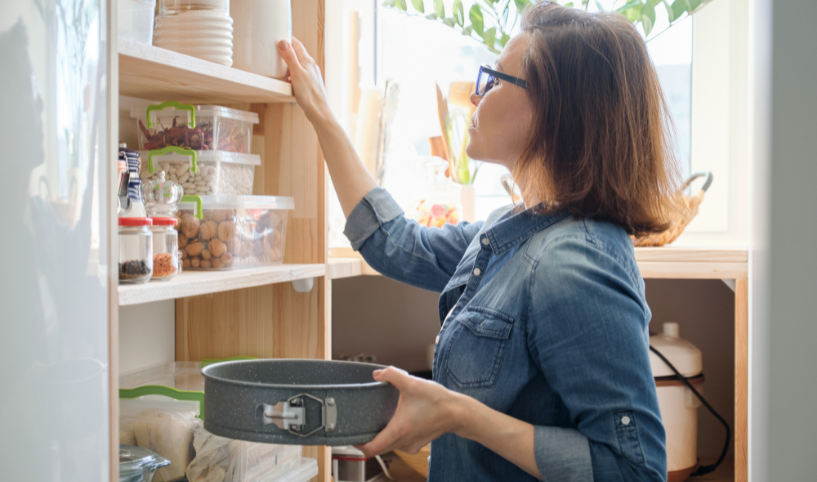 Need extra pantry space but don't have the space to create one? With our help, we can provide you with a pull-out pantry from Rev-A-Shelf, that goes into your kitchen cabinets. That way, you can pull it out when you need it but have it tucked away when you don't.
Hang Up Those Pots and Pans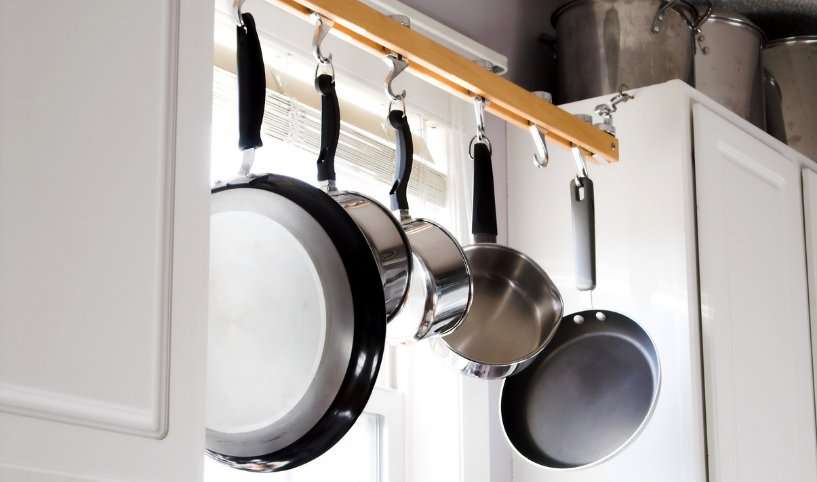 Tired of not having the space for your pots and pans? Add hooks to the sides of your cabinets or kitchen walls that can easily support heavy pots and pans. That way, they are within easy access but still leave you the storage space you need for other appliances.
All these small kitchen makeover ideas can be easy to implement and a cost-effective way to make your kitchen appear more open. Contact our team today to get a free quote on any of these tiny kitchen remodel ideas!
Why Choose Us For Your Tiny Kitchen Remodel
Since 1987, Kauffman Kitchens has been successfully completing beautiful kitchen remodels in the Lancaster and Chester County areas. We specialize in both residential and commercial countertop and cabinet installations, so you can trust us to complete your job to the best of our ability . When you work with our team, we provide you with a talented kitchen manager and kitchen designer to oversee every single part of your project from start to finish. They will help you select the right countertop materials, design the layout of your space, and make sure that the installation starts on time and stays on budget. If you have a small kitchen that needs to be revamped, don't hesitate to reach out to our team for a free quote on any of our services!
Turn Your Small Kitchen Remodel Idea Into Reality With Kauffman Kitchens
As you can see, you don't need to have a large kitchen for it to make a large style impact. By making a few minor tweaks and changes to your tiny kitchen remodel, you can transform your space and make it appear larger and more spacious to your guests and family. Visit our showroom in New Holland, PA, to get inspiration for your small kitchen makeover and speak to a member of our experienced team!