The Ingredients for Contemporary Bathroom Vanity Style
A central fixture in any master or guest bathroom is a beautiful vanity and sink. From brushing your teeth to stylishly outfitting your small powder room with essentials, bathroom vanities serve several practical purposes.
Whether you want upscale luxury or something kid-friendly, Kauffman Kitchens has contemporary bathroom vanity styles to check every box on your list. Keep reading to fall in love with our bathroom vanity ideas!
Unique Bathroom Vanity Ideas
The bathroom vanity is one of the first places people visit at the start of their day – so it's wise to give it some extra oomph in the design department. If your old bathroom needs a newer contemporary bathroom vanity style, or if you're adding on to your home with another guest bath, we've got you covered with all the bathroom sink designs and bathroom vanity ideas!
So, what is included in an exceptional bathroom vanity design? We're glad you asked.
Bathroom Sink Designs
Creating a contemporary bathroom starts with your bathroom sink design. The right bathroom sink design will live harmoniously atop your vanity design. The style of your sink ultimately comes down to what you like best, but we're happy to give our two scents on what is on-trend now; so, here's our #1 tip for how to find the perfect pairing:
Let's begin with what's in: long, high-arching faucets, called Gooseneck faucets, are very popular choices among homeowners. No other bathroom sink design cultivates this much style at this affordable price! Pairing this bathroom sink design with a modern rectangular shaped sink is a unique way to freshen up your bathroom vanity.
On the other hand, while typical center 2-handle faucets are common, they are less stylish – and more standard. They also take up more countertop space, making less room for what you actually want to display! And when it comes to the shape of your bathroom sink design, oval is out.
Bathroom Countertops/Vanity Tops
Of course, a bathroom sink design is nothing without a stunning countertop to build it in! (And between us, this may just be the most important part of your contemporary bathroom vanity remodel.)
Just like with kitchen countertop renovations, you have a ton of options when choosing a vanity top for your bathroom, so here is a brief breakdown of the best choices:
Cultured Marble: This bathroom vanity idea has never gone out of style! With a great look, low maintenance needs, and a super affordable price tag, it's a crowd pleaser for sure.
Quartz: The durable counter of the decade – quartz is a favorite because of its durability, stain resistance, and luxurious feel. The color and style possibilities are endless because of its man-made material.
Every great contemporary bathroom vanity style boasts a great color scheme! For a clean, long-lasting, and modern look, we recommend shopping for light colors like cream or white. If you're a homeowner with a more courageous design eye, your bathroom's vanity cabinets are the place to add a striking pop of color. Speaking of cabinets…
Bathroom Cabinets
Now onto our favorite part about contemporary bathroom vanities: the cabinets! Choosing vanity cabinets that leave a lasting modern touch on your home comes down to the style and color of the piece. Sleek lines and a clean design style complement a contemporary bathroom vanity style.
Functionality for the entire family is a huge part of what makes your vanity worthwhile. With that in mind, it's important to remember that vanity height should be a consideration when selecting a bathroom vanity idea to implement.
Higher cabinets underneath the sink can be used to make the sink taller – perfect for big families or growing children.
Many bathrooms aren't outfitted with large windows, so sticking with a light and bright color for your cabinets is one of our best bathroom vanity ideas. Because of this, our bathroom design experts recommend sticking with light colors when it comes to your bathroom vanity. Whites and light grays are popular for contemporary bathroom vanity styles, whereas a bold blue or peach hue can really make a statement.
Whatever your color preference is, our team is happy to help you achieve it!
Discover Your Contemporary Bathroom Vanity Style with Kauffman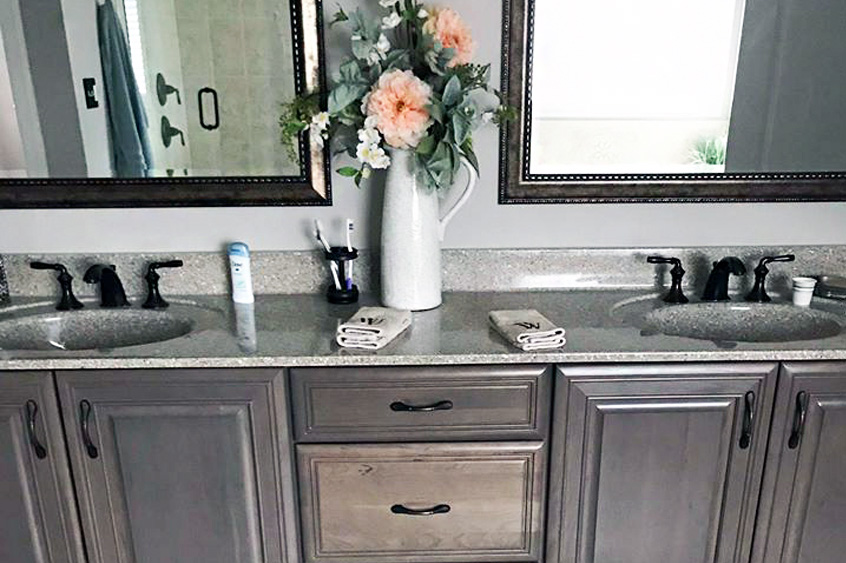 After reading through this article, you've probably got tons of brilliant contemporary bathroom design ideas burning through your brain waves. (Exciting, we know!) And with all those ideas, you've probably also got a few questions. Fortunately, we're staffed with a knowledgeable team of some of the best kitchen design experts in Lancaster County, PA – and we'd love to help you out!
For a free consultation, cost estimate, or answers to any bathroom remodeling questions, please contact us via our website or phone. You can also visit our showroom in New Holland, PA to see all of the stunning bathroom sink designs and bathroom vanity ideas up close!