Colored Kitchen Cabinets Will Take Center Stage in 2024
Forecasted 2024 colored kitchen cabinet trends may be no big surprise as some of the upcoming year's favorites have been floating around the design world for a while. With that being said, these colored kitchen cabinet ideas are timeless favorites that will not fall to a fad anytime soon. From white kitchen cabinet hues to green kitchen cabinet options – we have explored popular color families to deliver the trends you'll spot in 2024.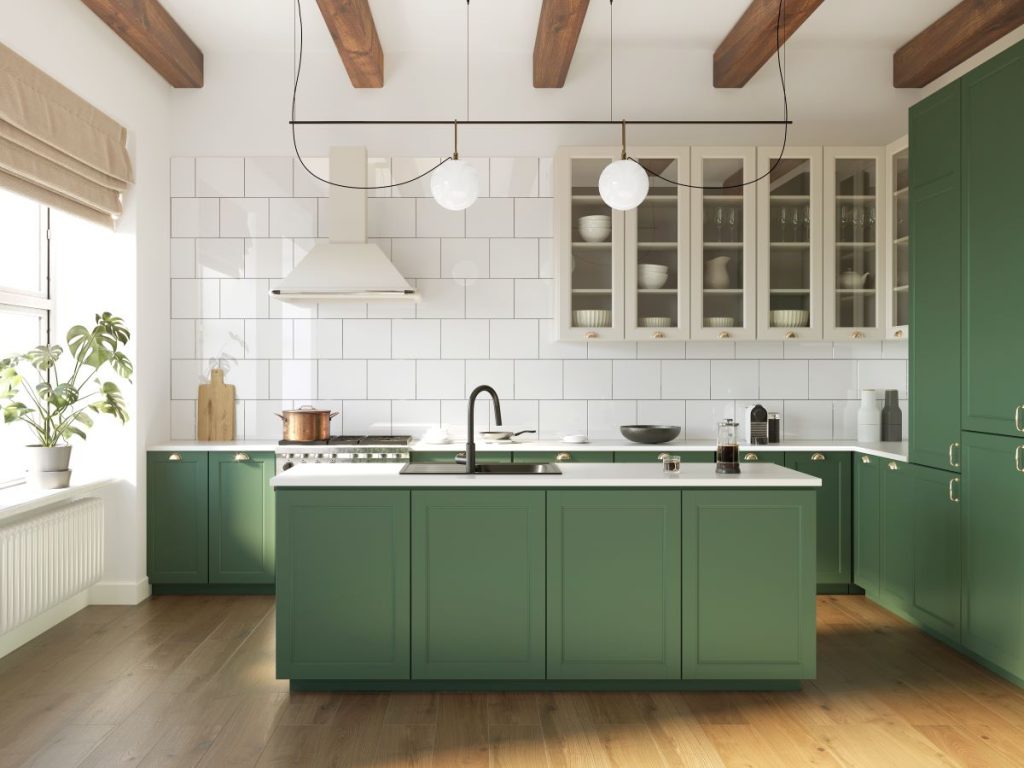 Cousins Taupe & Greige Lead in the Off White & White Kitchen Cabinet Category
While white kitchen cabinets may not be the standard trend for the 2024 forecast, this timeless color is certainly not a faux pas in interior design. White kitchen cabinets complement a variety of colors, textures, and patterns, making it the ideal option for new homeowners and DIY decorators to use as the basis of their kitchen remodels.
White has given birth to an offshoot of other colored kitchen cabinets that will be taking center stage this 2024.
Taupe: Use gold cabinet hardware to accent the taupe kitchen cabinets, elevating your kitchen's elegance to a higher level. Deeper taupe works well paired with warm wood floors that can also be repeated on kitchen island countertops.
Greige: When you mix gray and beige, you get greige – a fan favorite color that will sweep 2024 kitchen remodels. Greige cabinets pair perfectly with matte white appliances. This balanced mix of two classic neutral colors exudes sophistication and can transform ordinary white kitchen cabinets into captivating design elements.
Blue kitchen cabinets and other strong colors may be a risk homeowners aren't willing to take. Fortunately, natural wood grain cabinets are a popular choice that offers versatility and durability. Natural wood grain has a timeless quality that can adapt to changing design trends. They can look just as stylish in a modern kitchen as they do in a traditional or rustic setting, which can increase the resale value of your home.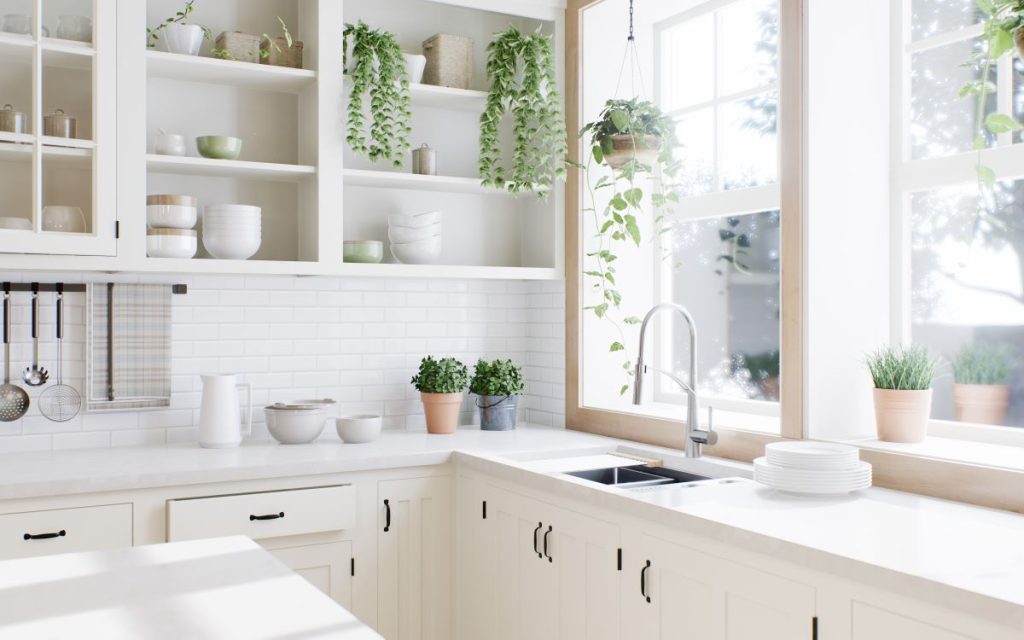 Green Kitchen Cabinets Dominate the Interior Design Catwalk
While white kitchen cabinets may be a better choice for the more conservative homeowner, a bold step that expresses personality and style is to feature green kitchen cabinets. Bottom kitchen cabinets that feature a dark army green with gold hardware look stunning contrasted against white upper wall cabinets. Dark green kitchen cabinets also complement darker kitchen countertops, allowing your white ceramic sink to take centerstage in the kitchen workspace.
Sage Green: Not only reserved to the colored kitchen cabinet category, carrying the sage green color to the walls and trim is a method used by interior designers. Sage green pairs beautifully with marble veined countertops.
Sea Green: Enjoy the sea breeze in the comfort of your own kitchen by painting your kitchen cabinets sea green. This refreshing color looks stunning with marble veined countertops and brass kitchen hardware. Place natural wood bar stools that feature black metal legs around the kitchen islands for a pop of natural color.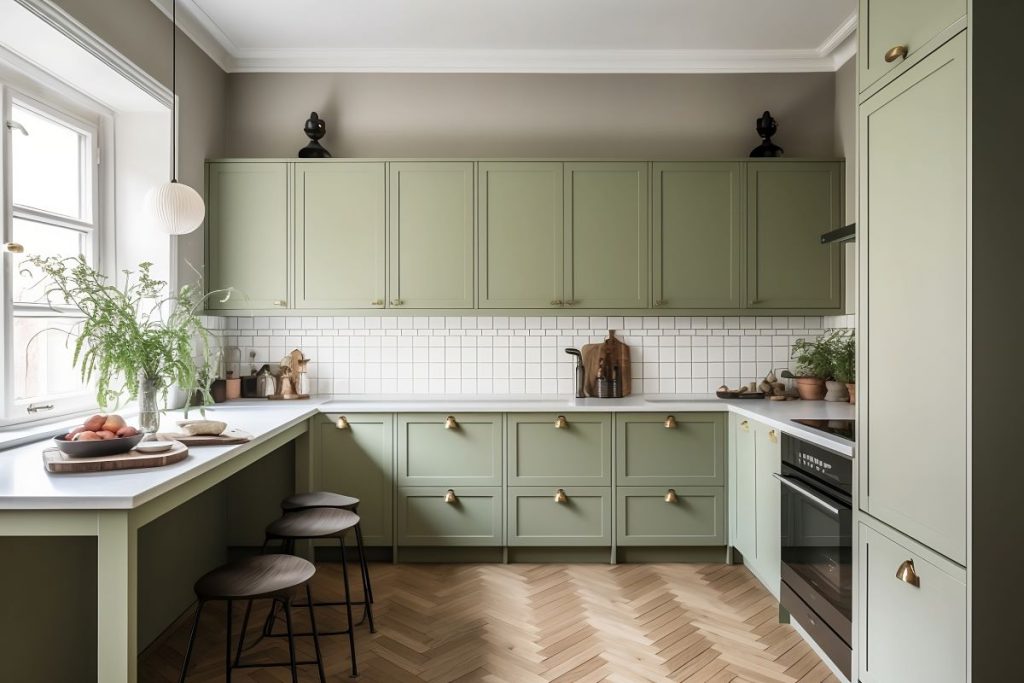 A Blue Period For the Chic – Blue Kitchen Cabinets
Chic, classic, calming, and cool – blue kitchen cabinets are the ideal color for homes that want to embrace a mariner's vibe. For vacation homes off the coast of France, along Cape Cod, or the Susquehanna River, blue colored kitchen cabinets set the tone of your personal haven.
Bold Blue: For those galley kitchens that embrace the "no white kitchen" rule, going with a bold, high-shine blue kitchen cabinet color will accent the space. They pair nicely with brown floors and silver kitchen hardware.
Primary Blue: Minimalist spaces that incorporate a lot of white benefit from accent spaces. Spaces like entry doors and kitchen cabinets are ideal areas to use bold colors. Primary blue kitchen cabinets work well with neutral-colored floors.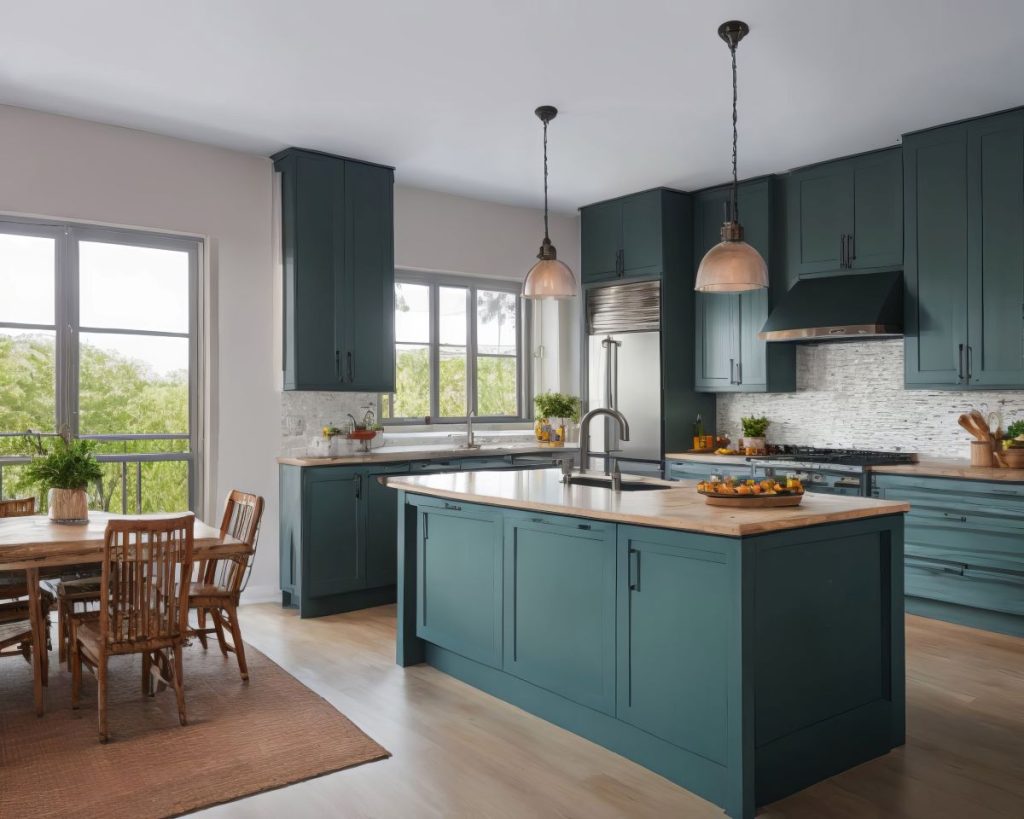 Take the Bold Step with Colored Kitchen Cabinets by Kauffman Kitchens
Established in 1987, Kauffman Kitchens has been serving residential and commercial customers in Lancaster County and beyond. From countertop replacements to kitchen and bathroom cabinet installation, Kauffman Kitchens is the ultimate destination for beautifying and upgrading your indoor spaces.
With a professional eye for white kitchen cabinet ideas and green kitchen cabinet ideas, Kauffman Kitchens is dedicated to making your residential or commercial space a dream come true. Contact us today and discuss colored kitchen cabinet arrangements!