Your Renovation Guide: Small Bathroom Remodel Costs
So, you want to freshen up your bathroom without flushing any funds down the toilet?
Around Lancaster County, a small bathroom remodel costs anywhere from $1,500 – $15,000. With a range that varying, how can you project where your final price tag will ring in at?
Allow the experts at Kauffman Kitchens to shed some light. We'll give you stylish AND affordable options that'll help you cut costs on your renovation, all without sacrificing on style!
The True Cost to Renovate a Small Bathroom
According to Remodeling magazine's report, bathroom additions and renovations hold the most return on investment. But determining a personal financial plan can be tricky when trying to plan your bathroom renovation on a budget.
While the majority of your cost to renovate a small bathroom will depend on the size of your space, and the quality and style of the products you choose, the team at Kauffman Kitchens can help provide you with a ballpark estimation.
Learn what to expect – and what you can get for your budget:
Basic Remodel – Under $2,000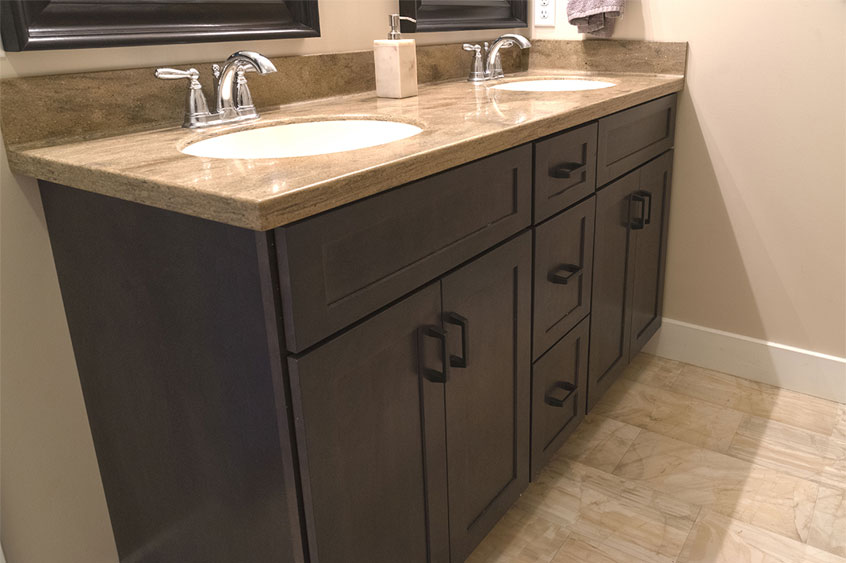 Champagne taste on a beer budget is nothing to be ashamed of.
If you think it's necessary spend several G's to get the bathroom renovation of your dreams, we've got good news for you! With the budget-friendly options at Kauffman Kitchens, your design thirst can be quenched – without drowning you in debt.
A base model of bathroom countertops and cabinets can be completed for around $1,500. By opting for a cultured marble countertop instead of a custom-cut option, you save those sweet dollars and also get that sweet design aesthetics of a seamless vanity! Cultured marble countertops come in tons of colors and designs, and are definitely the way to go for your bathroom renovation on a budget.
A basic small bathroom remodel costs roughly $1,500 and can be expected to take only one day to install. Talk about a quick turnaround!
Upscale Remodel – Starting at $3,000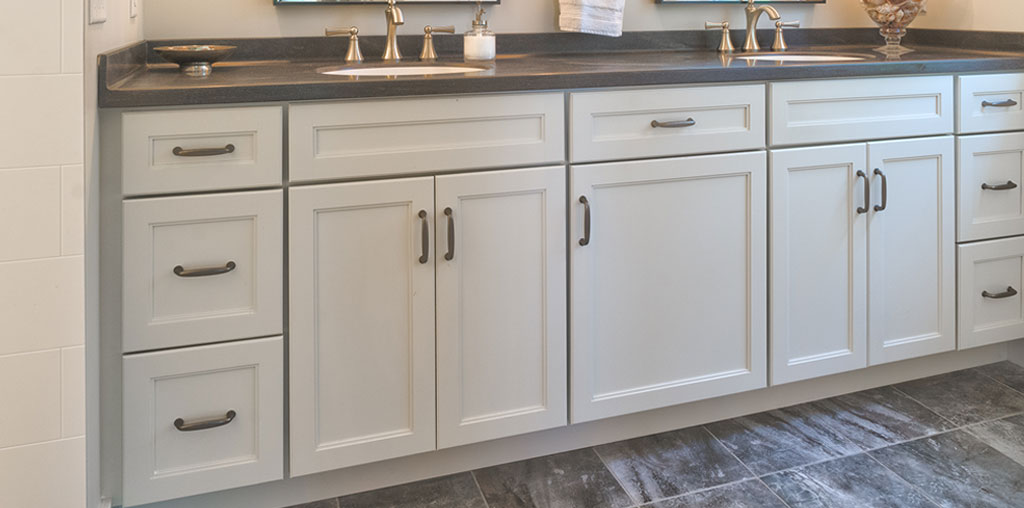 If $3,000 – $5,000 is a cost to renovate your small bathroom that is comfortable for you, it opens your countertop and cabinet options tremendously.
Two of the most popular countertops we install at Kauffman Kitchens are Corian and Granite – only slightly more expensive than a cultured marble countertop, but still well within most homeowner's budgets. Having a local bathroom remodeling team install either Corian or Granite in a small bathroom costs around $3,000. An upscale countertop installation like this may between 3-4 days to complete.
Known as the newer generation's "faux stone", Corian is the premium building material that comes in dozens of different colors. Similarly, Granite countertops also have several style options, and are more in line with a "one-of-a-kind" look, since every slab is unique.
Extras & Other Upgrades to Consider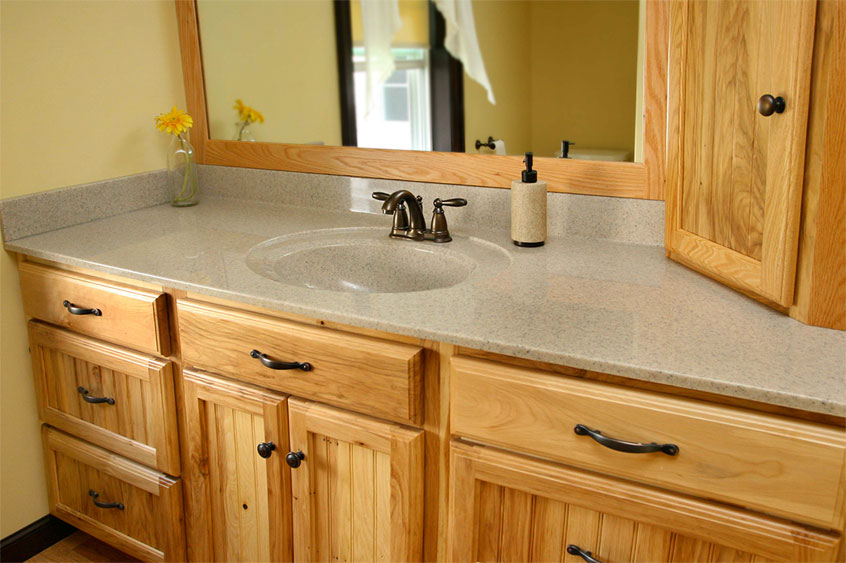 There's nothing wrong with being a little extra – especially when it comes to your home's primary bathroom! Additional upgraded finishes may add a few extra dollars to your bathroom renovation budget, but they're so worth it. Here are our top 3 most noticed (and most affordable) "extra's" to consider when planning a bathroom renovation on a budget:
Custom Mirrors – Sometimes, finding a mirror to compliment your cabinets and countertops is harder than it should be. When working with a bathroom remodeling expert, you most likely can have the option of creating a custom mirror to match the new cabinetry of your space. Expect to add about $1,000 for this unique, deluxe feature.
Faucets & Finishes – If you're planning on updating that old vanity faucet during your small bathroom remodel, remember to allocate funds for it! Depending on the degree of decoration vanity faucets can range anywhere from an extra $50 to upwards of $1,000!
Linen Cabinet – We can't talk about a bathroom renovation without also talking about storage! Afterall, it is one of the most important aspects of any room in the house. Linen cabinets can be purchased as a stand-alone piece, but if square footage is scarce, we recommend having shelves built into your cabinetry! It's a super affordable solution – expect to add about $500 to the price, per cabinet.
Bathroom Renovating on a Budget with Kauffman Kitchen
At Kauffman Kitchens, bathroom renovations on a budget is our specialty. Plus, we really just love installing some beautiful cabinets and countertops!
While we can provide you with rough estimations of what a small bathroom remodel costs, it is best to have our team our to quote your job uniquely and accurately.
Contact our team to get started – and find out just how much it may cost to renovate a small bathroom!