4 Amazing Natural Stone Outdoor Kitchen Countertop Options For Your Home
Are you in search of the best countertops for your outdoor kitchen? At Kauffman Kitchens, we understand the importance of finding durable and stylish outdoor kitchen surfaces that can withstand various weather conditions. So whether you're dealing with cold winters or hot summers, we have a wide range of outdoor kitchen countertop materials to suit your needs. Our team takes pride in offering a selection of high-quality options that will not only make your outdoor cooking area last but will also be the envy of your friends and family. Join us as we unveil our top 4 favorite outdoor kitchen countertops, and get ready to transform your outdoor space into a culinary oasis!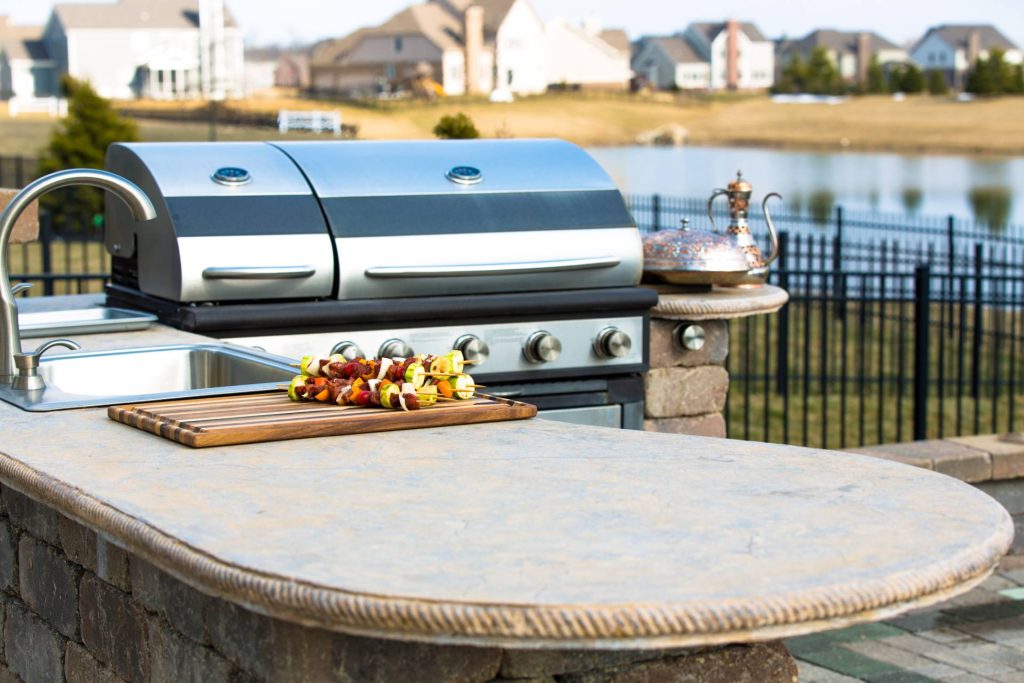 What To Think About Before Choosing Your Outdoor Kitchen Surface Material?
Before you dive into the process of selecting outdoor kitchen countertops, it's essential to ask yourself a couple of questions to make sure you are making the right choice. These are the questions we recommend to our clients when trying to find the best outdoor kitchen surface:
 What is your budget? It is important before any major home improvement project to have an amount you don't want to exceed. You can then work to find a company that will work with you within that budget.
What are your style preferences? Do you lean more towards something sleek and modern, or would you want a more rustic or natural look? This can greatly impact the outdoor kitchen surface you choose and how you design your new outdoor space.
What available space do you have in your backyard? No matter if you have a small or large backyard, deciding what you want to include in your outdoor kitchen is important to note before you start the design and quote process.
Will your countertops be exposed to direct sunlight? Some of the outdoor kitchen countertop options we will include below have high UV resistance, which means they can handle being in direct sunlight.
What are your typical climate and weather patterns? Like we stated above, certain countertop materials will do better in more extreme temperatures than others.
How will your family use this new outdoor space? Will it be primarily for cooking, entertaining, or both? Make sure to communicate that to your kitchen contractor so they can help design the perfect space for you.
By answering these important questions, you'll be better equipped to determine which type of outdoor kitchen surface will best meet your needs and preferences. Stay tuned as we reveal our top 4 countertops that we recommend for creating stunning and functional outdoor kitchen spaces!
The 4 Best Countertops For Outdoor Kitchens
When it comes to quality outdoor kitchen countertops, Kauffman Kitchens is happy to share our favorites with you! From popular styles you'll recognize to some you never considered, you are sure to find something from this list that fits your budget and your style preferences. These include:
Outdoor Granite Countertops: This is a popular and durable choice that can withstand elements while resisting stains and odors from cooking food. Also, this outdoor kitchen countertop material won't fade in the sun.
Soapstone: This countertop material is stain, heat, and moisture resistant.
Marble: For a touch of elegance, consider marble countertops with their UV resistance, diverse colors, and patterns, albeit they do require resealing every few years.
Limestone: Limestone provides natural beauty, durability, and heat resistance, though it will also need resealing every few years.
After reading our list of the best countertops for outdoor kitchens, are you ready to make your dreams a reality? Kauffman Kitchens boasts decades of experience in installing kitchen countertops and cabinets, and we are eager to assist you with your next project. Contact us today to get started and claim your free quote!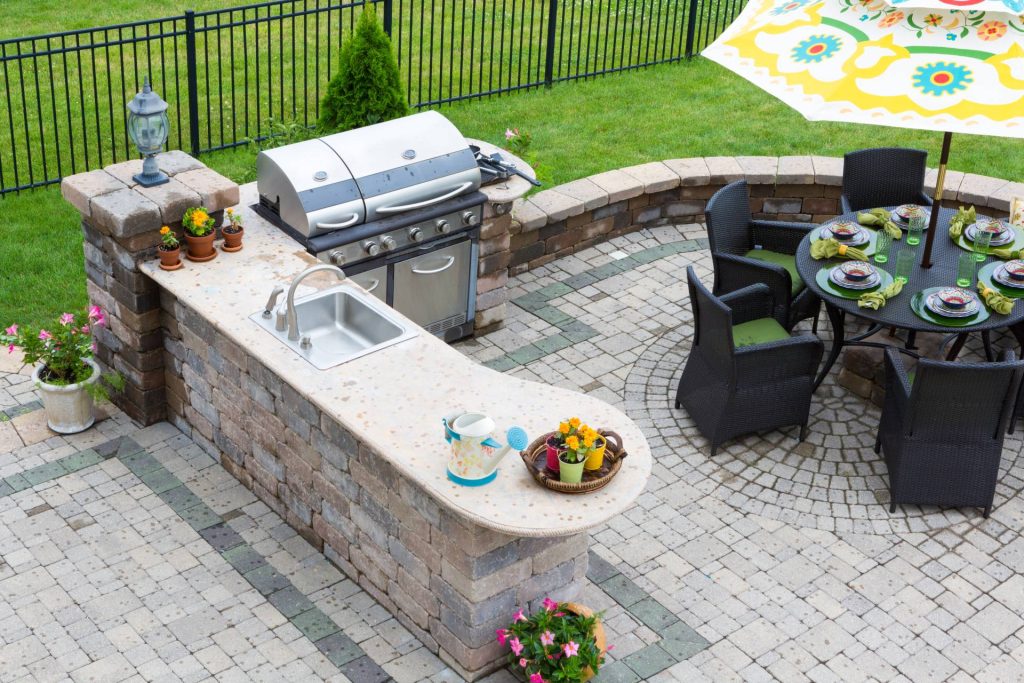 Get a Free Quote On Your Outdoor Kitchen Countertops!
Choosing the right materials for your outdoor kitchen countertops is essential for creating a space that is not only visually stunning but built to last. That's why our team is here to help guide you every step of the way, making sure that you select only the best outdoor kitchen surface materials and brands. When you work with us, you are more than just another number. You gain the support of a dedicated kitchen project manager who will be by your side from start to finish, providing constant communication and personalized attention. Don't settle for anything less than exceptional when it comes to the best countertops for your outdoor kitchen. Get in touch with our team now and claim a free estimate! We look forward to bringing your outdoor kitchen vision to life!