Granite vs. Quartz Countertops: Pros & Cons
There is one design decision that sparks heated debates between couples when it comes to renovating the kitchen. One that creates tension, frustration, and a little bit of confusion if we're being honest.
That's right, we're talking about Granite vs. Quartz countertops.
Don't believe us? Tune into any HGTV prime time show and you'll most certainly hear the Granite vs Quartz countertop discussion unfold. But, is Quartz better than Granite, or is it the other way around?
Stay tuned to find out the answer to the question homeowners everywhere have been debating for centuries.
Exploring the Difference Between Quartz and Granite Countertops
There's no doubt that you're most likely spending a good chunk of change on updating your kitchen or bathroom with new countertops, and you want to be sure you're getting a product that will serve you and your family well!
To help squash the Granite vs Quartz countertop quandary, let's take a look at the difference between Quartz and Granite countertops, as well as a few pros and cons for each.
Quartz Countertops Pros & Cons
While the difference between Quartz and Granite countertops may seem slim, there is actually quite a lot of technical, behind-the-scenes contrasts you may not notice just by looking at them. Let's take a look specifically at Quartz first.
Quartz is one of the most abundant minerals on the planet, which means you'll always have plenty of options when working with it. While it is partially man-made, the acrylic material bonded together with Quartzite creates lovely colors and a range of stunning patterns. Plus, this combination of sealed materials means that it is sealed forever. No maintenance needed!
Now, this quality, lavish patterns, and low-maintenance does come at a cost – one of the highest costs for countertop materials in fact. Is the price worth it? Here's a further look at the Quartz countertop pros and cons:
Less likely to chip, crack or scratch
Doesn't require annual sealing
Requires little to no maintenance
Stain-resistant
Durable and long-lasting
Most expensive countertop material
Visible seams
Susceptible to heat damage
Pattern: Color veins and seams
Maintenance: Low
Price: $70 – $150 per square foot
Granite Countertops Pros & Cons
What is exactly is Granite? Mined from quarries around the world, Granite is a natural stone that was introduced to interior design in the late 1980's. It's authentic and unique, two things that are admired in everyone's world. Because it is a 100% natural stone, it means you also get a 100% unique slab.
At Kauffman Kitchens, when customers ask us if Quartz is better than Granite countertops, we put it this way: Choosing Granite is like choosing real solid hardwood floors over a laminate lookalike – nothing beats the real thing.
Most renovating homeowners who choose Granite do so for its price, its one-of-a-kind cut, and simply because they love Granite! When considering the differences between quartz and granite countertops, remember the following pro's and con's of Granite:
Naturally made
100% unique slabs
Affordable
Large color and pattern variety
Resistant to scratching
Can be used outdoors
Requires annual sealing
Prone to cracking and water damage
May be difficult to repair
Pattern: Speckled
Maintenance: Medium
Price: $45 – $60 per square foot
Granite vs Quartz Countertop Installation
With the installation of Granite or Quartz countertops, despite which you choose to showcase in your renovation, if it is not installed properly, you can experience horrible side effects like cracking, staining, and bacteria buildup!
But by working with an experienced countertop installation team like Kauffman Kitchens, you are promised a properly-sealed, expertly handled countertop install for your kitchen or bath. You get to pick your exact slab of Granite or Quartz when you team up with us because we handle the entire process!
Going above and beyond, we also will coordinate with a plumber to give you the most stress-free renovation experience ever.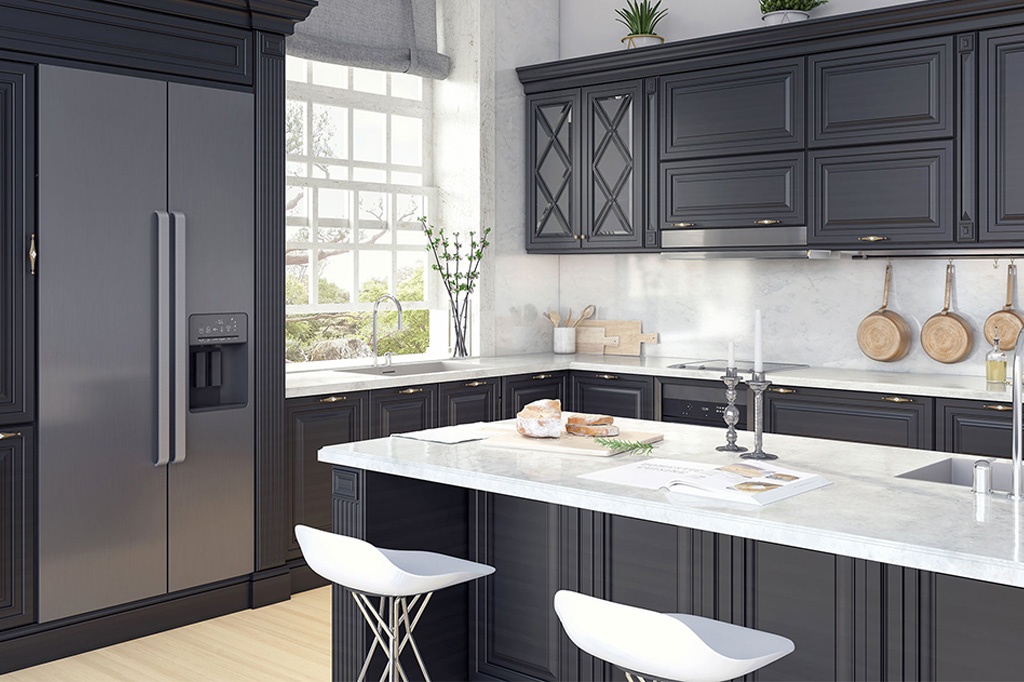 The Final Verdict: Is Quartz better than Granite?
Answering the question, "Is Quartz better than Granite?" is something that everyone has their own opinion on. When it comes down to it, there are definite differences between quartz and granite countertops that will help you decide which is right for your home. Ultimately its all about what works for your budget, style, and color preference.
When you work with Kauffman Kitchens, you not only get a skilled countertop installation crew, you get a team that helps you with your entire kitchen renovation. From plumbing and fixtures to backsplash designs to match your new upgrades, we are truly the one-stop-shop to call.
Start exploring your Granite and Quartz countertop options by visiting our spacious showroom, calling our office, or completing our short online contact form!