The Best Material for Kitchen Countertops
Homeowners always ask us what's the best material for kitchen countertops — and the answer is that it depends on you. There are 4 main kitchen countertops that we install, and each one is right for different customers for different reasons.
Ultimately, your sense style of style, your needs, and your budget will determine the kitchen countertop you want. While we can't tell you what's the best material for kitchen countertops, we can help you find which one is best for you.  Read on for all the details, broken down by a kitchen installer who does it all.
The 4 Best Kitchen Countertops Compared
If you're renovating your kitchen right now, you're in luck. In 21st century kitchen design, there are more options and they look better than ever before. The 4 best kitchen countertops are:
Laminate
Acrylic Solid Surface (AKA: Corian)
Quartz
Granite
Each of these counters have distinct strengths and weaknesses you need to consider when making your choice. At Kauffman Kitchens, we install all 4 kitchen counter types — because all 4 are great! It's just a matter of matching each person with the right material.
Laminate Counters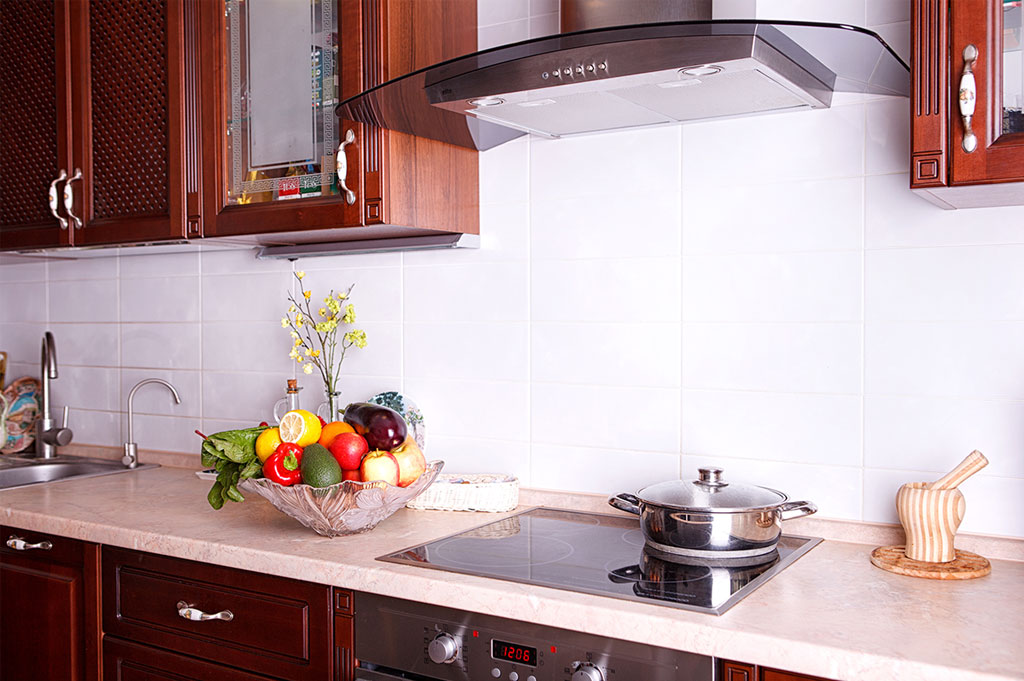 Laminate countertops are made by applying plastic-type material to a surface composite board. While once laminate was the budget option and it showed, 21st century laminate looks absolutely stunning — while retaining the budget price point. At Kauffman Kitchens, we build these countertops in our own workshop which lets us offer them at even better prices.  The bountiful styles paired with the price makes laminate the best material for kitchen countertops for many homeowners.
Want to see it in action? Click to view one of our very own kitchen remodels with a Laminate countertop design!
Strengths
Resistant to scratching
Impervious to wine, coffee, and permanent marker stains
Approximately half the price of other counters
Wide variety of colors available
Non-porous for bacteria resistance
Weaknesses
Matte look that some homeowners don't like
Edges have visible seams
Laminate counters can look worn sooner than others
Standing water can get under the laminate
Laminate can be burned
Won't have the same pattern variety as granite
Acrylic Solid Surface (Corian) Counters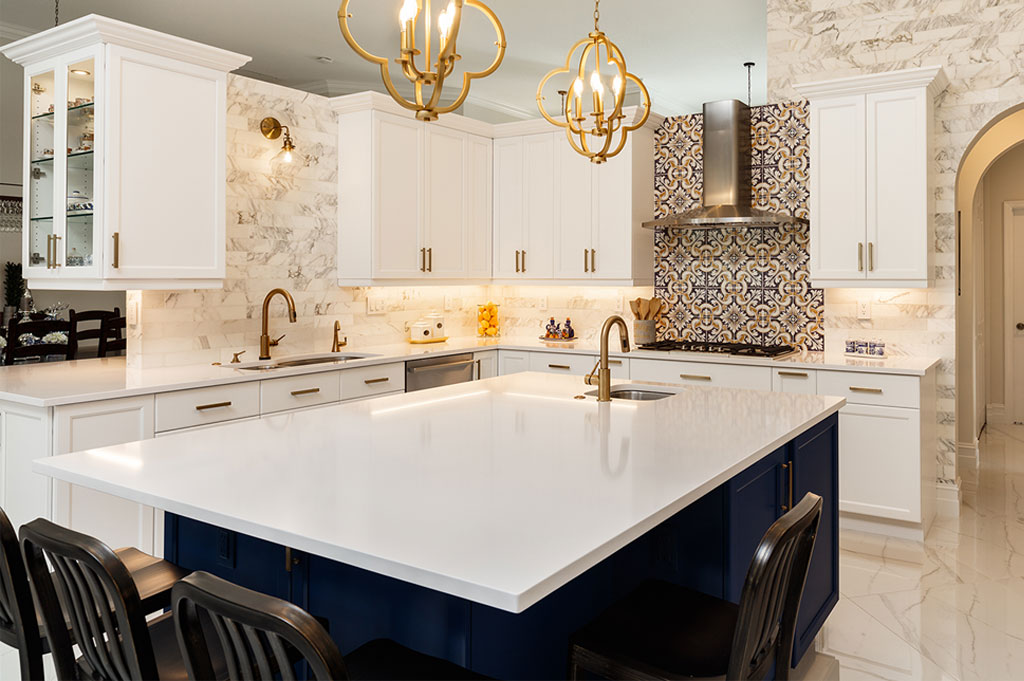 Corian is the most well-known acrylic solid surface countertop — and has almost become synonymous with the material. Another man-made countertop material, Corian has many of the advantages of laminate but with a more high-end style. One of the acrylic advantages that homeowners love is that the same material can be used for the countertop and the backsplash, without showing a seam between the two.
Contact us to see just how elegant a Corian counter could look in your home.
Strengths
No seam between counter and backsplash
Can sand the surface to eliminate damage and to get a new look
Non-porous for bacteria resistance
Wide variety of colors available
Kauffman Kitchens is trained by Dupont, the Corian manufacturer
Weaknesses
Scratches easily, especially in black
Matte look that some homeowners don't like
More expensive than laminate
Learn more about Kauffman's commercial work.
Quartz Counters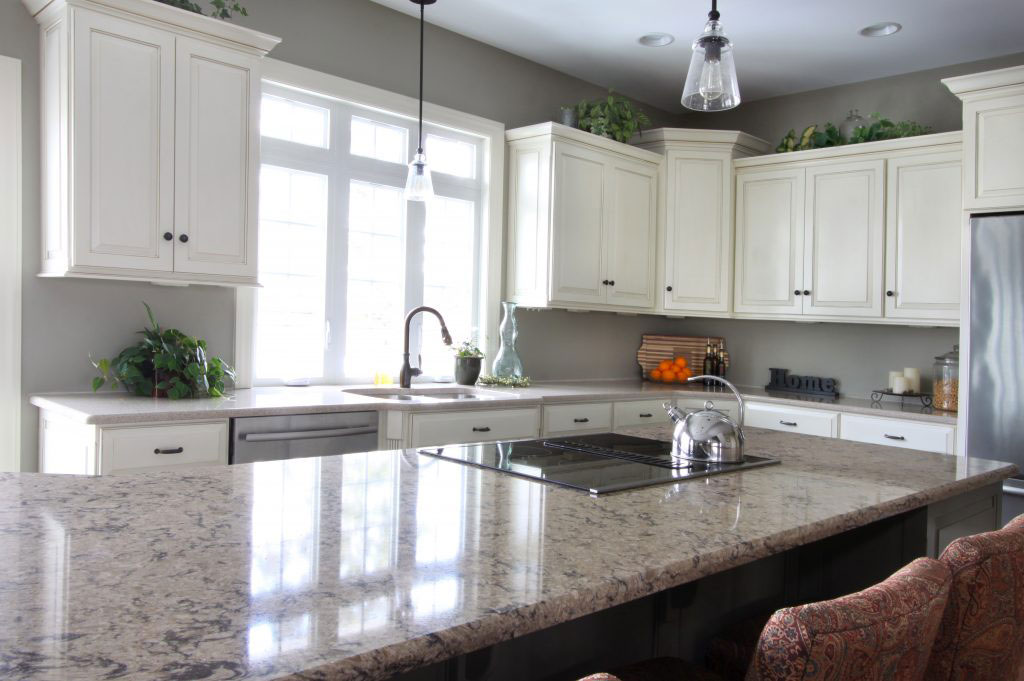 For some homeowners, quartz makes for the best kitchen countertop as it provides the look and feel of real stone, backed by several practical advantages.  Simply put, stone looks and feels different from non-stone countertops. It boasts a much shinier appearance as opposed to the matte looks of laminate and Corian — and the temperature and texture are undeniable.
View photos from our Terre Hill kitchen renovation, where our team installed a stunning Cambria quartz counter to this beautiful custom kitchen.
Strengths
Most durable material
Looks similar to granite
Low maintenance
Resistant to scratching
Resistant to heat and burning
Cold feel of real stone
Non-porous for bacteria resistance
Weaknesses
Seams are visible
Higher price point
Granite Counters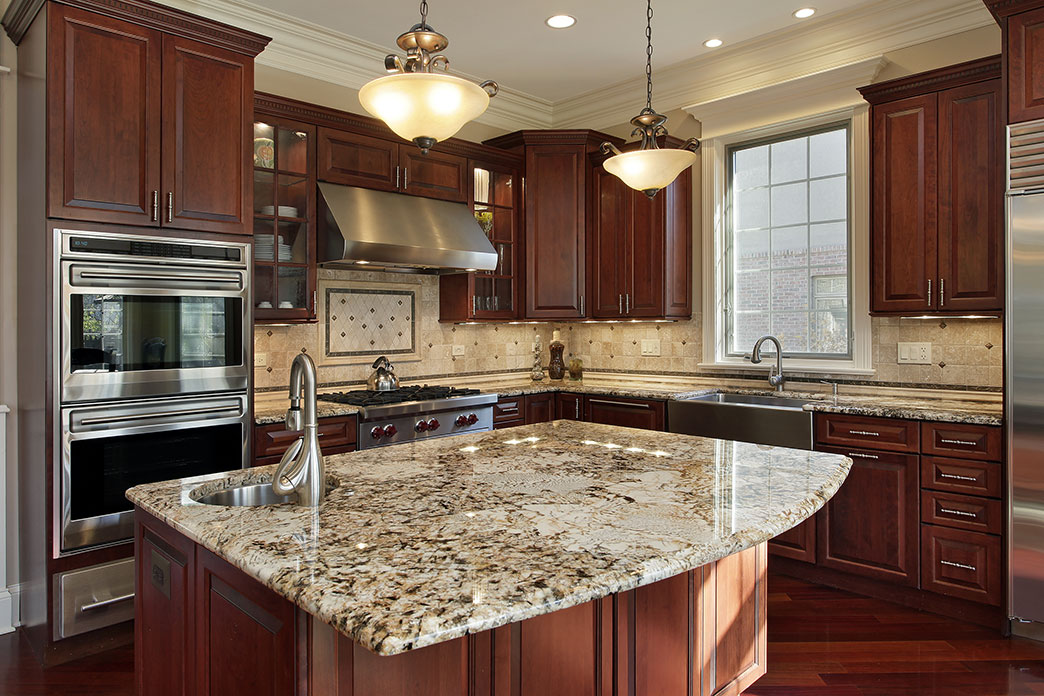 For a long time, granite countertops were synonymous with upscale kitchen luxury. While there are more deluxe options than ever before, for some, granite is and will always be the best kitchen countertop. While granite is a strong and durable material, the real reason it stands out is the truly distinct visual flair. As a fully natural product, granite countertops have a truly one-of-a-kind pattern that can NEVER be repeated or copied. In addition, the depth of the pattern is un-paralleled — and some homeowners say that granite almost has a 3D quality to it!
Take a look at how the Kauffman team incorporated Granite countertops in a kitchen remodel project in Ephrata, PA!
Strengths
No two granite countertops will look the same
Pattern never repeats
Huge color variety
Exotic looking material
Low maintenance
Resistant to scratching
Resistant to heat and burning
Cold feel of real stone
Weaknesses
Material is porous which can trap bacteria
High price point
Installing ALL the Best Materials for Kitchen Countertops
At Kauffman Kitchens, we design and install dream kitchens for homeowners throughout Lancaster and Chester Counties. Every single one of our kitchen designs begins with a conversation between the homeowner and our experienced designers. We'll help you find your style and the best kitchen countertop material for your home!