5 Kitchen Cabinet Colors that Are Big in 2019 (& 3 that Aren't!)
There's no question, the kitchen is the heart of the home. It's where your family spends a lot of time together – and it's one of the main places you entertain guests.  But, if the "heart of your home" could use an update to get its pulse back, we can help with that. When you're ready to select your new kitchen cabinets, trust Kauffman Kitchens! We know a thing or two about kitchen renovations, including designs and features that are up-and-coming, and others that your kitchen can do without.
Read our blog to spark your imagination with the hottest kitchen cabinet colors in 2019!
These popular kitchen cupboard colors will transform your space into the kitchen aesthetic of your dreams.  Keep on reading to be in-the-know about every cabinet color piquing interest this year – and find out which colors aren't making the cut.
Exploring the Most Popular Kitchen Cupboard Colors
Choosing colors, picking a backsplash, and finding fixtures are all elements that define your kitchen design style. While they're certainly exciting, the decisions can quickly become overwhelming! Rest assured – the experts at Kauffman Kitchens know just what it takes to make your kitchen remodel a step in the right direction. We've got your back through all the tough decisions!
In 2019, everyone is looking for drama – with their kitchen design, that is! This year's top kitchen cupboard color trend is making a statement in the hub of your home with bold, unique colors. Let's explore the 5 trending tones:
5 Trending Tones
Looks Great with Grey — Schrock cabinets should come as no surprise to you as the first on our list of popular kitchen cabinet colors in 2019. From dark Dolphin gray to a lighter shade of Shadow, Schrock gray cabinets are dominating the design world right now and is on par to continue that way!
Embark on Dark— Yes, you read that right! Dark cabinetry is coming back with a bang in 2019 – and we couldn't be more thrilled about it. From complete dark cabinetry sets to accent pieces, or mix-matching two-toned cabinets, this captivating color trend is one of our favorites! PRO TIP: Dark stains work best in large spaces since they can darken small rooms. If you plan to use dark colors in a smaller kitchen, be sure to balance them out with white walls or plenty of natural lighting.
White Washout— White, light, and bright has been the mantra for thousands of homeowners over the recent years. And rightfully so – there's just something about crisp, white features that liven up a room. White is one of our top kitchen cupboard colors for 2019 because of how it pairs so well with many design styles, like farmhouse or modern.
Light Wood Stain – Minimalists everywhere are jumping on board with this popular kitchen cabinet color! Naturally or lightly stained wood complements the industrial and farmhouse kitchen design styles especially well.
Hues of Blues – Got some personality? Add a little oomph to your kitchen renovation with a dark blue or Maritime kitchen cupboard color. We love how popular kitchen cabinet colors in 2019 are gearing towards bold! PRO TIP: Most blue kitchen cabinet colors aren't primary blue, but rather a gray-based blue or navy to make them more neutral in the kitchen. When making your final selections, use a darker blue hue for sharp contrast.
Kitchen Cupboard Colors that Are Saying Goodbye
While we're excited about the popular kitchen cabinet colors in 2019, not every color makes the cut! When it comes to kitchen cabinet colors working their way out of style, we've got all the information you need:
Here' the info
Basic Browns – In a world where everyone and everything is meant to stand out, basic brown stains and paints are quickly falling out of style. Homeowners looking for a standalone statement piece are instead opting for a more modern and lighter stain.
Cherry & Crimson Colors – This once popular kitchen cupboard color is actually being discontinued! Simply put, the leading modern and farmhouse styles don't match with these hues.
Honey Hues – "Dated" is never a word you want to hear used to describe ANYTHING in your house, let alone your kitchen! The honey colored medium brown stains for wooden cabinets are practically sprinting out of style, and they definitely don't make our list of popular kitchen cabinet colors this year.
Installing 2019's Best Cabinets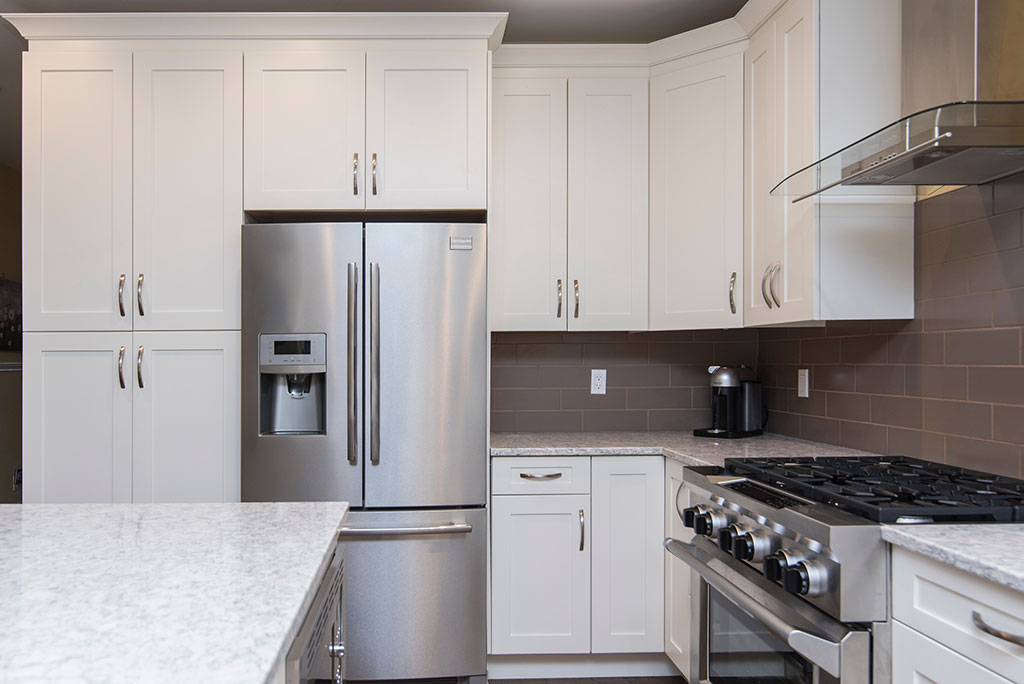 The days of settling for builder's grade kitchen cabinets are over! With so many styles and popular kitchen cabinet colors picking up speed in 2019, there is truly something for everyone to love.
Find your favorite cabinets available in Lancaster, PA by contacting our helpful team!
Whether you need some assistance selecting a cabinet color that maximizes your space, or you're ready for the install, get in touch with the experts at Kauffman Kitchens today! We're here 5 days a week, and we're looking forward to helping you get the kitchen you've always dreamt of!