Charming Modern Farmhouse Kitchen Ideas
You don't have to live on a century-old east Texas homestead to enjoy the charms of a modern farmhouse kitchen. No matter where you live or the age of your home, you can create your own rustic charisma through these easy-to-love modern farmhouse kitchen ideas!
The modern farmhouse kitchen aesthetic is all about reclaimed wood, rustic hues, and the sleek clean lines of contemporary design.
At Kauffman Kitchens, we build dream kitchens that feature a wide range of diverse styles. In this blog, we're covering all things kitchen renovation: from modern farmhouse kitchen island ideas to cabinet colors, hardware, and finishes. Stay tuned to learn all about revamping the heart of your home – or reach out to one of our expert designers right now!
Farmhouse Kitchen Island Ideas
When it comes to a farmhouse kitchen island, combining style and storage is key. After all, a true modern farmhouse island shouldn't just take up space – it should create space! This means drawers, cabinets, and sliding compartments.
Aside from the practical kitchen island design features, let's talk about style. As kitchen designers and remodelers for the past 30+ years, we typically see farmhouse kitchen island designs with tone-on-tone countertops. Pairing white countertops on a white island may skew a bit more to the modern side of a modern farmhouse kitchen, but nonetheless, it is still a gorgeous option!
If your aesthetic leans a little more farmhouse than modern, consider a solid wood countertop with a white or a light gray cabinet color underneath. The color of the island itself should match the color of your other kitchen cabinets, but we'll get into that in just a second.

Modern Farmhouse Cabinet Colors & Style
As you know, storage is one of the most important features to incorporate in any kitchen design – no matter what style kitchen you're building. Modern farmhouse cabinet colors and styles range from super ornate to super simple. Here are a few key elements to consider when shopping for the perfect modern farmhouse cabinet styles:
Cabinet Colors: When you think of modern farmhouse kitchens, think light and bright. A clean white or off-white shade is a timeless option for modern farmhouse cabinet colors, but rustic shades of blues and grays are a trendy way to modernize that hue even more.
Cabinet Design: Keep it simple with the cabinet design and hardware so your unique antiques and detailed décor can hold the spotlight of intricacy! Shaker doors, raised panel doors, or beaded cabinets are some of your best simple cabinet options.
Cabinet Placement: For a slightly more distinctive option to modern farmhouse cabinetry, opt for areas of open shelving – like your upper cabinets – instead of a full line of cabinetry.
Read more tips on designing farmhouse kitchen cabinets!
How to Bring Your Modern Farmhouse Kitchen Ideas to Life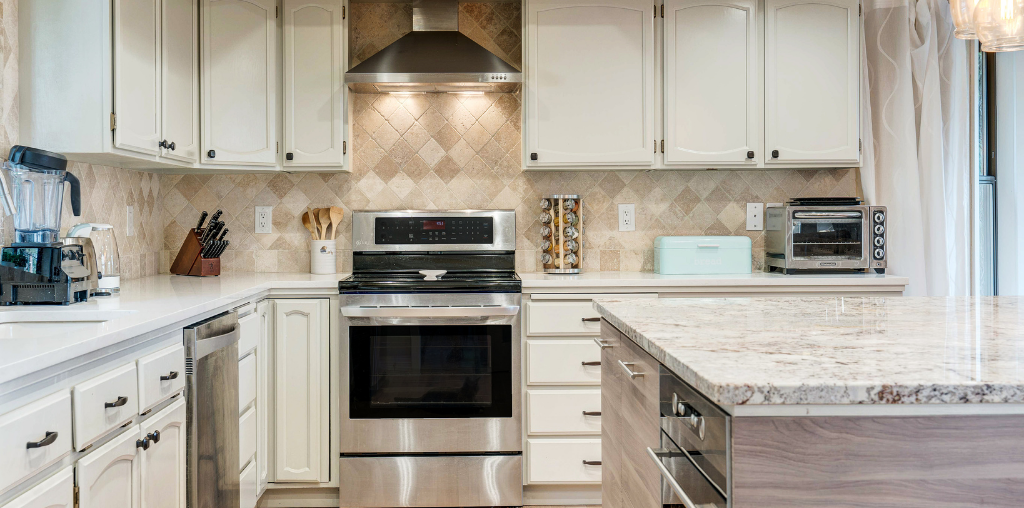 Whether your inner design blogger is now raving about modern farmhouse kitchens or you're still unsure about which style represents your true self, we'd love to help you find it and deliver it to your home. At Kauffman Kitchens, we've been helping homeowners throughout Lancaster and Chester Counties in PA to achieve the home of their dreams through new countertops, cabinets, and total kitchen renovations.
We have a full in-house team of modern farmhouse kitchen island designers, cabinet makers, and countertop installers. Every project begins with a conversation, so let's chat! Contact us to get a free estimate, a consultation, or to visit our new showroom in New Holland today!