The 5 Trendiest Granite Countertop Colors
There's no denying the fact that Granite is one of the strongest, most unique countertop materials on the market today. But when it comes to selecting a Granite countertop color to match the current style and mood of your bathroom, kitchen, laundry room, or outdoor kitchen, the choices can feel overwhelming.
In today's blog, we're highlighting 5 of the trendiest colors of Granite countertops and how you can get a slab of your own installed locally. Stay tuned to find your favorite and let us know which you like best!
How to Choose the Right Color of Granite Countertops for Your Space
Replacing your countertops is a big financial commitment, so we know you want to be nothing less than confident when you make that final call. When choosing which color of Granite countertop you want for your space, allow these factors to help guide your decision:
Cabinet color
Floor color
Room's purpose
Although there are several different Granite countertop colors and patterns, here is our list for the top 5 trendiest…
White Granite Countertop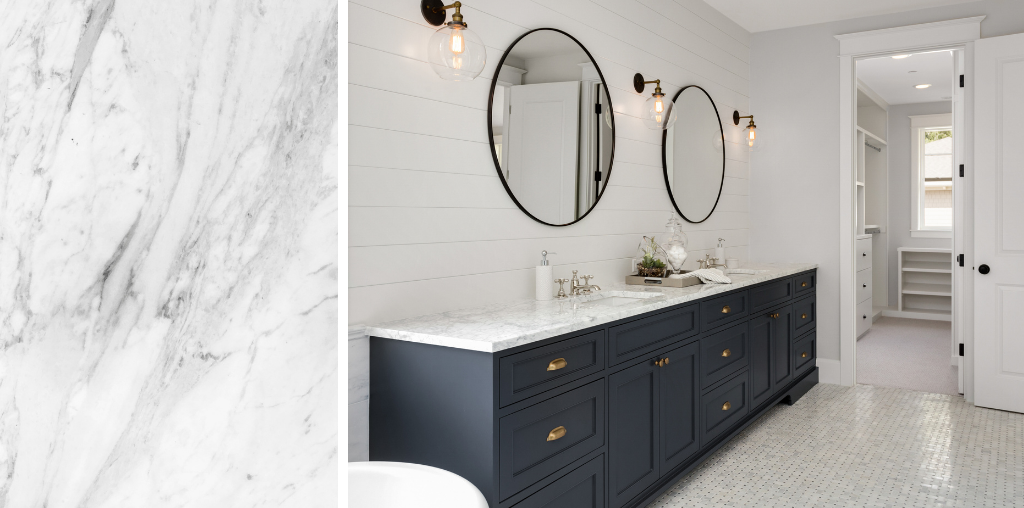 Even in 2021, nothing beats the timeless beauty of an artic white kitchen. Whether you're going for an all-white minimalist design or you need a neutral slab to help balance out your vivid decor, you can't go wrong with this color of Granite countertop! Because it's such a safe neutral color, a white Granite countertop is one of the most versatile style solutions for bathrooms, kitchens, or mudrooms alike. A light color of Granite countertop can make a small space feel significantly larger – learn more tips for designing for a small kitchen here!
Black Granite Countertop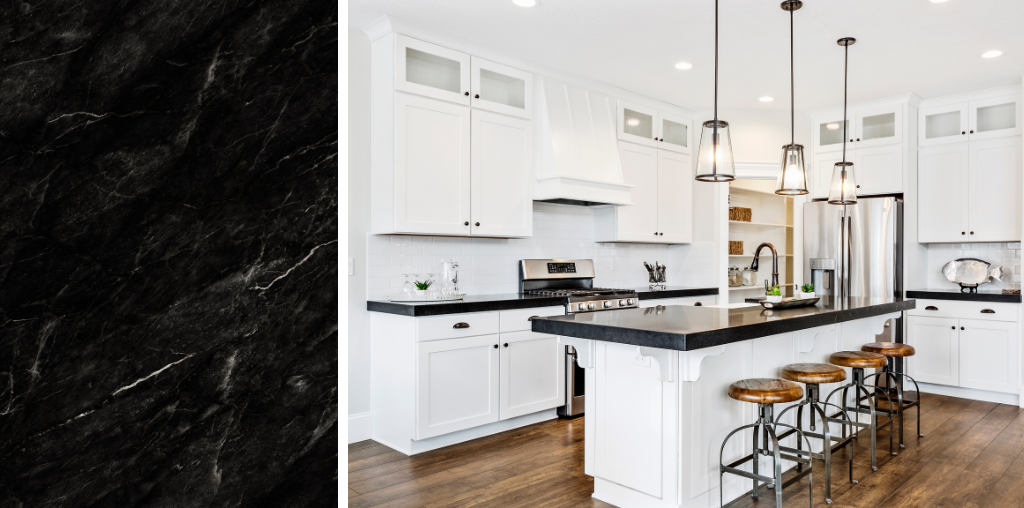 Black Granite countertops are not new to the style scene, but they sure are enjoying their time in the spotlight right now! Unlike the more muted tones of neutral palettes, black Granite countertops create a sharp contrasting feature that also works well with bright colors, crisp whites, and metallic color schemes.
The Granite material is very long-lasting, while the dark color is not stained easily, making it an extremely practical choice for highly used workstations, like kitchens or laundry rooms.
See a recent black Granite countertop project we finished in Ephrata, PA here.
Blue Granite Countertops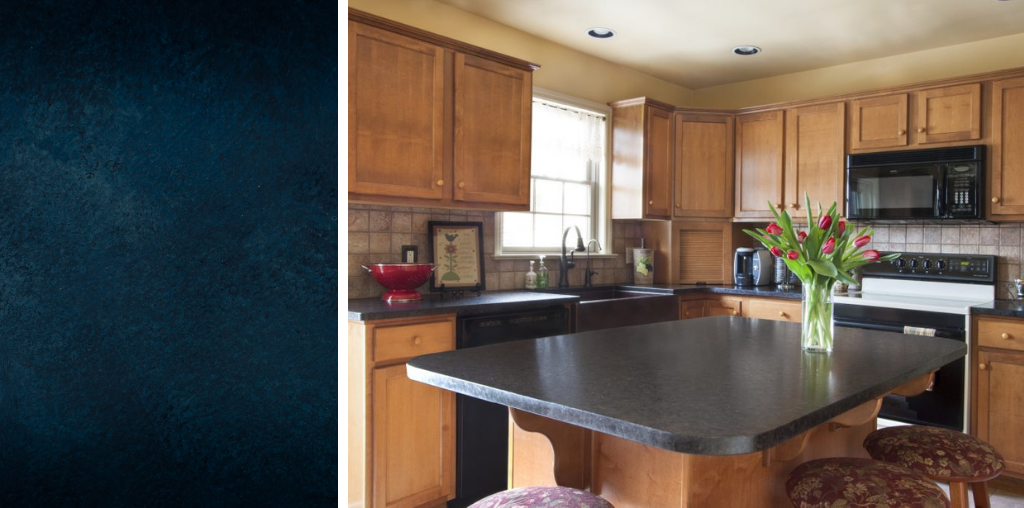 For a statement piece that you'll enjoy for years to come, blue Granite countertops are the way to go. Although it may feel like a bold jump at first, blue Granite countertops actually have the ability to create an extremely modern, unique, or rustic vibe – depending on the shade and pattern you select. Once you commit to a blue Granite countertop, you'll never want to go back!
Green Granite Countertops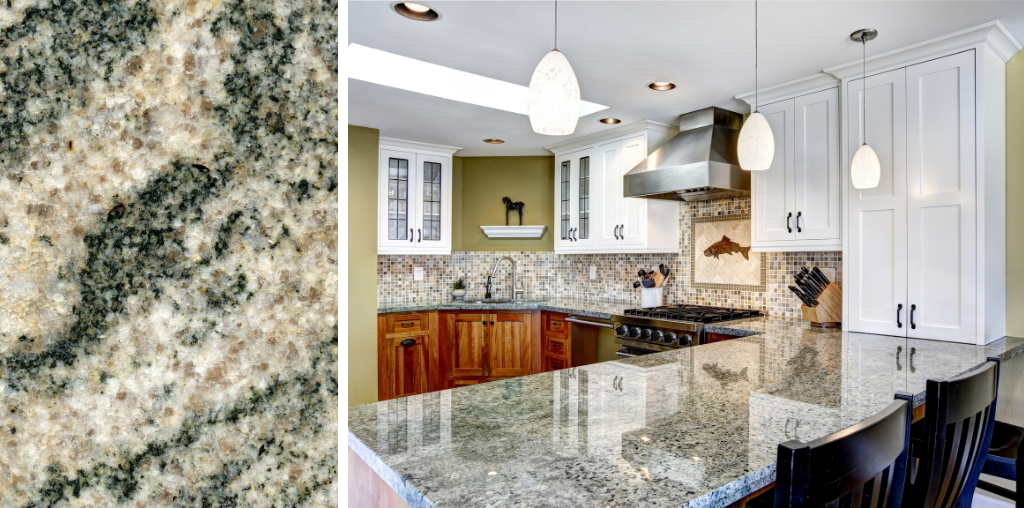 Pairing perfectly with off-white or custom wood cabinets, green Granite countertops add a touch of natural beauty to wherever you install it. Just like blue Granite countertops, there are plenty of different green hues and patterns to pick from.
Gray Granite Countertops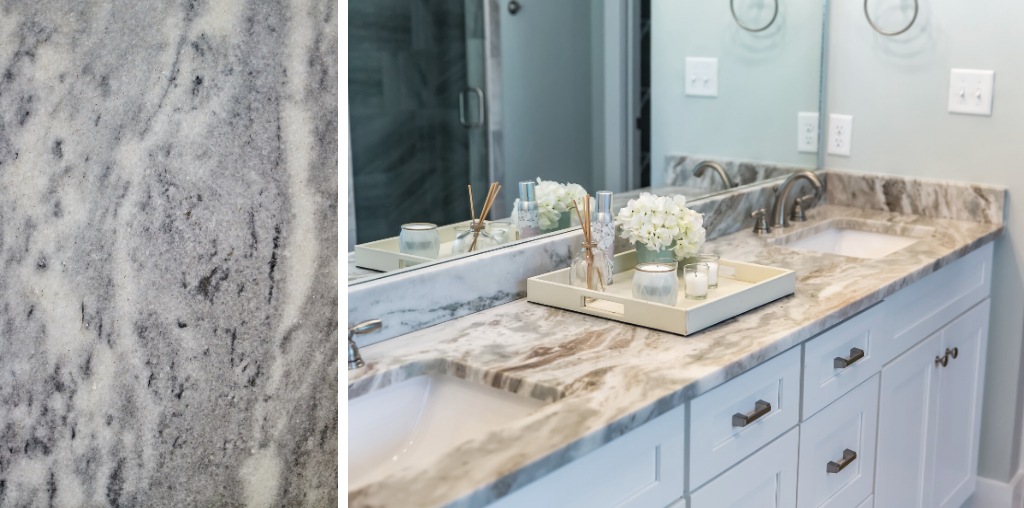 Let us put you on a simply luxurious looking Granite countertop color – gray! Gray Granite countertops, of course, are a happy medium between solid white and stark black options. The exciting part about this color family is all the possibilities of patterns and veins to choose from! We highly suggest this Granite countertop color for anyone hoping to achieve a contemporary, modern, or farmhouse style room.
Where to Shop All Trendy Granite Countertop Colors
Picking your Granite countertop color may be hard but finding a team to install it is easy! With Kauffman Kitchens, we've been proudly offering our expert design and installation services to projects throughout Lancaster and Chester County, PA for 30+ years!
Whether you're confident in your Granite countertop color decision or you'd like someone to help you think through the process out loud, our team is happy to assist you. Contact us today for your free quote or more information about our services!