Great Options for Small Transitional Kitchen
If you turn on HGTV right now, there's a pretty good chance you'll see the home remodeling hosts, highlighting another gorgeous transitional kitchen. There's no doubt that this is the trending style kitchen of the day – and the sensible touches should look amazing for years to come. While you're not on a TV show with an unlimited TV show budget you can enjoy a new kitchen built in this great aesthetic. In today's blog, we're highlighting small transitional kitchen styles for realistic budgets.
At Kauffman Kitchens, we're a kitchen remodeling company dedicated to performing the highest caliber design and installation work for Lancaster and Chester County homeowners.  Keep reading to see our small transitional kitchen ideas on an affordable budget – or reach out to schedule your in-person consultation today!
Affordable Transitional Kitchen Ideas
A transitional kitchen combines elements of a contemporary style with touches of a traditional farmhouse kitchen. This blending of new and old creates a timeless and lived-in feeling that people can't help but fall in love with. These are some of our transitional kitchen ideas that can lend this style to your kitchen remodel without breaking the bank.
Light Colored Cabinets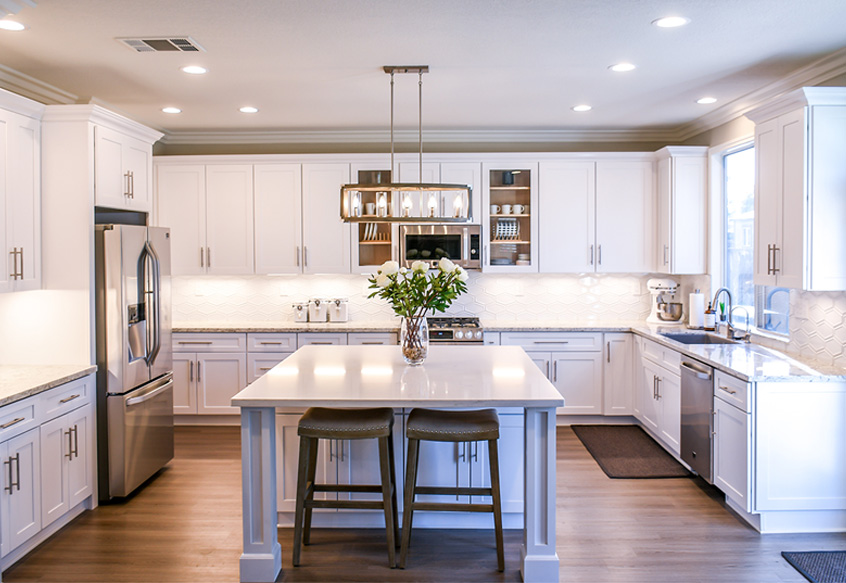 This is a popular cabinet color choice in 2020, and it is particularly crucial for an effective small kitchen design. Not only are light colored cabinets – particularly white – a hallmark of a transitional kitchen design, but they work well in a small space. Light colors have the ability to make a small space feel significantly larger and more open.
Simple Cabinet Style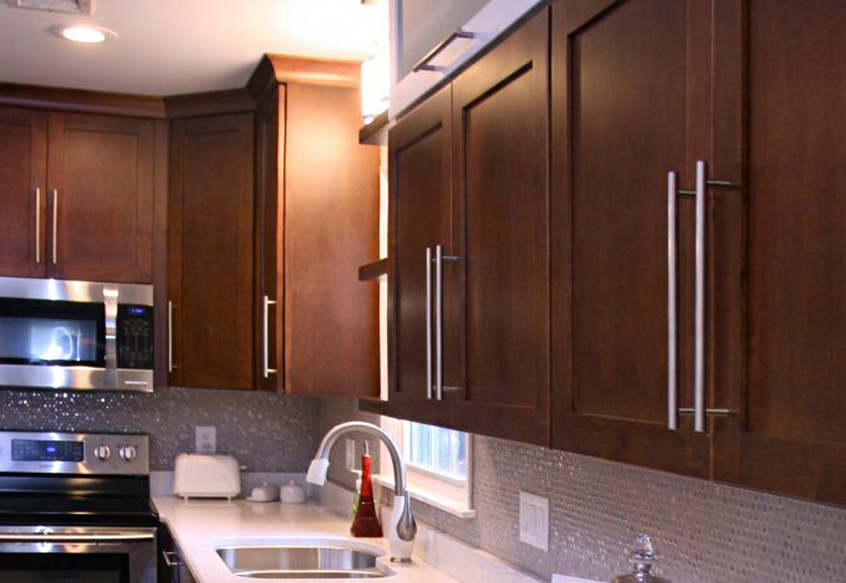 Continuing on with cabinets, we recommend opting for plain and simple hardware and patterns on your cabinets for a small transitional kitchen. Having too much decoration too close together can actually too busy, which is why we recommend against too many edges, add-ons and raised panels on the cabinets themselves.
Undermount Sink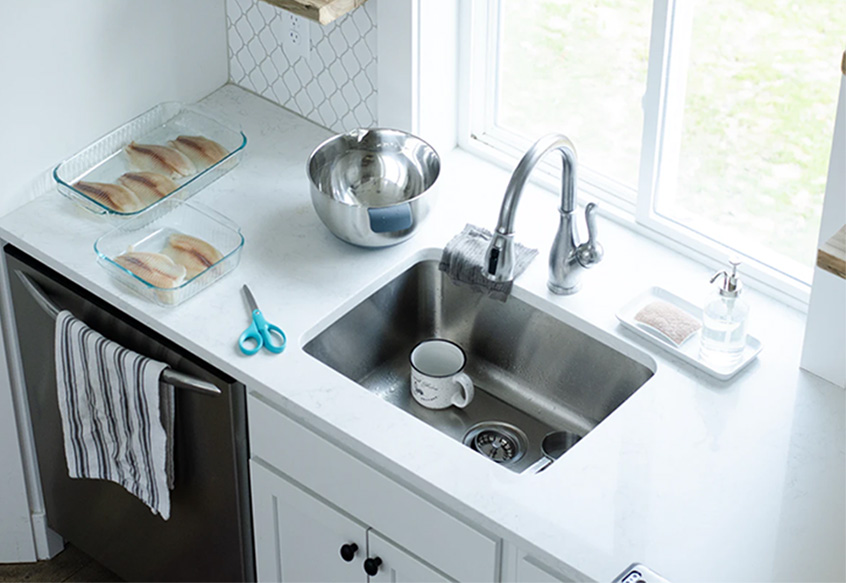 While a farmhouse sink might be the standard choice for this style, if you're looking for affordable transitional kitchen ideas, we recommend an undermount sink. This style is equally on-trend with a contemporary look — and is a lot easier on your budget.
Learn more about the average kitchen remodel price.
Stone or Laminate Countertops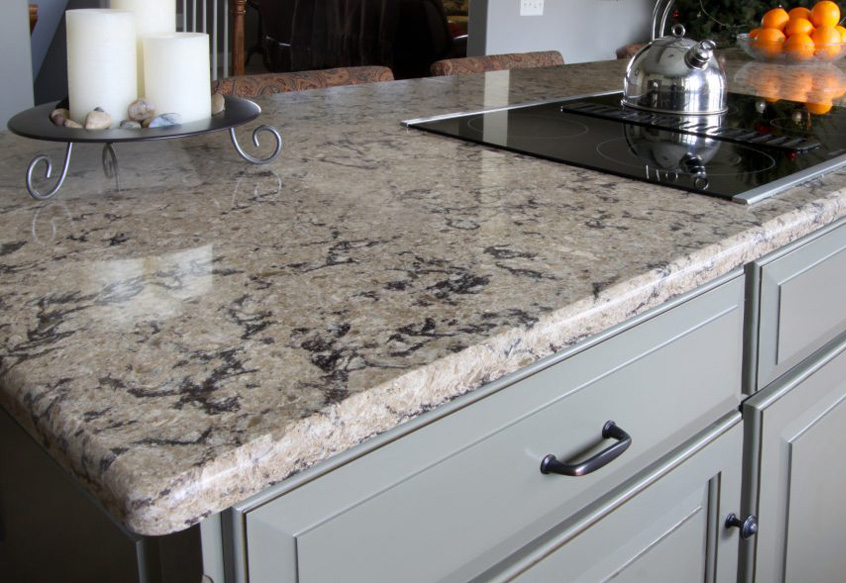 To complete the transitional aesthetic, you'll want to find a countertop with the right look. In general, you're looking for a somewhat simple, rustic pattern – but one with enough character to still be one of the main kitchen focal points. In particular, this simple style works very well in small transitional kitchens as it plays against the light-colored cabinets. Whether you want to use a traditional stone like quartz or granite to achieve this or a high-quality laminate countertop, you have options.
Portable Island Ideas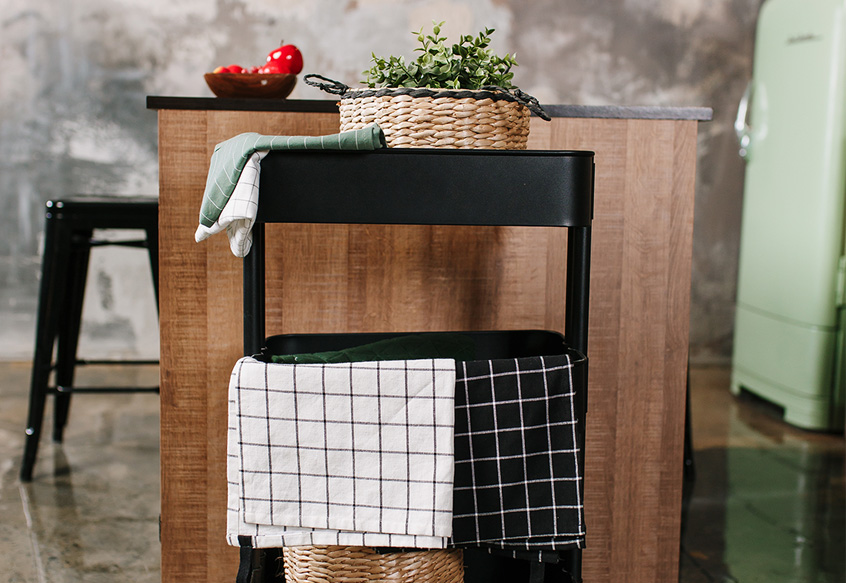 Islands are a great stylistic and functional additional to almost any kitchen. From a visual standpoint, they are unparalleled at brining character to the design. From a practical position, they provide much-needed storage in cramped kitchens. However, if your kitchen won't have 36" inches of walking room around the island, we don't recommend it. Instead, we advise incorporating an in-style movable island as one of your transitional kitchen ideas.
Beautiful Backsplash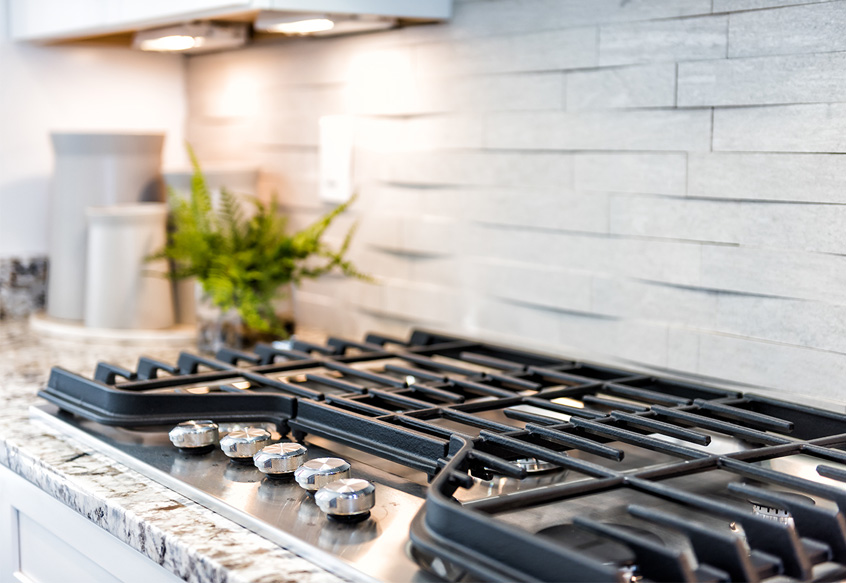 As a part of a transitional kitchen of any size, a backsplash should look attractive but not try to steal the spotlight. To stay in style, you'll generally want to choose a white, bone, grey or beige colored tile backsplash. Once again, the lighter color will augment the smaller dimensions, while maintaining that signature farmhouse meets contemporary style.
Rustic Furniture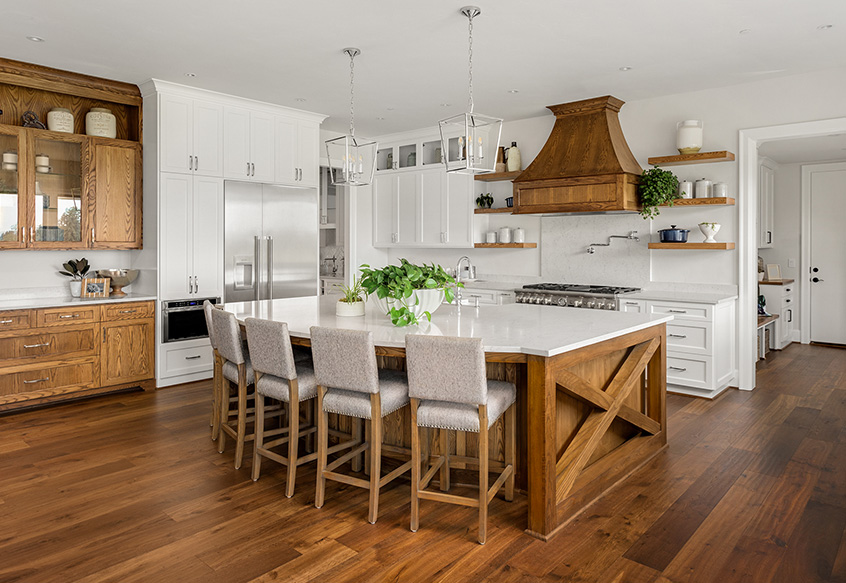 Furniture is the easiest part of your kitchen design to change, but that doesn't mean it isn't worth mentioning here. Starting with some basic but rustic style furniture will keep the focus on the main fixtures in your kitchen, and you can also easily upgrade down the line too!
Request Your Kitchen Design Consultation  
Feeling inspired by these small transitional kitchen ideas?
This is just the tip of the iceberg.
If you're starting to plan your kitchen remodel, we'd love to have a conversation. You can stop by our convenient showroom or schedule an in-home consultation with our designers. In our showroom, we can highlight some of our favorite farmhouse and transitional kitchen materials. No matter where we meet, we can work with you to develop your custom kitchen design — and give you a free quote!