What Does the Average Kitchen Remodel Price Get You?
Everybody wants an HGTV-worthy kitchen, but nobody wants to spend a whole year's salary to make that happen.
The magic number for fully renovating a kitchen in Lancaster County falls between a healthy budget of $35,000 and $45,000. Of course, partial remodels or minor updates will reduce that cost dramatically.  So, how much can you expect to spend for your ultimate kitchen upgrade?
Take a look at our detailed breakdown of the average cost of a new kitchen.
How Much Does It Cost to Redo a Kitchen?
At Kauffman Kitchens, we know that every inspired homeowner wants to know the answer to the daunting question of, "How much to redo a kitchen?" We also know that, as an inspired homeowner, you probably have several follow-up questions as well. In this short blog post, we will cover topics including:
How much is it to redo a kitchen/what is the average kitchen remodel price?
Where can I find top-quality kitchen materials?
Who should I trust to install countertops and cabinets?
Stay tuned to get all those answers, access to free custom price quotes, information about one of Lancaster's top countertop installers, and much more!
Breaking Down the Average Cost of a New Kitchen
If the average kitchen remodel price in Lancaster County is between $35,000 and $45,000, where does all that money actually go? Let's break down the prices so you can get the best idea of how much it will cost for your specific vision – and learn the answer to the all-important question, "How much to redo a kitchen?"
Removal & Demo Day – $2,000 – $3,000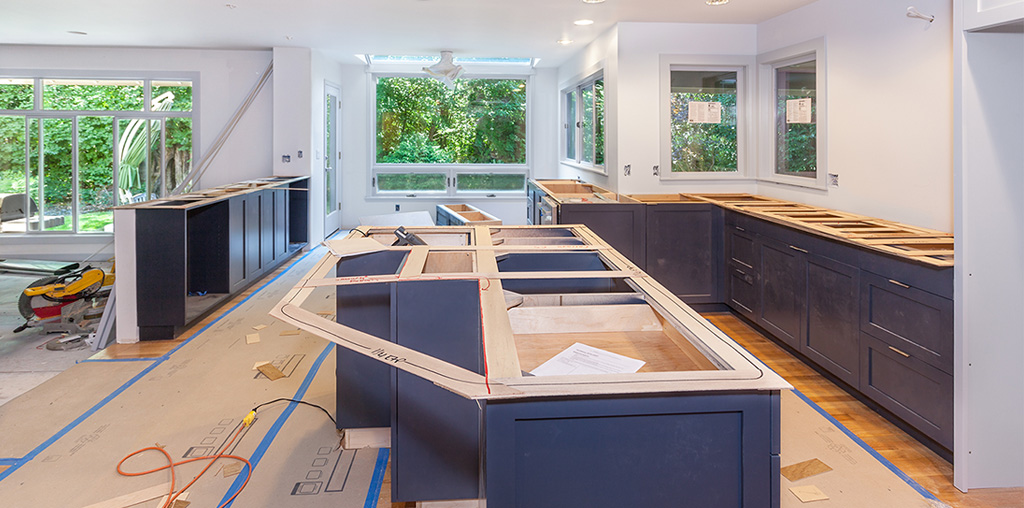 Our personal favorite part of any kitchen remodel is demo day! Removing walls and drywall, and demolishing old tiles or countertops, is fun for us – and cost-effective for you. While the average cost of a new kitchen ranges from $35,000 – $45,000, the removal of your existing features can cost anywhere from $2k-$3k.
Brand New Cabinets: $8,000 to $20,000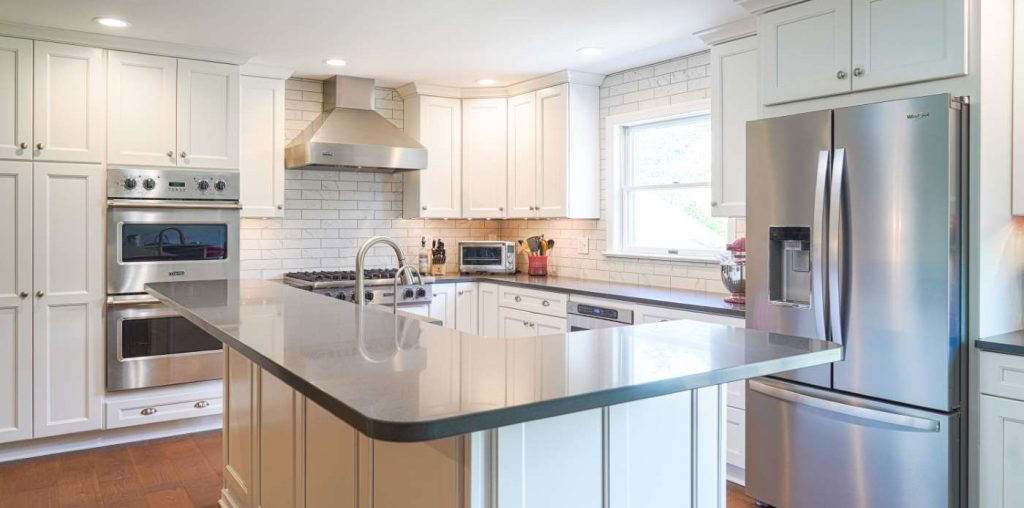 Kitchen cabinets set the stage for the styling and look of your kitchen. You've got a world of options when selecting your new cabinets, which can be both a blessing and a curse – depending on your decision-making skills! Mixing-and-matching uppers and lowers and all-white everything are just a few of the inspiring trends capturing the hearts of homeowners across the country.
About one third of the average cost of a new kitchen goes toward new cabinetry, and it's easy to see why. Semi-custom kitchen cabinets, specifically ones from Kauffman Kitchens, allows you to customize your colors, finishes, and other luxury choices.
Countertop: $2,000 – $6,000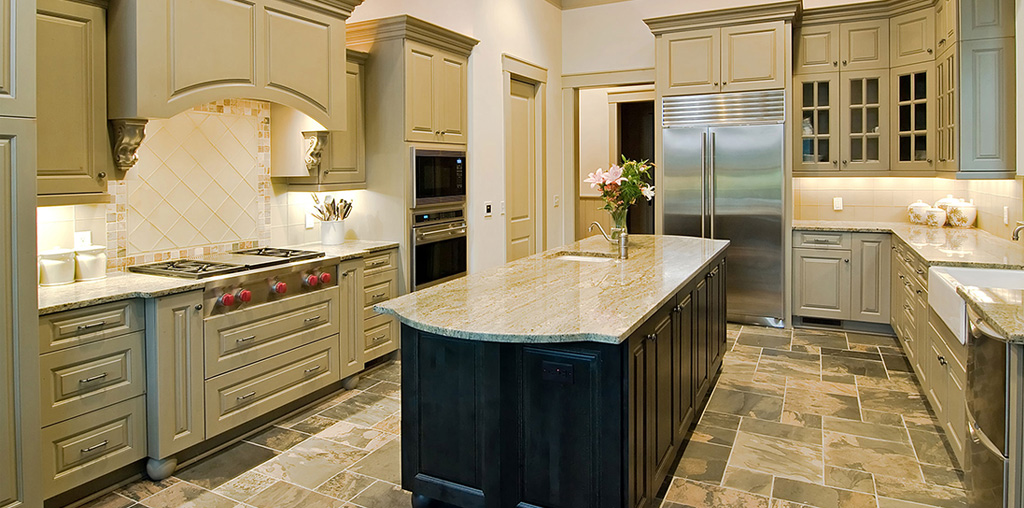 If cabinets set the stage, countertops are the main act. From natural vein-covered stone to seamless solid slabs, this is the surface you'll make memories (and meals) on with your family.
The average kitchen remodel price is comprised of a combination of several factors – one of which is new countertops! Our most economical option is Laminate, which is standard at about $1,500 to $2,000. However, a solid surface countertop will run a little higher, averaging between $3,000 and $5,000.
When it comes to selecting a countertop for your kitchen renovation, start by understanding the pros and cons of kitchen countertop materials.
Tile Backsplash: $1,500 – $2,500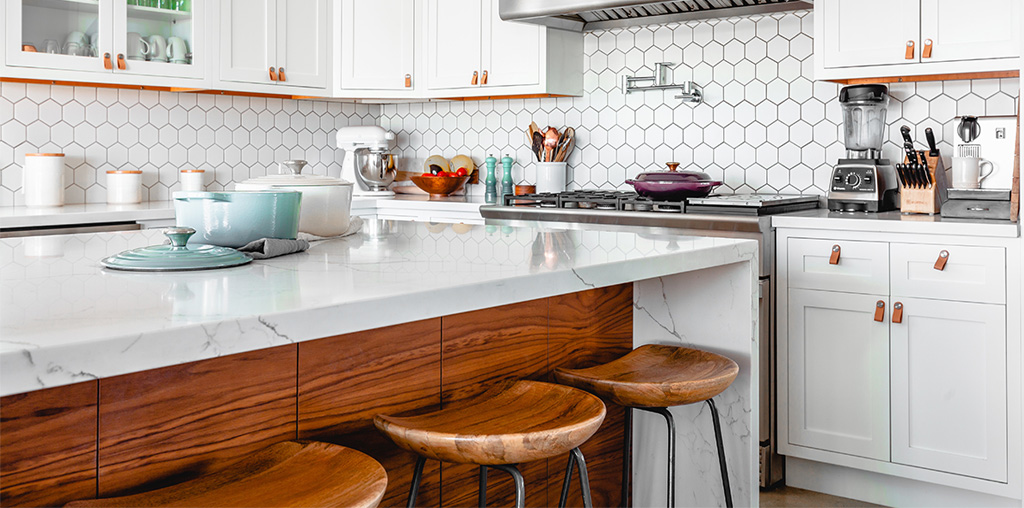 Although its primary purpose is to protect your walls from kitchen messes and liquids, the backsplash has become what many homeowners use as the statement piece of their kitchen remodel.
A tile backsplash is that extra little touch of personality – but, how much does that add to your kitchen remodel price?
Tile backsplash is typically sold by the square foot, so like many other renovation upgrades, the size of your space and the product you choose play a big role in the final price tag. A pop of geometric color or a classy artisan tile tend to start around $6/sq. foot, whereas the popular and simplistic subway tile is standard at $25/sq. foot.
Faucets & Plumbing $1,000 – $1,500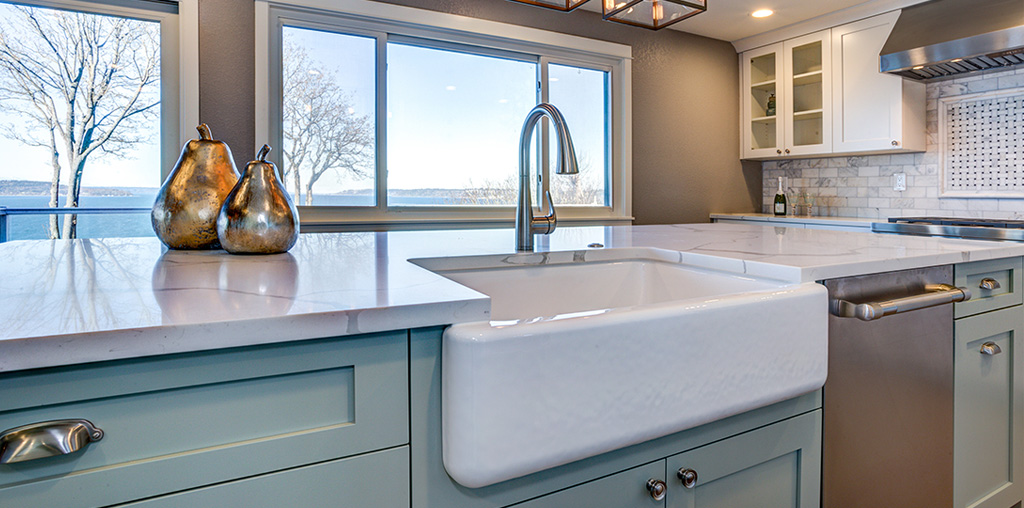 A kitchen under renovation is a prime candidate for plumbing upgrades! Thankfully, this only takes up about 4% of the average kitchen remodel price. Spending between $1,000 – $1,500 on updating faucets and plumbing is a price well worth it for something you'll use every day.
Lighting Fixtures & Electrical – $3,000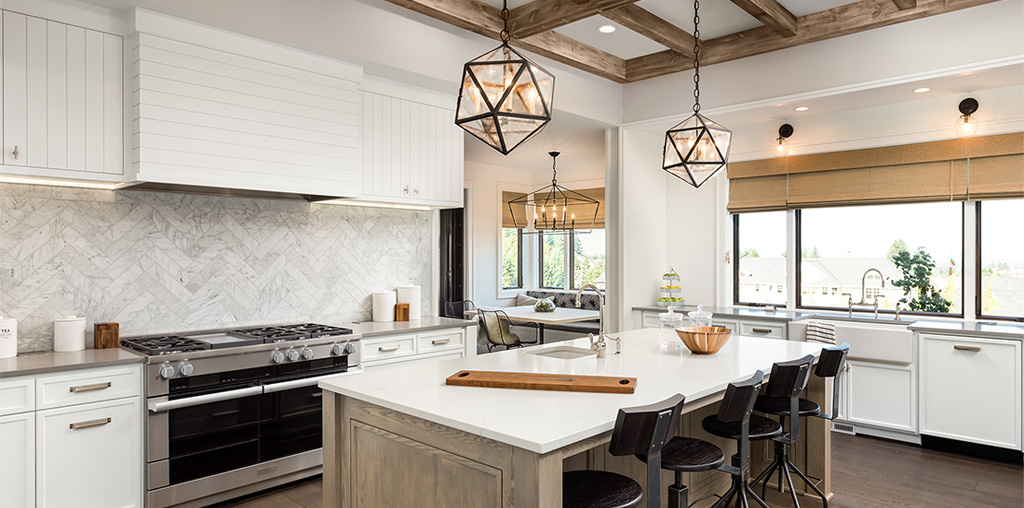 You may be surprised to see that this category takes up a fair amount of your kitchen remodel budget – so let us shed some light on the subject.
The fun part about lighting: choosing your favorite fixture! The not-so-fun part about lighting: the price of electrical work. While kitchen island lighting or recessed light fixtures average at just a few hundred bucks, the cost of installation and electrical is what bumps the price of the average kitchen remodel price up another $3,000.
General Installation – $2,500 – $3,500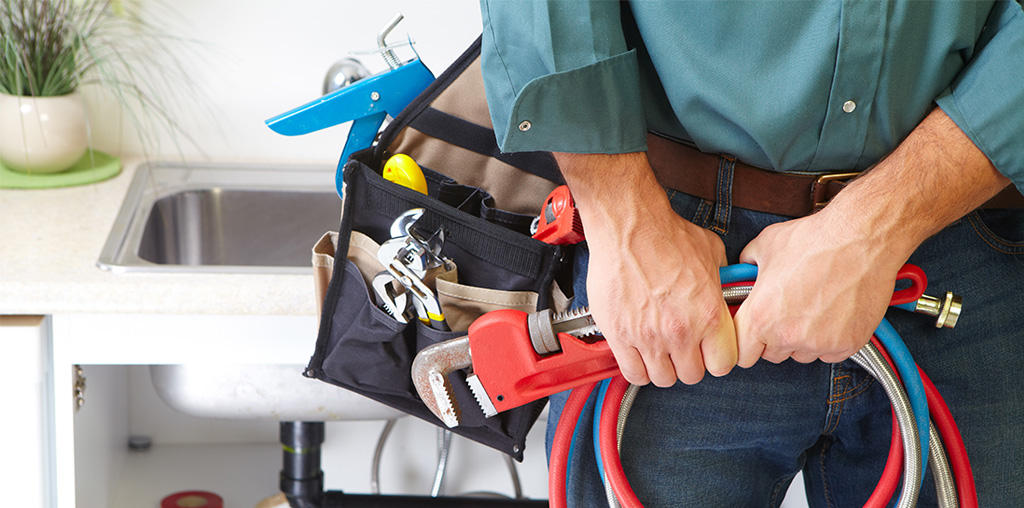 Man power, labor hours, installation crews – whatever you want to call it, paying the professionals to make your fixtures, faucets, and fantasies functional comes at a price. $2,500 – $3,500 is a healthy budget to allocate for the installation costs of a new kitchen.
Your Estimated Kitchen Remodel Price with Kauffman
When it comes to major home remodeling, the average kitchen remodel price is one that sits near the top of the list. Since many homeowners wonder how much to redo a kitchen, Kauffman Kitchens wants to provide an answer to that question – as accurately as possible. While the range of $35,000 – $45,000 is a helpful start, we want to help you even more with an even more precise estimation – at no cost to you!
Visit our showroom in New Holland, PA or contact our team to learn about the amazing countertops, cabinets, and other kitchen renovation must-haves. We're on your team, and we want to do all we can to lower the average cost of a new kitchen for you!