How To Clean Granite Countertops
When it comes to adding value to your kitchen, one of the best ways to achieve that is with quality countertops. However, installing new countertops in your kitchen can be much easier than maintaining them. In today's blog, we will be tackling the question that many homeowners have on their minds after installing new granite countertops, how do you clean granite countertops?
At Kauffman Kitchens, we know that you want your countertops to last you for years to come. To make that happen, you may need to follow granite countertop maintenance tips to ensure their longevity. Our countertop installation team has been working on designing and installing granite countertops from top-rated brands for decades, which means we know the steps to take to make sure your new kitchen or bathroom countertops last you years into the future. Check out the steps we have below on how to clean granite countertops and see how easy it can be to preserve yours!
Granite Countertop Maintenance Do's & Don'ts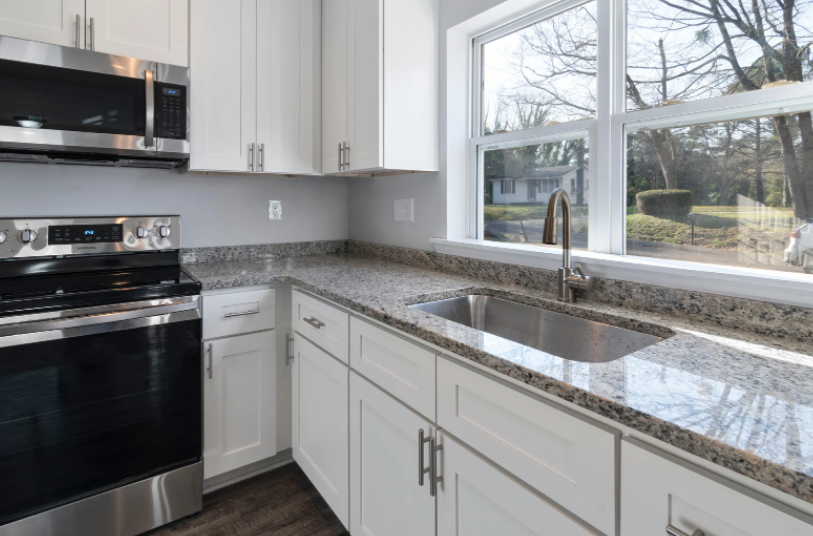 One of the reasons we have so many home and business owners choosing granite countertops is due to their low-maintenance but high-style features. We know that the last thing our clients need in their kitchen is to add something to their to-do list, which is why we have easy how to clean granite countertop tips that you can complete daily, weekly, and monthly.
Daily Granite Countertop Maintenance
Wipe up spills- It might seem self-explanatory but make sure that you wipe up any spill immediately after it happens. Leaving stains to sit and soak over time can result in damage to your countertops.
Use a coaster- Make sure that when you set a glass or mug down on your countertops, you have a coaster under them.
Use trivets and hot pads- High heat can cause long-lasting damage to your granite countertops. When you are serving dinner or any type of food, make sure that you put a hot pad or trivet under every baking dish.
Use a cutting board- When it comes time to chop up fruits and vegetables, meats, or anything else that requires a large knife, make sure that you use a cutting board.
Make sure granite countertops are installed correctly- Incorrectly installed countertops can cause issues down the road for your kitchen and result in losing money financially. Make sure that when it comes to installing your kitchen or bathroom countertops, you work with an experienced team of experts like we have here at Kauffman Kitchens.
Weekly/Monthly Granite Countertop Maintenance
Clean countertops thoroughly weekly- Once a week, make sure to remove everything from your countertops and use hot water and some dish soap to clean your countertop in every nook and cranny. Make sure that you wipe your countertop down after this to ensure that there aren't any water spots.
Never use harsh chemicals- When it comes to cleaning your granite countertops, make sure to avoid harsh chemicals, vinegars, and abrasive scrubbing tools, as this will eat through the sealant.
Always use a soft sponge or washcloth when cleaning- Using abrasive scrubbing tools can scratch the surface of your granite countertops permanently.
Reseal every 2-3 years- Granite countertops, though they are low-maintenance, will need to be resealed every 2-3 years. You can easily test your granite countertops to see if it is time for them to be resealed with a simple water test. Take a quarter cup of water and pour it directly onto your granite countertops. If the water absorbs into the stone in less than five minutes, the stone does not need to be resealed.
Use granite countertop polish for shine-If you are someone who loves to see their countertops sparkle, consider investing in a granite countertop polish. Use monthly for maximum effect.
View all the beautiful granite countertop colors we offer to our clients when you visit our New Holland showroom.
How To Remove Stains From Granite Countertops?
Even if you follow the above steps to a T for your granite countertop maintenance, mistakes and accidents still happen. When a lingering stain appears on your granite countertop, it is best to take action immediately to minimize or remove the stain. So how can you remove stains from granite countertops? Follow the below steps!
Mix a paste of baking soda and water until becomes thick.
Apply the paste to the stained area of the countertop
Wrap the paste and stain in plastic wrap with a few holes, and secure with masking tape.
Leave for 24 hours.
Get a Free Quote On Your Countertop Installation Today!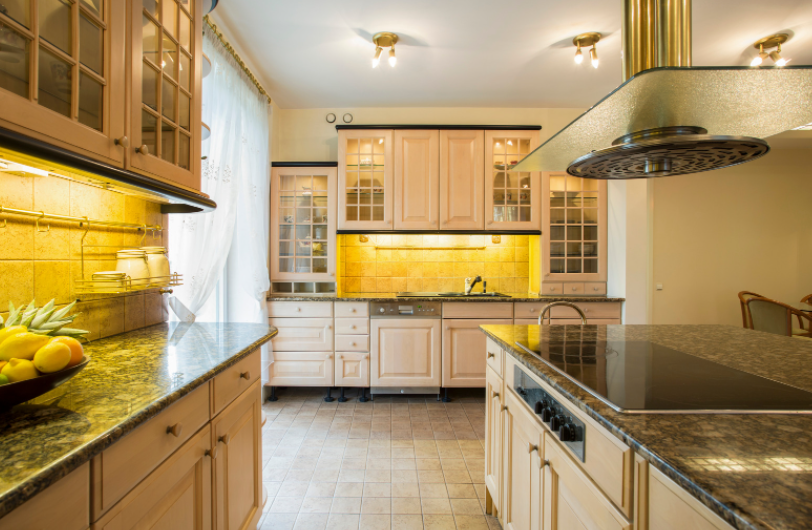 As you can see, when it comes to keeping your granite countertops clean, a little weekly maintenance can go a long way. By following the steps above for how to clean granite countertops and how to remove stains from your granite countertops, your kitchen countertops should last you for decades. When you get your granite countertops installed by Kauffman Kitchens, you are getting a kitchen remodeling company with over 30 years of experience and an average 5-star rating. Get a free estimate on your granite countertop installation when you call today.