Meet Kauffman's Lancaster Kitchen Remodelers!
The moment you decide to embark on a kitchen renovation, the excitement begins. You enter a whole new world of making decisions you never imagined, like backsplash colors, cabinet hardware selections, and so much more. While the design choices of your kitchen and bath renovation may be challenging – we hope to make the choice of kitchen remodelers a no-brainer!
Introducing Kauffman Kitchens: a team of integrity-driven Lancaster kitchen remodelers who have a passion for serving homeowners in our community. Whether it's your new kitchen or our very own office, we strive to create spaces for people to feel included, valued, and seen. With over 33 years and 16 employees under our belt, we've learned first-hand what it takes to make a project (and business) successful.
The talent behind Kauffman Kitchens isn't just one person or department. It's a collection of moving parts coming together to create one dynamic body. We're proud to be a diverse team of 16 individuals representing a range of ethnic and cultural backgrounds. Meet our awesome team or learn more about our kitchen remodeling company's history here!
A Kitchen & Bath Remodeling Company with a Family Focus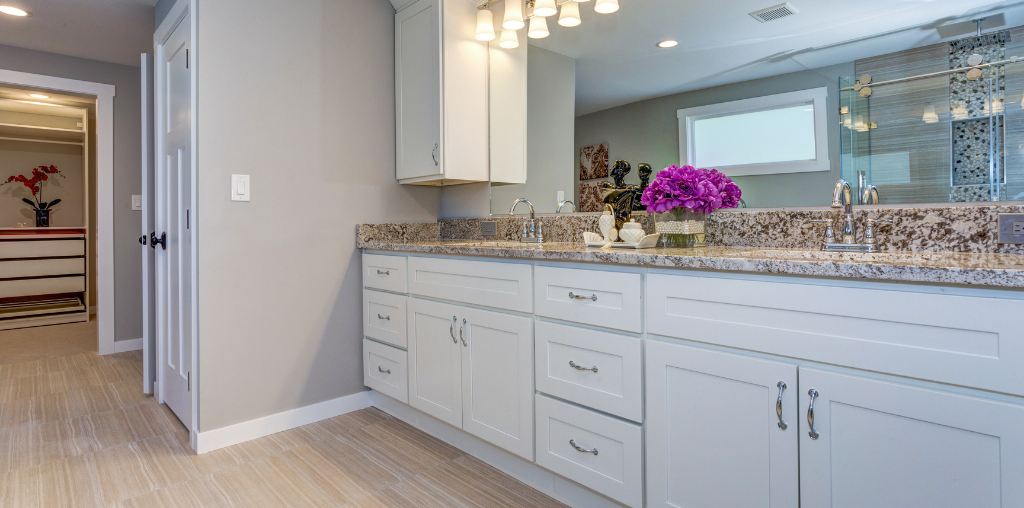 Kauffman Kitchens is a kitchen remodeling company that got our start over 33 years ago. In 1987, Founder Benjamin Kauffman established our family's business as a countertop and cabinet installation company for Lancaster County homeowners. From the beginning, we were a business founded on integrity, honesty, hard work, and family – all things that we are proud to honor even today in the 21st century. Over the course of our company's existence, we have been blessed to grow into other areas such as completing commercial kitchen and bath projects, as well as expanding our reach into Chester County, PA!
What's important to us isn't high margins or cutting labor costs whenever possible, but creating a work environment that is welcoming, inclusive, and fun! At Kauffman Kitchens, the cabinet contractors, sales team, installers, and receptionist are not viewed as employees, but family members.

With every project, we desire to bring those same feelings of inclusivity and fun to your home! See for yourself what makes our countertop and cabinet installation amazing when you contact us today.
What to Expect When Working with Our Kitchen Contractors
Taking on a renovation can be a fun yet stressful journey. As your trusted cabinet contractors serving Chester and Lancaster County, we believe it's our job to make the experience a whole lot of fun, and as stress-free as possible. When working with Kauffman Kitchens, here is the process you can expect:
Visit our showroom – Find inspiration, see how we manufacture our own countertops and cabinets, and meet the team when you visit our kitchen contractors in Lancaster, PA!
Now comes the fun part – Get a complimentary design proposal and cost estimate on your countertop and cabinet installation.
We'll do all the heavy lifting – We'll arrive at your home with our team of certified contractors and high-quality materials to install.
Snap a pic, please! – After completion, we kindly ask that you leave us a Google review or share a photo of your new space on social media!
Our local bathroom and kitchen contractors pull design inspiration from what is trending nationwide, while also adding a little Lancaster County flair to it. Our goal is to combine both aesthetics and practicality to create a beautifully functional room for you. Our customers love this about us! To begin working with our talented kitchen contractors and designers, please contact us via phone or online form!
See Our Work & Meet Our Kitchen Remodelers in New Holland
Whether you're looking for some kitchen and bath inspiration or you're ready for a consultation, visiting our showroom is a great place to start! Located in the heart of New Holland (Lancaster County), you'll find our kitchen remodeling company with several displays and helpful people ready to answer all your questions. Visit our showroom, meet the cabinet contractors, and see our process firsthand when you schedule an appointment today! We look forward to meeting you!