Master Bathroom Remodel: Vanities, Counters & More!
Those who don't have master bathrooms covet them, and those who have them sometimes don't know just how to style all that space! If you want to elevate your master bath from "average" to "awesome", you're at the right place.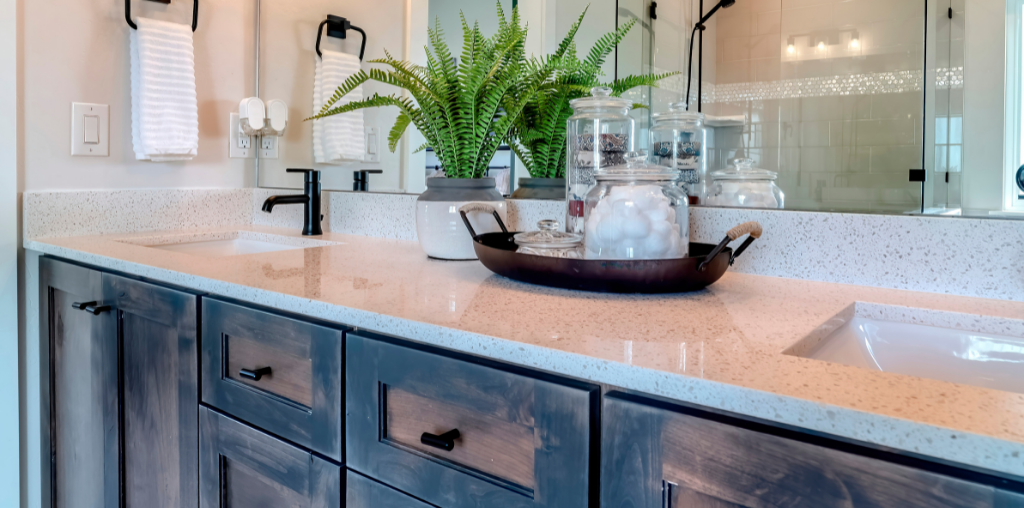 At Kauffman Kitchens, its our goal to help you complete the master bathroom remodel of your dreams. Keep reading to get inspired by modern master bathroom vanity ideas, countertop tips, and storage solutions to freshen up your space.
Master Bathroom Vanity Ideas
From savvy storage to lavish lighting, your master bathroom vanity has the potential to be the star of the show! Get the most out of your remodel with these master bathroom vanity ideas:
Two-for-One Storage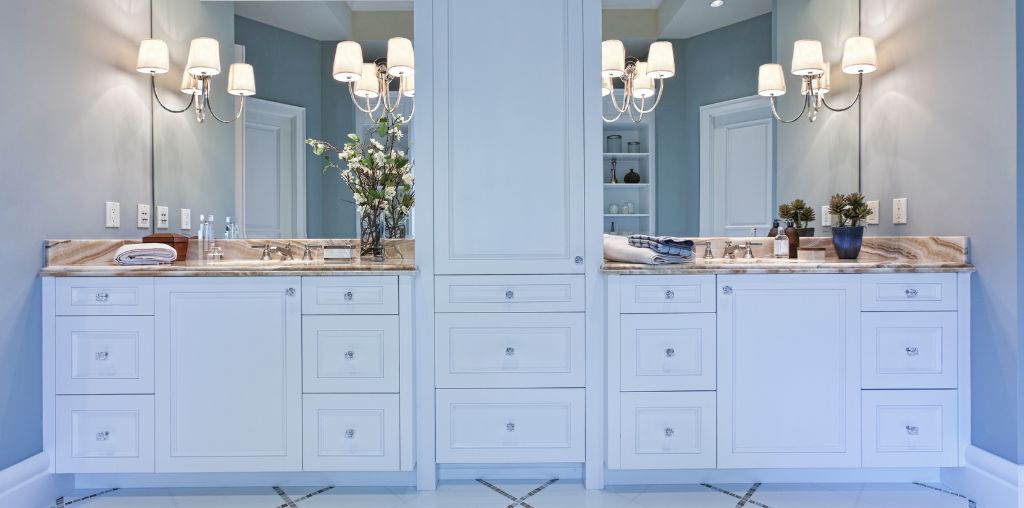 Make the most of a small space by doubling your bathroom vanity with storage space! One of our most adored master bathroom vanity ideas is incorporating open shelving or tall storage cabinets under the sink. For even more storage, consider a storage tower in between double sinks!
Floating Vanities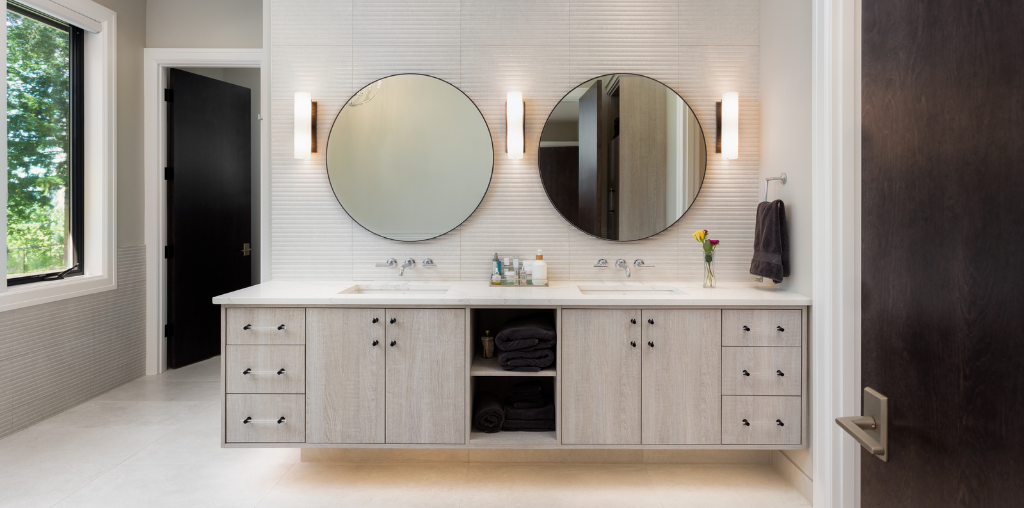 This master bathroom vanity idea is for the chic at heart. Let go of grounded design and say hello to the modern wonder of a floating vanity! This upscale master bathroom remodel still gives you the cabinet storage you need, while celebrating an out-of-the-box feature. Pair a floating vanity with luxury under glow lighting for a lavish penthouse atmosphere.
Upgraded Hardware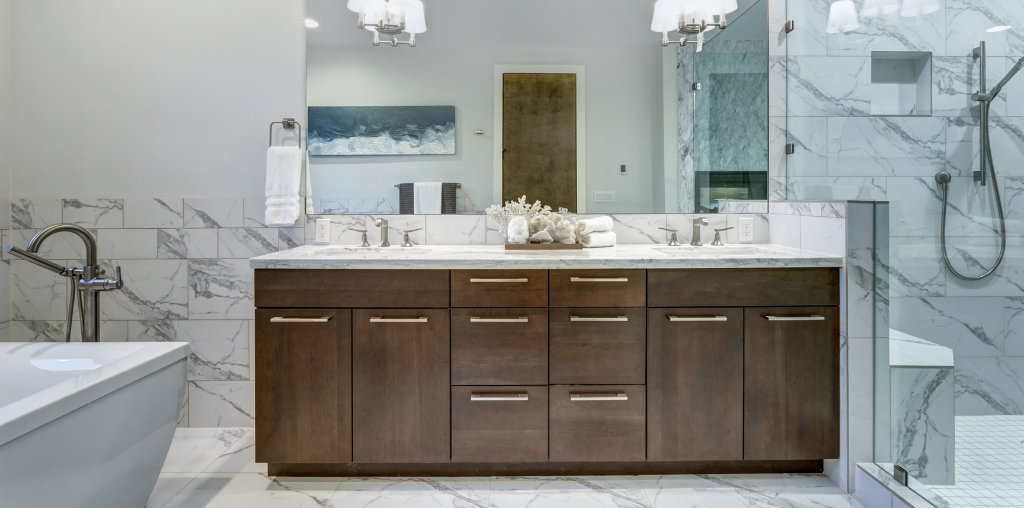 Hardware for your master bathroom remodel is underrated –these small features can make or break your design! Spice up your spa space with a unique color, intricate design, or satin finish. A range of vanity cabinet hardware means you'll definitely find something in your budget and style. See the expert's top picks for high-end cabinet hardware ideas.
Master Bathroom Countertop Ideas
The best countertops pair low-maintenance with high-style. Take your remodel to the next level with these master bathroom countertop ideas:
Luxury for Less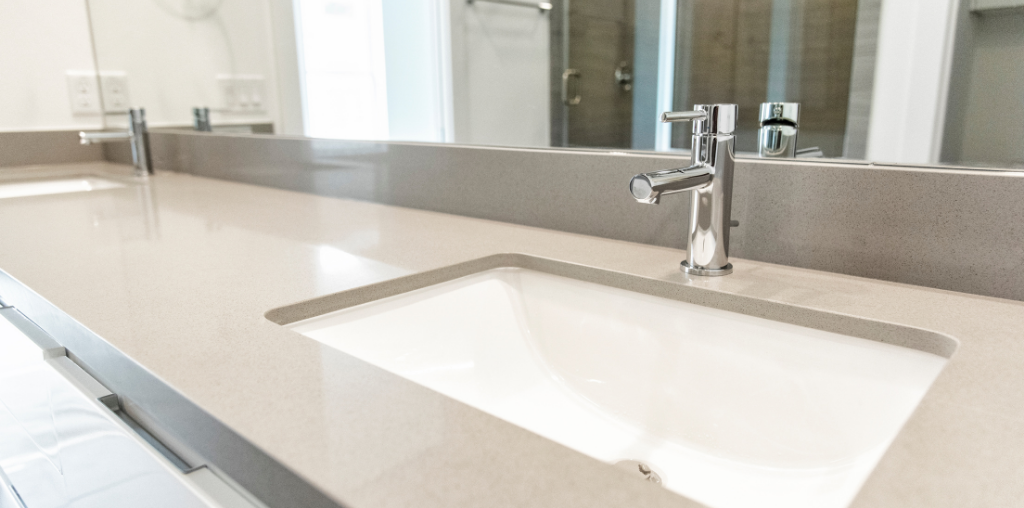 Champagne taste, beer budget? Look for affordable alternatives to luxe countertop materials. Master bathroom countertop ideas that incorporate Laminate or Corian are a gorgeous, lower-cost solution than solid stone like Granite or Quartz. Learn more about the pros and cons of Corian countertops here.
Light & Airy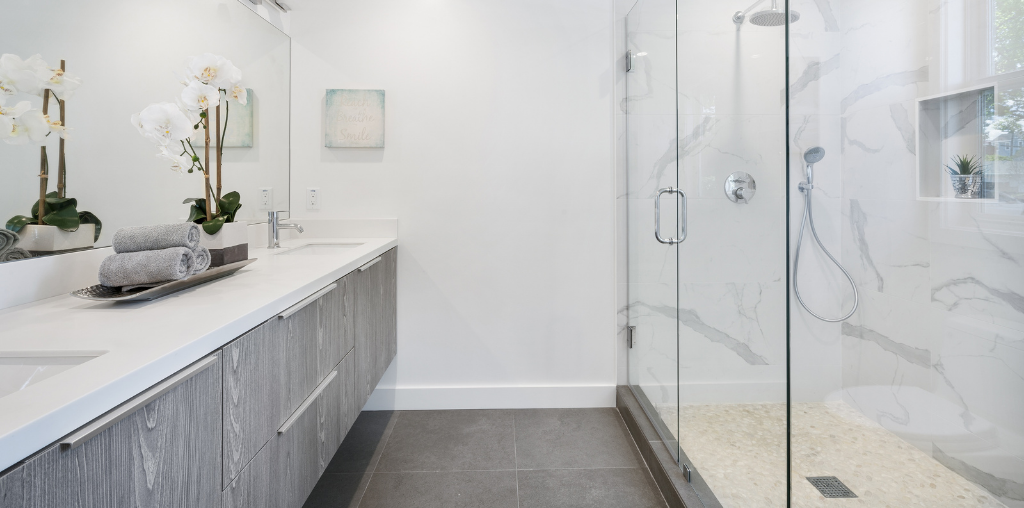 When it comes to color, keeping your countertops light and bright is a great way to make your space feel larger. While all-white everything is on-trend this year, homeowners that still want a pop of color can pair their light-colored vanity countertops with a bold cabinet color. Working with a custom master bathroom remodeler can make all the difference during execution! Discover more ways to make a small bathroom feel bigger, here.
Double Sinks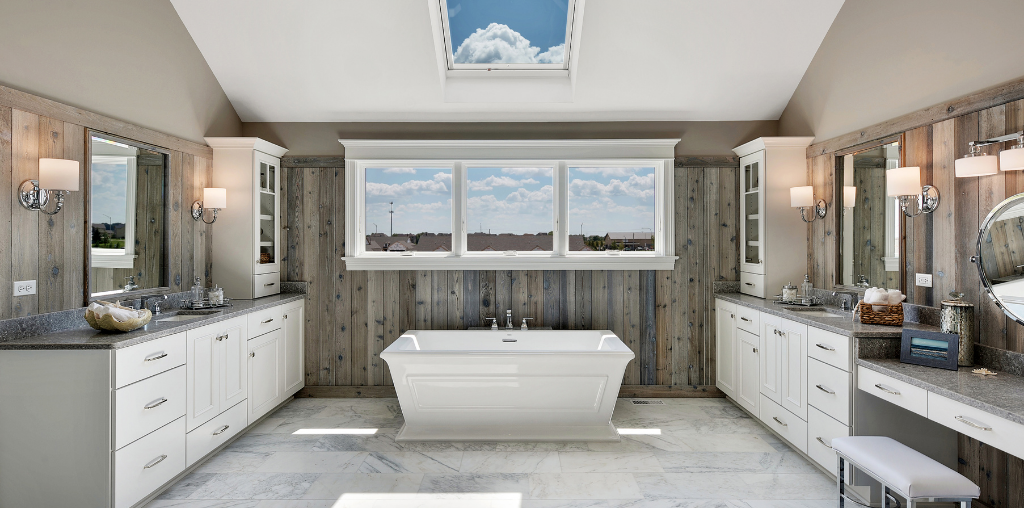 Extra amenities can make life a whole lot easier. In the case of the bathroom, two sinks are better than one. A double vanity provides ample space for spouses to get ready, as well as an abundance of useable countertop space for storage.
How to Start Your Master Bathroom Remodel
If you've fallen in love with any of these master bathroom remodel ideas, you're probably wondering how you can get them implemented in your own home. At Kauffman Kitchen's, we've been professionally designing and remodeling bathrooms and kitchens for over 30 years. Our services proudly benefit those in Lancaster, Chester, and York PA. Start by getting a free consultation by giving us a call or stopping by our showroom in New Holland, PA.
For more information or to get more master bathroom countertop, vanity, or remodeling ideas, please don't hesitate to contact us today.