Video: Modern Traditional Kitchen Design
Even if it isn't your style, chances are good that you've seen and admired the modern design style — that's right, the modern traditional kitchen is trending in a major way! If it is your preferred style, now is the perfect time to start planning for the kitchen of your dreams. See this gorgeous video of our favorite new projects — and enjoy all of the modern traditional kitchen design!
Key Things to Notice in this Updated Traditional Kitchen
If you want to learn more about the modern traditional kitchen design, this project is a great to place get started. Several of the standout features of the modern or updated traditional kitchen are on display here. Let's break it down:
Cabinets

— These rich cherry-colored cabinets stretch from the floor all the way to the ceiling, which is a primary feature of rustic and traditional kitchens.  Plus, notice the beaded inset on the shaker style cabinet doors that balance a classic, yet up-to-date look.

Farmhouse Sink

— Deep farmhouse-style sinks are pretty and practical enough to be featured in a wide variety of kitchens. For a modern traditional kitchen design, the farmhouse sink is a necessity.

Learn more about designing for the farmhouse style

.

Clean Soapstone Countertop

— While bold and colorful Corian® and granite countertop patterns are making a splash in modern kitchens, here a simple soapstone countertop was the ideal choice. The gorgeous dark soapstone matches the dark color of the farmhouse sink.

Backsplash

— The seamless Corian® backsplash with a custom herringbone pattern ties the countertops and cabinets together beautifully. Once again, the simple elegance is a popular feature in the updated traditional kitchen design style.

Wooden Kitchen Island

— The centerpiece of this design – the walnut hardwood island features a gorgeous painted finish to match the cabinets. Hardwood kitchen islands and countertops are one of the best examples of a rustic design trend making style headlines right now!

See our picks for the best countertop and island materials

.
Specializing in Cabinets and Countertops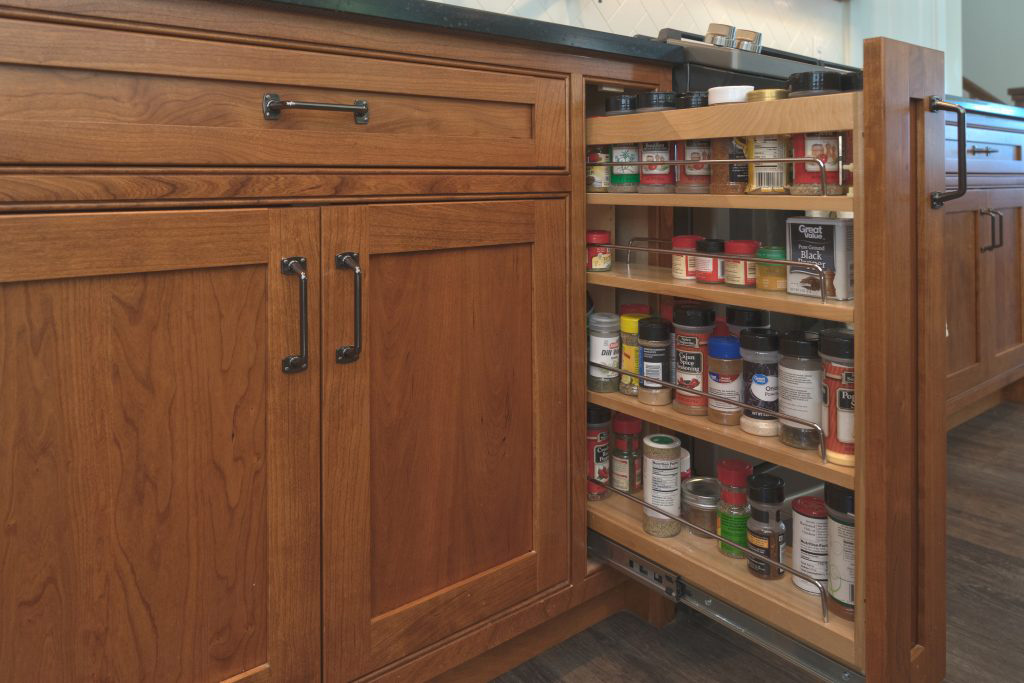 If you're just learning about Kauffman Kitchens for the first time, we'd like to tell you a little about ourselves. We are a kitchen remodeling company that is dedicated to helping you design and build your dream kitchen at an affordable price.
When it comes to your new kitchen, the two biggest impacts tend to come from the beautiful new cabinets and the eye-catching new countertops. Those are our specialties at Kauffman Kitchens.  We install a wide range of luxury semi-custom and stock cabinets from the biggest names in the industry including Wolf and Shrock.
In addition, we also install a wide variety of countertop materials including laminate, Corian®, soapstone, granite, and quartz. Stop by our showroom to see and feel the different countertop options.
We compare granite vs quartz countertops.
Trust Kauffman for Your Modern Traditional Kitchen & More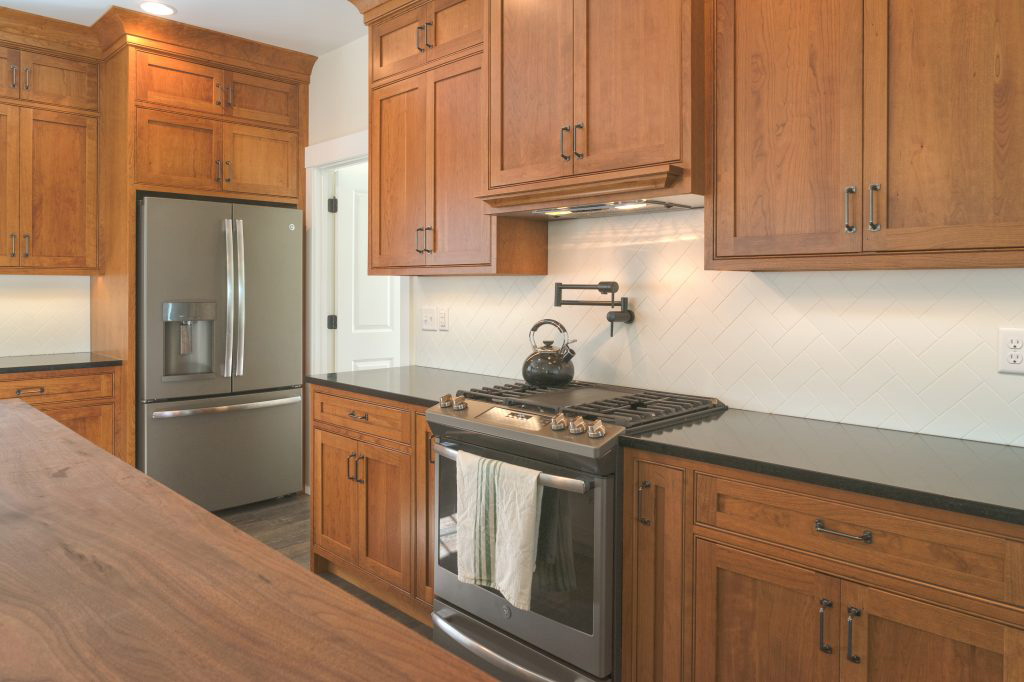 Now you have a better feel for the basics of modern traditional kitchen design. From the distinct colors to the unique features, you know what makes this style so unique and why it's become so beloved.
Whether you're planning to build a modern traditional kitchen, a rustic farmhouse kitchen, or something ultra-modern, we'd love to work with you. At Kauffman Kitchens, we want you to dream big, yet enjoy a great price point and a super-convenient process.
The first step is to start the conversation with our design team. Whether you want to schedule an at-home consultation or visit our showroom, we can help. Our kitchen experts will help you pinpoint the perfect style for your tastes — and get you a free quote! Contact us to start the conversation!