What the Trending Kitchen Color Schemes for 2021 Say About the Year Ahead
2020 has brought enough darkness and dullness. In 2021, we're ready to step into the light! The upcoming year is going to be all about lighter kitchen color schemes and upgrading to neutral palettes all around the home — bringing both comfort and a sense of style to your space.
At Kauffman Kitchens, we've been helping homeowners execute their color scheme ideas for over 40 years and we'd love to help you as well! Keep reading to get inspired by the most popular kitchen color schemes this year.
Now, let's zoom on to the 2021 kitchen designs!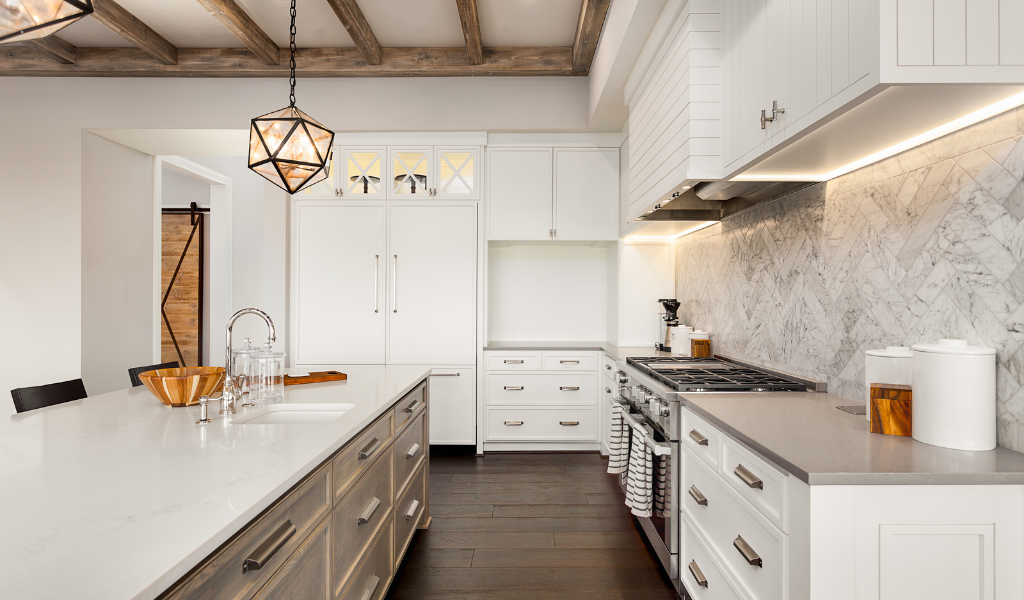 Color Ideas for Kitchens in 2021
Let's start 2021 with a blank canvas and a fresh slate for kitchen color scheme design, shall we? Throw out the rule book, and let's get started exploring some trending color ideas for kitchens together!
High contrast colors like black with white
You'll see this contrasting color duo on the exterior of new-build homes, and you can bet that it carries over into the kitchen color scheme, too.
The key to accomplishing this color idea for your kitchen is to commit to decorating within these two colors. Pair gorgeous laminate or marble stone countertops with a black painted island base. Or, try a floor tile with a bold monochromatic pattern! We recommend black or white painted kitchen cabinets, and then accessorizing with simple decor to keep the two-tone aesthetic alive.
Exotic dark teal
accents
What could be more on-trend than incorporating Benjamin Moore's 2021 color of the year into your kitchen counter color and cabinet selections? Dark teal brings attention to often overlooked features like decorative tile or cabinet finishes.
If you're wondering what color to paint your kitchen, teal is a beautifully vivid option for walls, cabinetry, or trim. Our design experts especially love pairing this luxurious color with black, white, grays, and pops of copper hardware.
Cool-toned neutrals
Soothing colors like light gray, beige, off-white, and moody wood grains are expected to continue through 2021 and be accentuated with kitchen counter colors and cabinetry. When searching for a kitchen counter color that will flawlessly accompany the rest of your design, it's important to remember that you have plenty of options – so don't settle!
Get help deciding the best material for your kitchen countertops here, or call our experts for an in-person consultation. Since it is one of our most neutral color ideas for kitchen design, adding a textured backsplash to your walls is a great way to add a little spice to this safe color palette.
Natural terracotta greens, clay, & sage
Natural green never goes out of style, but in 2021, it is a kitchen color idea that is dominating. This look is all about merging vintage rustic with polished refinement, easier said than done!
Whether you choose to incorporate the rich greens within your kitchen cabinet colors or through a classic subway tile, you won't be disappointed with the warm environment this color scheme creates. While light colors tend to be best for the cabinets in small, transitional kitchens, this palette works well with any size space.
Another trend in 2021? Saving money. We understand the unpredictable future we're all facing. That's why, at Kauffman Kitchens, we're upfront about our pricing: no surprising hidden fees or "extras". That's also why we wrote our blog about how to save thousands on your kitchen renovation this year! Check it out and reach out today to get your estimated price.
Find Your Matching Kitchen Counter Color
No matter what beautiful color idea you choose for your kitchen, one of the prominent features of your remodel is always the countertops! It's important to remember that while paint and accessories can change over time, your kitchen counter color is here to stay for much longer. Keep in mind it is usually best to stick with a neutral color that can be fluid with any of your color ideas for your kitchen. For this reason, whites, grays, and wood grains are our top choices!
At Kauffman Kitchens, we proudly provide customers with top-quality kitchen counter colors and materials. From gorgeous laminate to real stone, our team is happy to discuss all of your options with you. See below for some of the color tones we'll be suggesting for 2021!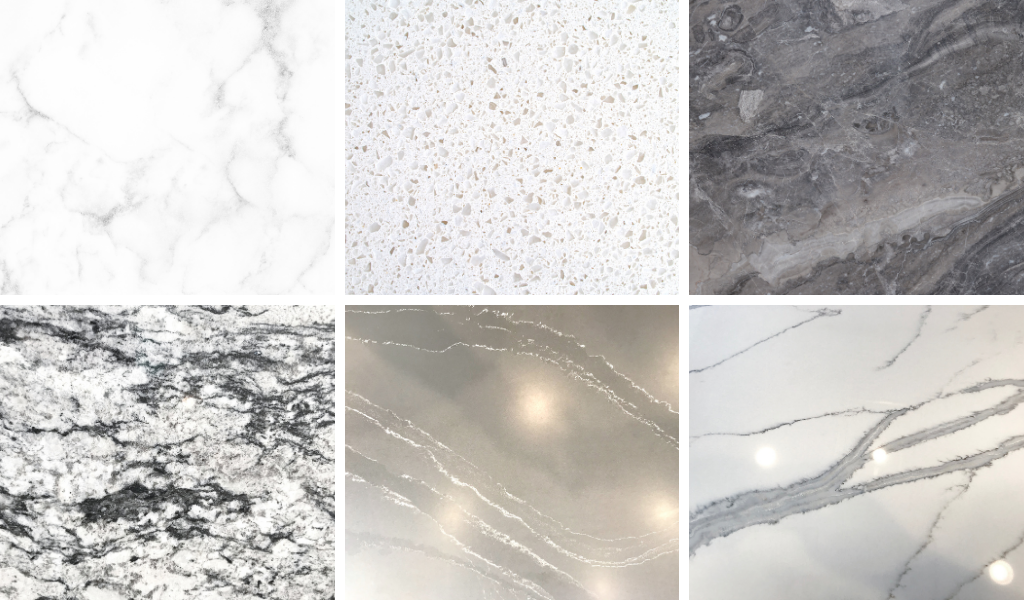 Bring Your Kitchen Color Scheme Ideas to Life
Whether you need a little extra guidance creating a color scheme for your kitchen or you're ready to get rolling, our team is here to help! We are a Lancaster County, PA based kitchen remodeling company that enjoys providing homeowners with a stress-free kitchen remodeling experience.
Contact us today to discuss your color ideas for kitchen cabinets and countertops, and get your free price estimate.