10 Bathroom Storage Ideas to Maximize Style & Space
Finding the right solutions to keep your bathroom organized can be a challenge. With so many bathroom storage options to choose from, we have compiled a list of the most effective methods that will provide you with long-lasting results so you can spend more time pampering, relaxing, and enjoying your bathroom space.
Whether you're embarking on the organizing mission in your master bathroom, powder room, or guest bathroom, these high-traffic areas can easily become cluttered and messy. Arranging makeup, linens, towels, and other toiletries in specific spots can help improve the overall look of your space and maintain its cleanliness in the long-run.
Explore our curated list of bathroom storage ideas that will help transform your chaos into calm.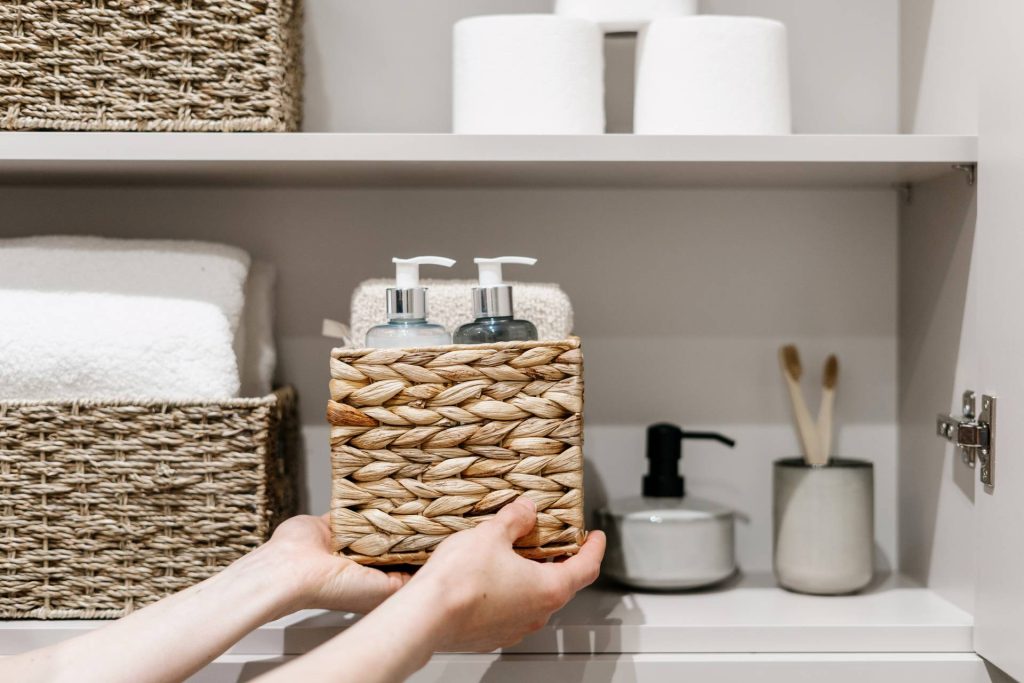 Utilize Bathroom Wall Cabinets To Reduce Table-Top Clutter
Installing high quality cabinets in your bathroom will reduce tabletop clutter, under the sink clutter, and linen closet clutter! Make use of the extra bathroom storage space by arranging cleaning supplies, extra stock of toiletries, and other personal care essentials.
Bathroom wall cabinets aren't the only bathroom storage solution you can opt for – explore the curated list below for inspired ideas to help make your bathroom a haven for relaxation and comfort!
1. Declutter Your Vanity Drawers Using drawer organizers will allow you to store more of your favorite hair accessories and makeup tools in a small space. Use long vertical drawer organizers for hair tools like hot brushes and curling wands. Standard rectangular storage drawers are ideal bathroom organizers for head bands, scrunchies, and cosmetics.
2. Add Hooks Wisely They say location is everything, and that certainly applies to hooks. Hanging hooks in high places is great for towels and robes. Lower hanging hooks are ideal for wash cloths and children's bathroom items that are easy-to-reach to allow for more independent movement around the home. Consider adding hooks to the outer side of your bathroom wall cabinets.
3. Try an Over-the-Door Shelf For those without a bathroom linen closet, an over-the-door shelf is the ideal bathroom organizer for extra linens, toilet paper rolls, cleaning products, and other bathroom essentials. It is the ideal bathroom storage solution for those who are keen on efficient organizing techniques that do not take away from their set bathroom ambience.
4. Make the Lazy Susan Not So Lazy While they're a common kitchen storage solution, they're just as effective for bathroom storage, too. The spinning wheel allows you to conveniently access daily necessities – whether it is your no-rinse shower cleaner or daily personal hygiene products, including a Lazy Susan inside your bathroom wall cabinets is an easy improvement.
5. Use Over-the-Door Hangers Inside Bathroom Cabinets  These mini over-the-door hangers are ideal for bathroom wall cabinets because you are then able to organize hairbrushes, hair dryers, and other appliances in a convenient and safe way.
6. Don't Underestimate the Power of Magnets Including a magnetic strip on the inside of your bathroom cabinets and bathroom wall cabinets allows you to conveniently store bobby pins, nail clippers, scissors, and other metal accessories.
7. Discover Customized Bathroom Storage Solutions Locate the area you want to optimize for efficient storage and go for it! Adding maple wood floating shelves to your bathroom walls is an effective way of storing hand towels and other toiletries. Hanging small storage bins on bathroom walls is a popular and low-cost bathroom organizer.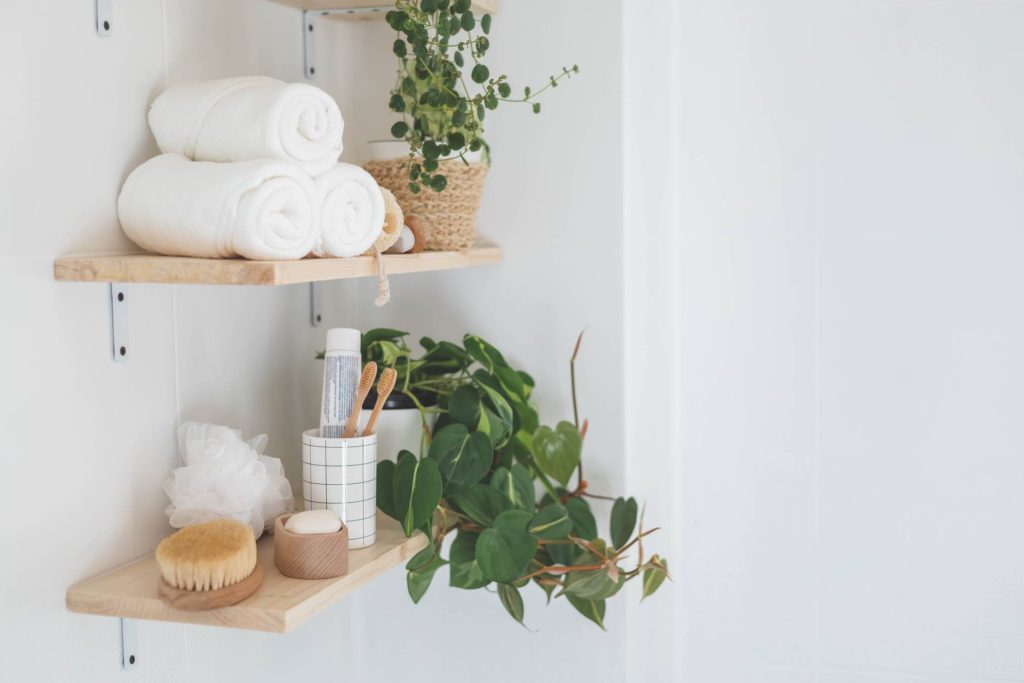 8. Spice it Up! Spice shelves may be common in the kitchen, but they are well-known and cost effective bathroom storage design method. Use spice shelves to arrange hair products or cleaning products in your linen closet or under the bathroom sink.
9. Choose Tiered Storage Bins These decorative bathroom organizers elegantly display desserts and finger sandwiches, but tiered trays and storage bins add a modern rustic charm to your countertop space. Store cotton balls, makeup brushes, and other essentials in your tiered storage bin to make this bathroom storage design idea the focal point of your space.
10. Add a Leaning Bookshelf An effective way to store towels and books in your bathroom, leaning bookshelves are an ideal addition for adding more décor and style to your bathroom space. You can even feature plants and candles on this popular bathroom storage design solution too.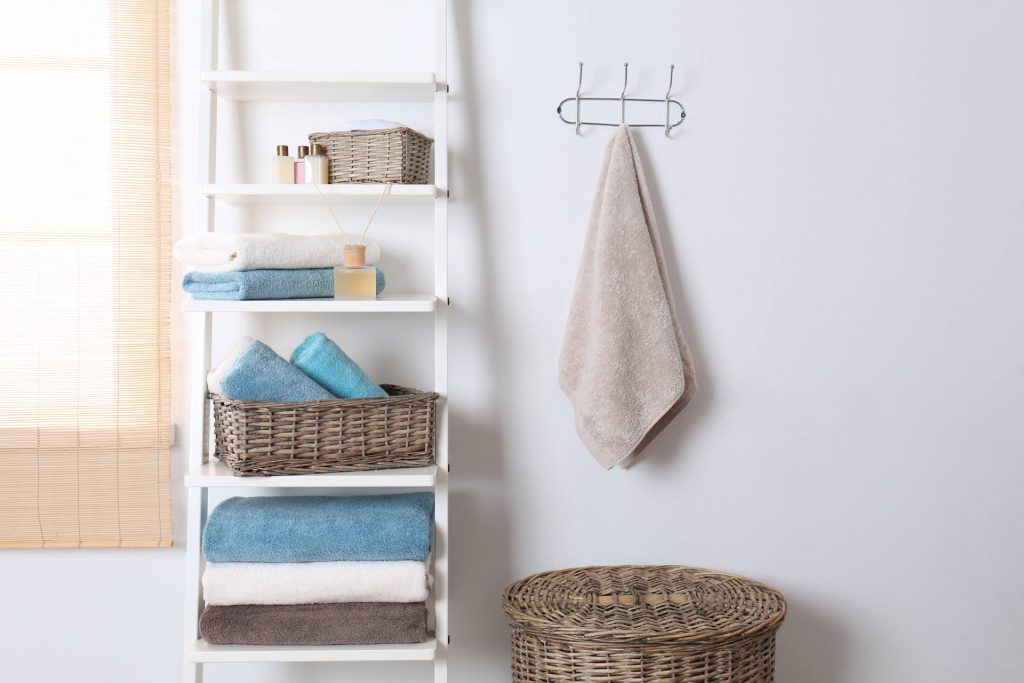 Bathroom Organizers That Are Stylish & Effective Storage Solutions
From bathroom wall cabinets to leaning bookshelves, this detailed list of bathroom storage solutions and bathroom organizers has covered the most popular ideas for a variety of different bathroom styles. Rustic, contemporary, modern, or vintage – bathroom storage design solutions are a vital necessity for all spaces in your home, especially the bathroom.
Bathroom organizers do not have to be costly or difficult to install. Simple Lazy Susans or spice shelves can transform a bathroom wall cabinet instantly.
Bathroom Storage Designs by the Experts at Kauffman Kitchens
Established in 1987, Kauffman Kitchens has been serving residential and commercial customers in Lancaster County and beyond. From countertop replacements to kitchen and bathroom cabinet installation, Kauffman Kitchens is the ultimate destination for beautifying and upgrading your indoor spaces.
With a professional eye for bathroom storage design ideas, Kauffman Kitchens is dedicated to making your residential or commercial space a dream come true. Contact us today and discuss bathroom storage ideas, bathroom wall cabinets, and kitchen countertop upgrades!