7 HOT Kitchen Trends 2022 is Bringing Back!
With tons of 2022 kitchen trends hitting the internet, it's easy to feel like you're drowning in options. From kitchen color ideas to backsplash styles and everything in between, our expert designers are here to help make sense of the waves of inspiration.
We have put together our complete list of 7 hot kitchen trends 2022 are bringing back in style! These fiery kitchen ideas build off last year's trends to complete a kitchen fit for future decades. Find your favorite(s), and then contact our team for a free cost estimate!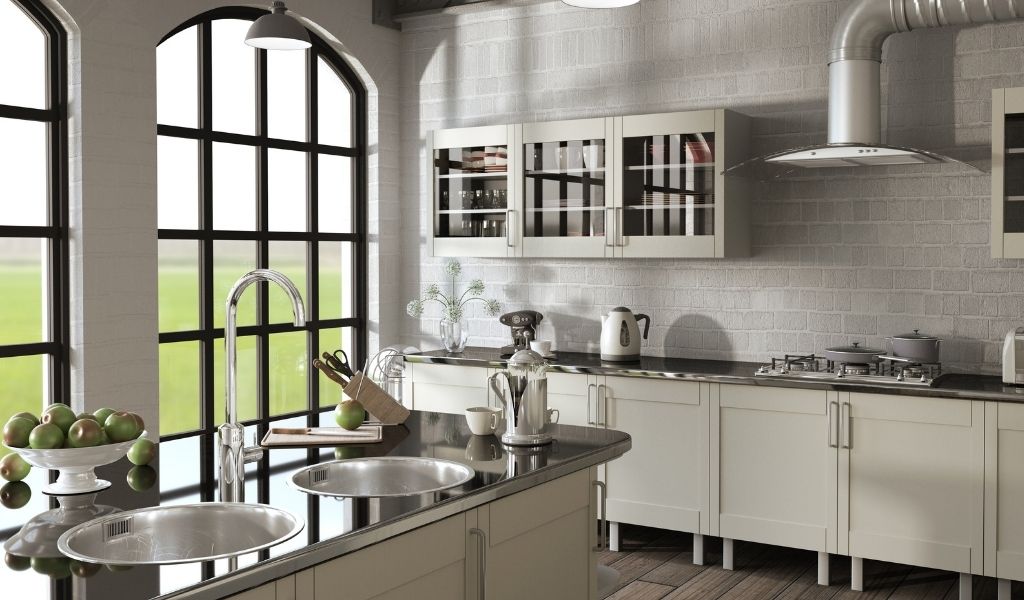 Kitchen Remodel Ideas for 2022
Your kitchen is the hardworking hub of your house but making it aesthetic shouldn't be a hassle! No matter your personal style, we're confident (at least) one of these kitchen remodel ideas for 2022 will spark inspiration.
Keep reading to find the best kitchen color ideas, countertop styles, and storage cabinets trending in 2022: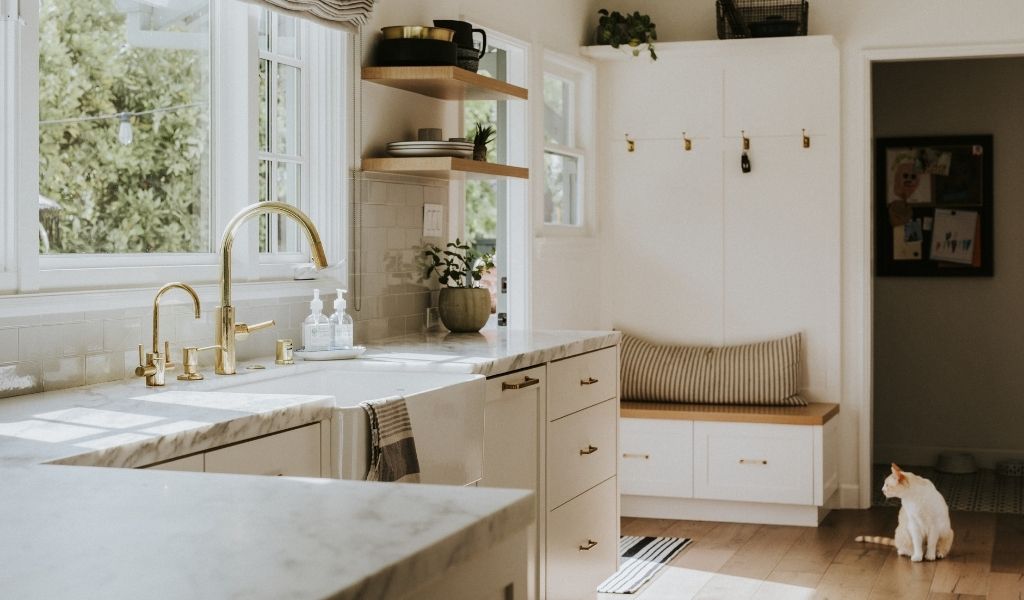 Pet Spaces – During the pandemic in 2020, pet adoptions skyrocketed up over a 30% increase from the year previous. With more people adopting furry friends, they're now thinking of ways to incorporate them into the heart of their home. That's why one of the most popular kitchen trends in 2022 is pet-friendly storage! We're seeing creative homeowners request the use of their unclaimed, overlooked toe-kick space as food and water bowl storage, toy storage, and more.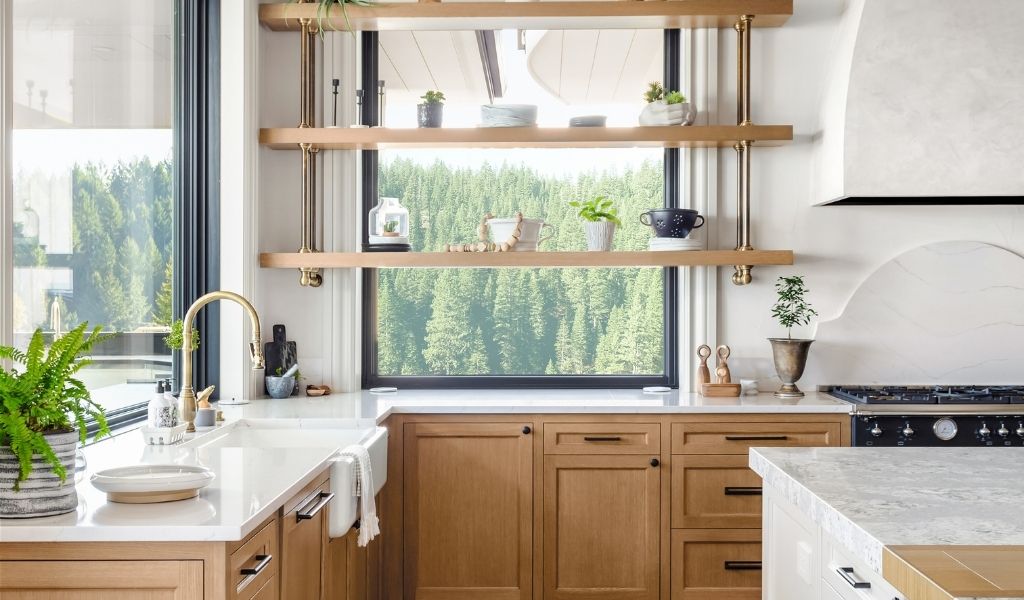 Cozy Cottage Style – Farmhouse function meets craftsman quirks in this 2022 kitchen trend! Cottage style features smart storage in every nook and cranny that everyone in the family will appreciate. Cabinets with character, colors that soothe, and naturally nurturing elements are the keys to pulling off this cozy style.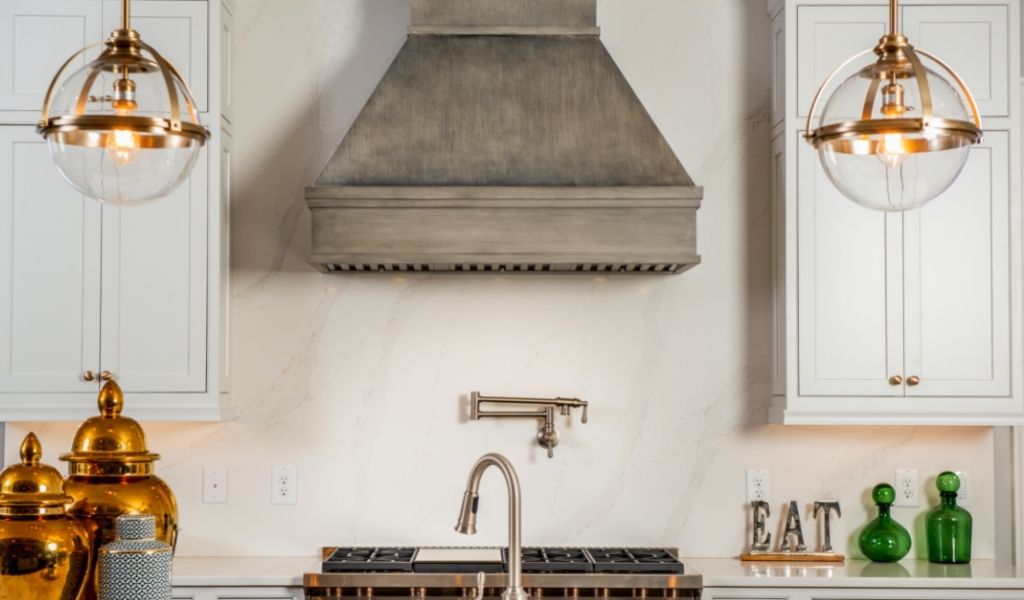 Slab Backsplash – Just like 2022's kitchen color idea, this next kitchen trend is based on simplicity. Instead of traditional tile backsplashes, slab backsplashes will be thriving this coming year! It's a sleek, modern way to avoid the busyness of grout lines and maintenance – plus, nothing looks more luxe than granite on the walls!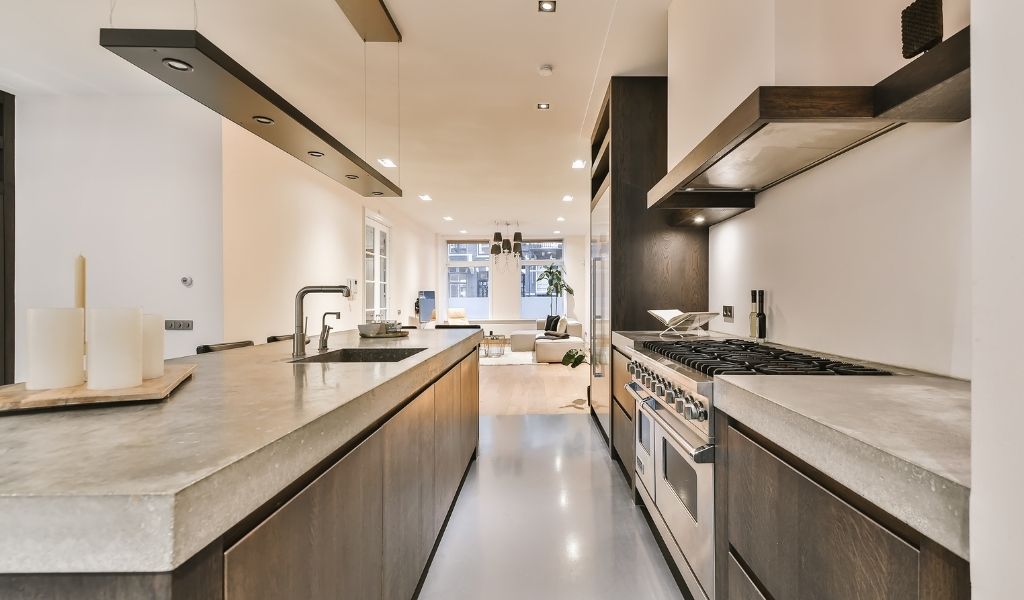 Organic Accents – In 2022, wood cabinets are returning, warm tones are heating back up, and marbled stone simply never goes out of style! If you're looking for a bigger kitchen remodel idea for a 2022 makeover, consider a wood butcherblock countertop, a stone backsplash, or a brick hood range to update your room.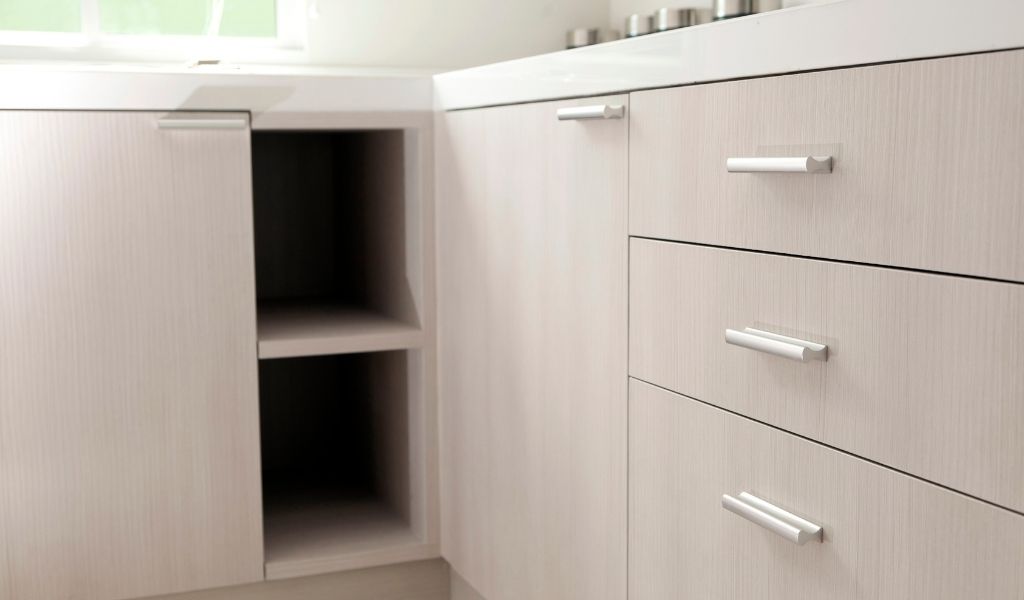 Sleek, Solid Cabinets – There's something freeing about having a kitchen that doesn't feel 'off the shelf'. While a simple faced cabinet may seem ordinary, when paired with other 2022 kitchen trend ideas, they're a real showstopper. See more about the best kitchen cabinet brands here!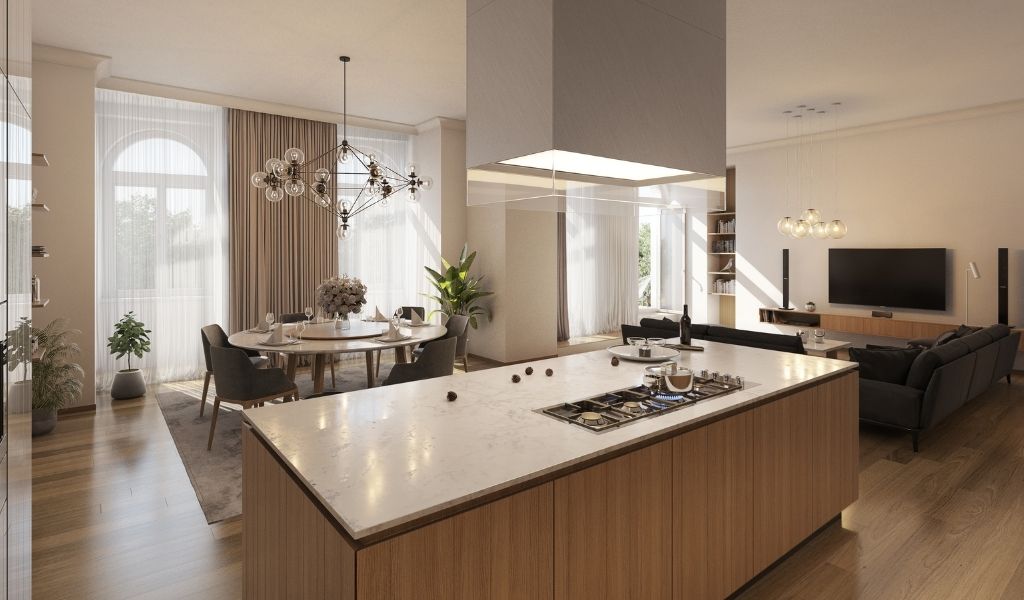 Sands of Time – 2022 is a year we all need for relaxation and serenity, including in the hardworking hub that is your kitchen! In 2022, expect to see kitchen paint ideas revolve around neutral tones like white, beige, and soft grays. When looking for kitchen color ideas, we recommend visiting your local hardware store in person to get swatch or paint samples.
PRO TIP: One color in many shades is the ultimate kitchen paint idea this coming year.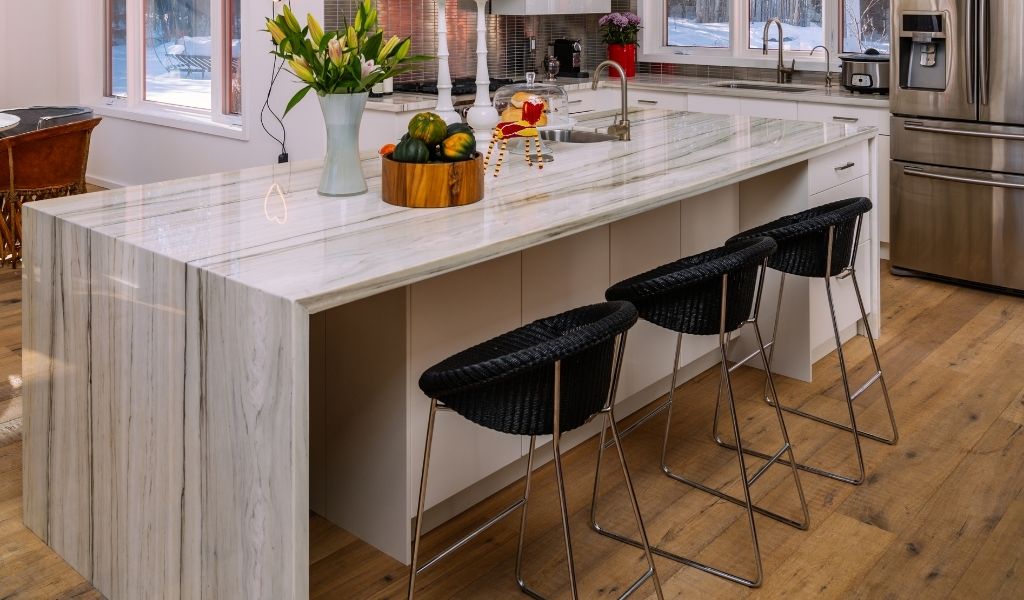 Waterfall Countertop – This is a design feature that isn't going out of style any time soon, especially not when it comes to kitchen remodel ideas for 2022! Waterfall countertops can be designed in almost any standard countertop material or color, so there really is a gorgeous option for everyone's unique taste.
Another trend for 2022? Saving money. At Kauffman Kitchens, our Lancaster County kitchen remodelers understand the unpredictable future we're all facing. That's why we're not only upfront about our pricing, but our affordable financing opportunities as well. That's also why we wrote our blog about how to save thousands of dollars on your next kitchen renovation! Check it out and contact our team to get your complimentary price estimate.
Incorporate One of These 2022 Kitchen Ideas in Your Renovation!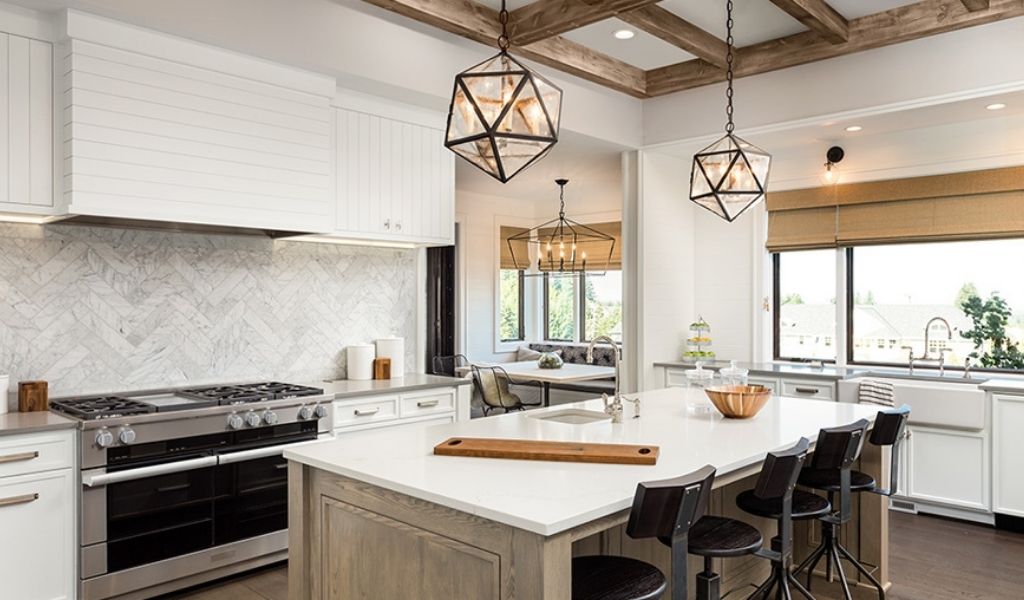 Thinking about a kitchen update? Your kitchen can be the highlight of the home, bringing family and friends together through a stylish connection. If any of these kitchen color ideas or trends for 2022 caught your eye, get in touch! Kauffman Kitchens' team of designers and remodelers have the creativity and expertise to bring your big ideas to life.
Get started today with a free estimate – call or contact us today!