Most Popular Kitchen Cabinet Color Combinations & Styles
A focal point in almost any kitchen, cabinets take up a lot of space – not to mention a lot of your renovation budget. If they're painted a color that you don't absolutely love, you may be stuck with regret for years to come. At Kauffman Kitchens, we're a local team that wants to help you love your kitchen cabinet colors and style for a long, long time!
Keep reading to reveal 6 kitchen cabinet color combinations you'll actually want to commit to!
6 Kitchen Cabinet Colors with Long-Lasting Appeal
When navigating how to choose kitchen cabinet colors, it's easy to feel overwhelmed with the whole realm of trendy options. New cabinets are a big investment – and you want to implement cabinet ideas that you adore and that are also sure to hold a solid ROI. Below we'll help you decide how to choose kitchen cabinet colors with long-lasting appeal so you can be 100% confident in your upcoming renovation!
Two-Tone Cabinet Color Ideas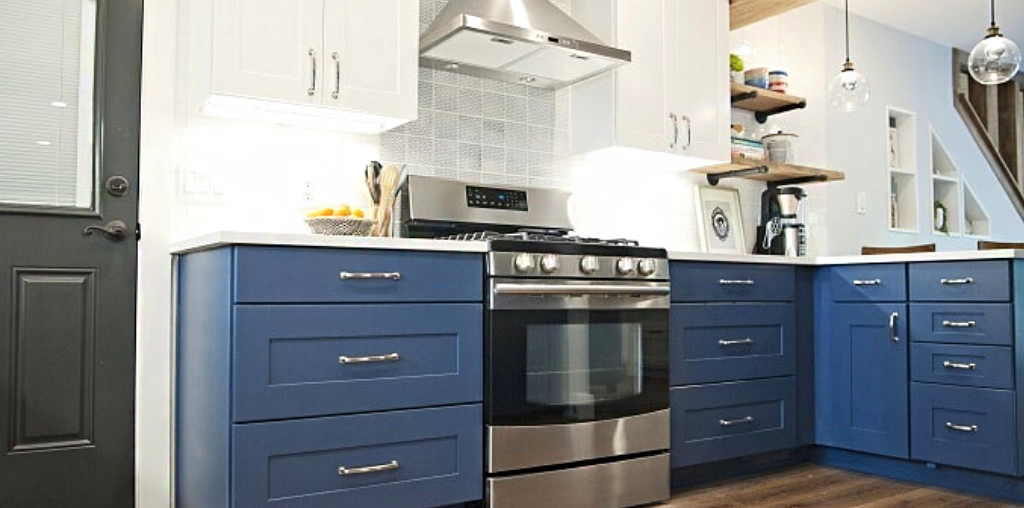 Just because you choose two colors doesn't mean they have to be bold or contrasting! Some of the most popular kitchen cabinet color combinations here are soft neutrals paired together, like light gray and beige, or pastel blue and white. The secret to pulling off a gorgeous two-toned cabinet design is achieving balance, something our Lancaster kitchen remodelers are experts at. Our #1 tip? Don't be afraid to ask the professionals for help choosing your kitchen cabinet color combination!
Complementary Cabinet & Island Colors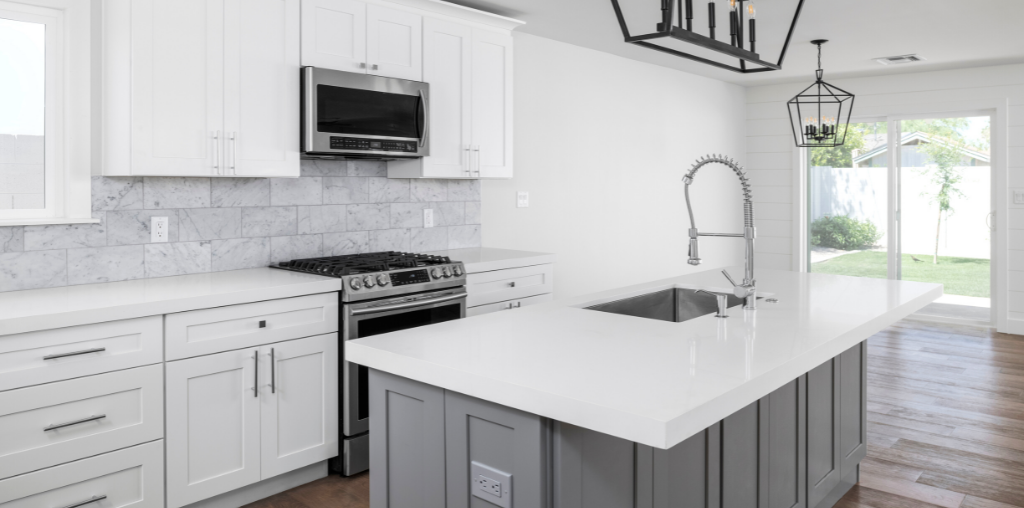 Piggybacking off the previous suggestion is this one-of-a-kind idea! Take advantage of your island by making it the centerpiece of your kitchen transformation. If you're on board with a two-toned kitchen cabinet idea, and you have a kitchen island, you can make it a distinct color from the rest of the cabinets.
Neutral Palette Cabinet Color Ideas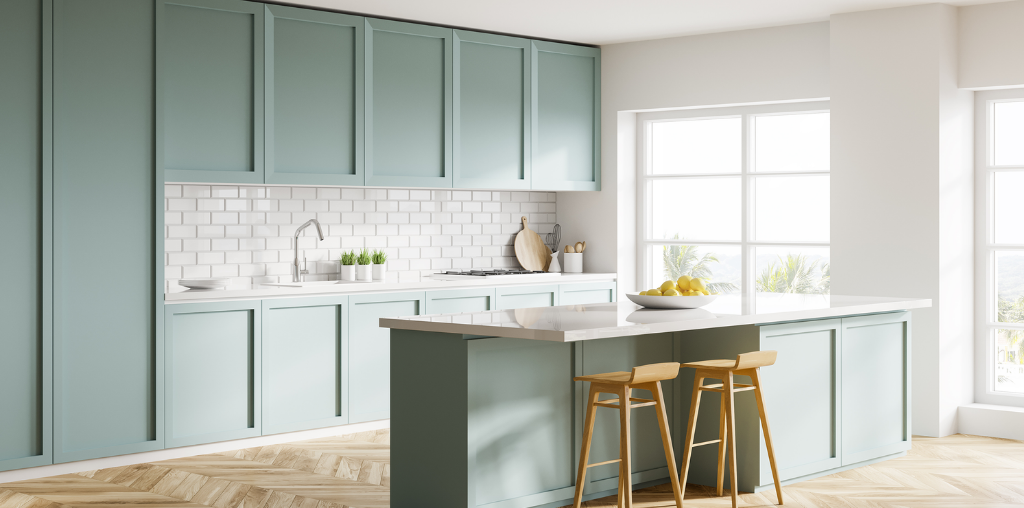 In 2022, we're excited to see neutral kitchen cabinet styles come back into rotation! Sky blue, fresh greens, and light grays are here to stay. See how to incorporate these charming cabinet ideas into a modern farmhouse kitchen remodel!
Monochromatic Kitchen Cabinets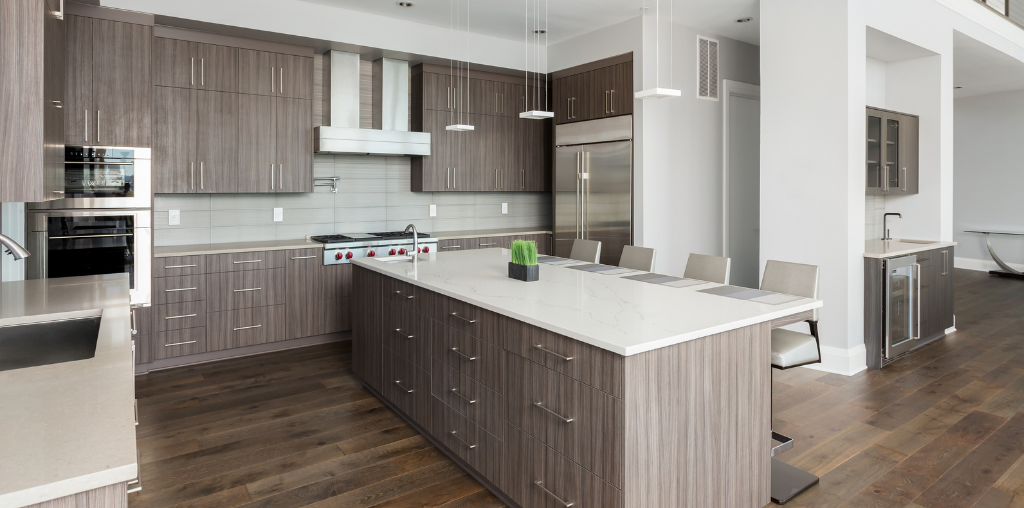 When you go monochrome, the sky is the limit! Whether you like a deep shade of rich colors, or more of a light and airy hue, you can't go wrong. When considering how to choose kitchen cabinet colors here, think about the color and pattern of your countertops. A light countertop will pair well with nearly any kitchen cabinet color and style; however, a darker countertop may limit your options a little more.
Natural Wood Cabinets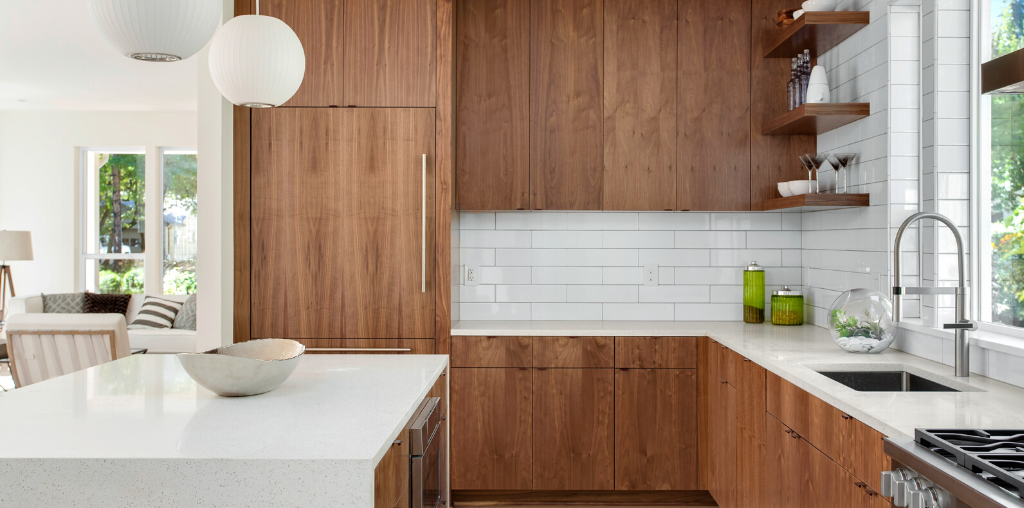 When thinking of words to describe your dream kitchen reno, do you think "environmental", "natural", "organic", and "minimal"? Combining an exposed wood cabinet style with the sleek lines of glass-front cabinets creates a warmly modern scene for cooking, entertaining, and dining. See this style in a luxurious kitchen remodel in Harrisburg, PA!
All-White Kitchen Cabinets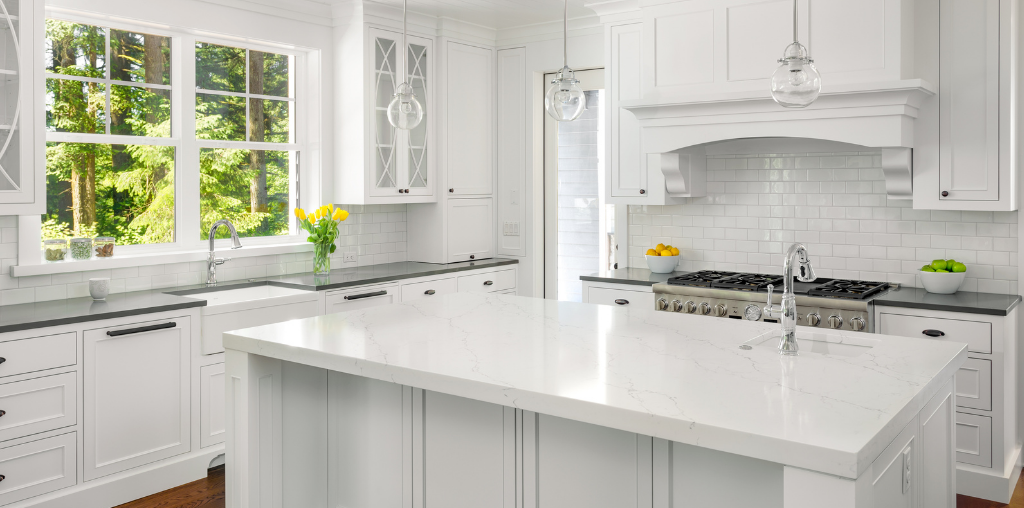 This cabinet idea should come as no surprise considering it has been a top choice in luxury homes for the past several years. White is the main color of fashionable minimalism, infused with charm and elegance. If you're wondering what the most popular kitchen cabinet color is, just know – all-white will most likely always be at the top of the list! Talk about a solid resale value!
Semi-Custom Kitchen Cabinet Styles
Now that you know how to choose kitchen cabinet colors, what about the style?
At Kauffman Kitchens, there are dozens of kitchen cabinet styles to choose from for a truly customized look. Everything from the door styles, finishes, hardware, and color can be tailored to bring your specific vision to life! Popular in 2022 are sleek and simple cabinet faces, high-end cabinet hardware, and unconventional storage spaces.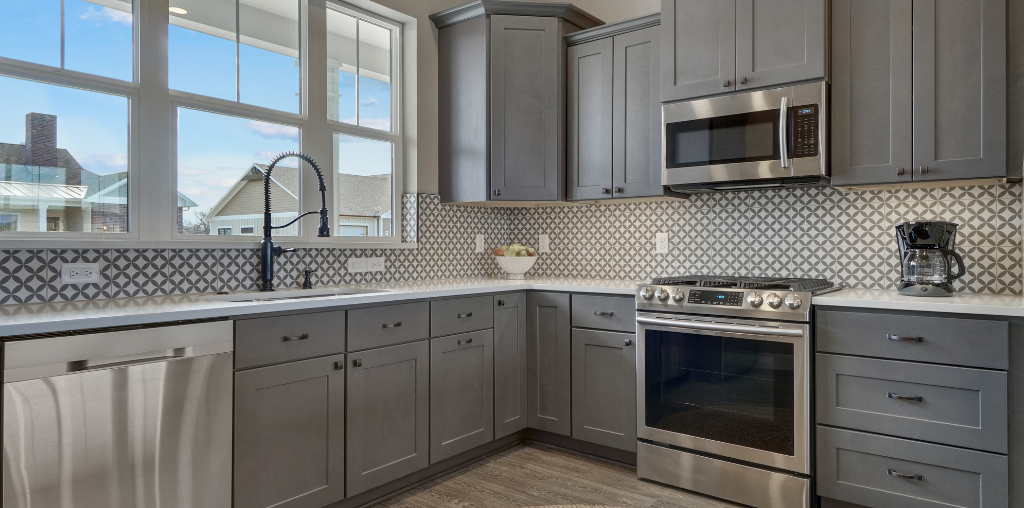 Read our kitchen cabinet price and style guide for more tips on finding the perfect kitchen cabinet styles for your space.
Find Your Dream Kitchen Cabinet Colors & Styles with a Professional
Whether you now have a clear idea of what color kitchen cabinets you want, or you still need a little help making that decision, Kauffman Kitchens is ready to help!
Over 30 years of experience designing and installing semi-custom cabinets in Chester and Lancaster Counties, PA has made us one of the most trusted names in the area. See for yourself why homeowners and commercial property owners alike choose us for excellent cabinet installation!