Our 5 Favorite Remodeled Kitchen Projects from 2021
2020 was a year most people lived in – and dreamed up renovations for – their homes more than ever. But long gone are the days of dreary kitchens and drab designs! Throughout the beginning of 2021, our Lancaster County kitchen renovation company has been hard at work making new kitchen idea dreams come true in PA!
Today, we want to present to you our top 5 favorite remodeled kitchen projects from this year. Stay tuned to see elaborate kitchen redesigns, discover your personal style, and learn how to get your first consultation for free from our design team.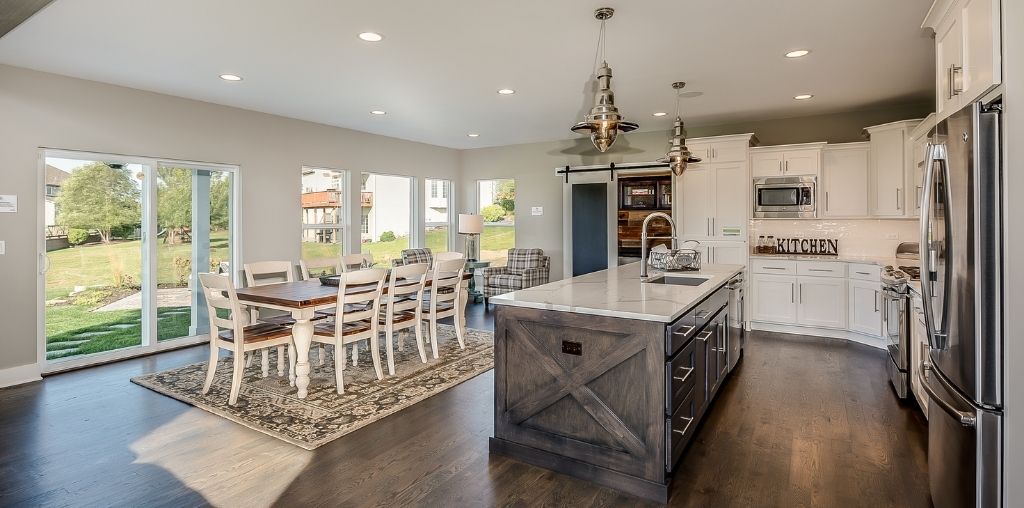 Bringing Kitchen Renovation Ideas to Life
Whether it's a simple countertop makeover or a complex cabinet renovation, there's nothing that we at Kauffman Kitchens love more than bringing your wildest kitchen renovation ideas to life! We've had the privilege of helping hundreds of local homeowners achieve their ideal remodeled kitchen – here are just a few of our favorites:
Cool & Contemporary Galley
This kitchen remodel in Chesterbrook, PA takes the cake for our all-time favorite residential project of 2021. Two-toned cabinetry and a luxe backsplash tile are iconic to any contemporary kitchen remodel design. Incorporating a dark blue base cabinet with a gorgeous white upper cabinets brought this edgy new kitchen idea to life for these Chester County, PA homeowners. The quartz countertops, made by Cambria, are one of our most popular kitchen countertop selections this year. See the details of this beautiful kitchen redesign from start to finish here.
How to add the contemporary style to your remodeled kitchen:
Sleek hardware for cabinet renovations
Sophisticated, reflective backsplash
High-quality stone countertop makeover
Hallmark Transitional Style
Transitional style is the ideal juxtaposition between traditional and modern design. For this remodel in Willow Street, PA, our team implemented a whole realm of kitchen renovation ideas to achieve the delicate balance this style requires. To encompass the best of both worlds, our Lancaster kitchen remodelers used gorgeous gray Silestone quartz countertops to augment the brightness of the stainless steel appliances. See this project's full countertop and cabinet renovation here.
How to add the transitional style to your remodeled kitchen:
Pair traditional and contemporary design elements
Clean, simple minimalism
French Country Design
For this client, rustic looking semi-custom cabinetry was a must, so we installed some of the best on the market. Complementing their traditional charm is a HiMacs solid surface countertop in Horse Chestnut – a brand known for their 3D design and unlimited color spectrum! Ornate, traditional kitchen renovation ideas are vital to the French country design. Take a peak at the hidden details that create a one-of-a-kind ambiance for this Manheim, PA kitchen makeover!
How to add the French country style to your remodeled kitchen:
Warm-tone cabinets and countertops
Rough-hewn textures
High-quality cabinetry
Artistic details and décor
Monochromatic Masterpiece
A monochromatic kitchen remodeling design isn't always easy to pull off, but our team did a great job with this local redesign! Using a modern shade of gray, Kauffman Kitchens' designers and installation crew got to work creating a savvy space for this client to call home. Our favorite kitchen renovation idea from this project is the use of natural wood elements, like the oven hood and the countertops, to break up the neutral aesthetic. See more photos from the Delp remodeled kitchen project now!
How to add the monochromatic style to your remodeled kitchen:
One or several shades of the same color
Use accessories to create contrast
Mix it up with wood or metal accents
Modern Industrial
If light, bright, and white is the name of the game, this Lancaster County redesign takes home the gold! Matching white semi-custom cabinetry with cast iron hardware creates a space that is chic, welcoming, and contrasting. This remodeled kitchen makes our list of favorites because of the lovely quartz countertops, subway tile backsplash, and industrial light fixtures. Learn more about this modern industrial kitchen renovation when you contact us today!
How to add the modern industrial style to your remodeled kitchen:
Incorporate natural elements like wood, metal, iron, or brass
Keep the color scheme light and bright
Upgrade to high-end cabinet hardware
Reasons to Love a Kitchen Redesign
Whether it's a few minor upgrades or a total gut-job, there's never been a better time to turn your new kitchen ideas into real-life luxury. A few benefits of a remodeled kitchen include:
Increased home value
Achieving the aesthetic you adore
More countertop space for cooking, homework, or hosting
And so many more!
As your partner in kitchen remodeling design, we strive to bring every homeowner a budget-friendly renovation. Check out our blog on money-saving tips that could save you thousands on kitchen renovation costs!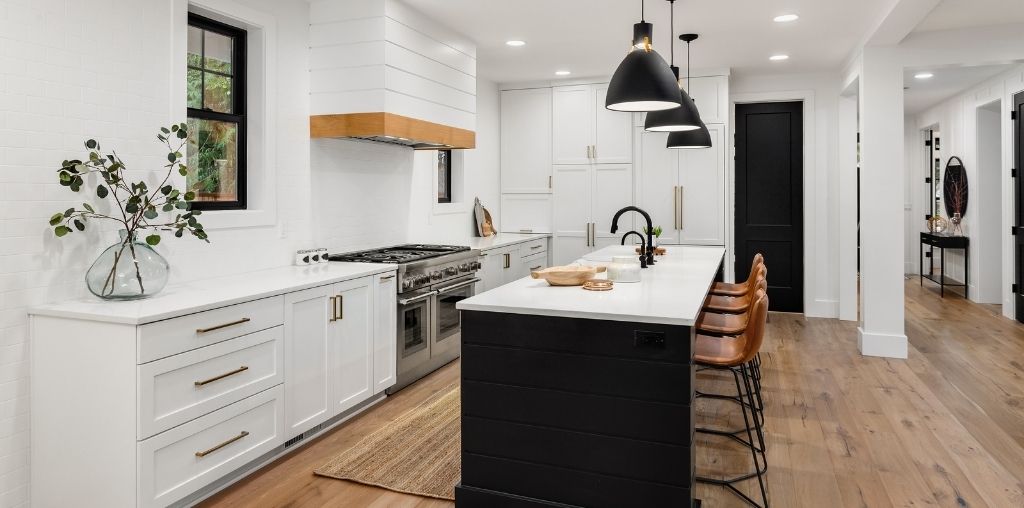 Countertop Makeovers & Cabinet Renovations from Lancaster, PA
Finding a trusted team is half the battle when remodeling a kitchen. Fortunately, Kauffman Kitchens bridges the gap between affordable home renovations and 5-star service.
Contact our team today and mention this blog article for a consultation totally free of charge! Or, stop by our showroom in New Holland, PA to see kitchen redesigns in real life. We look forward to inspiring you!